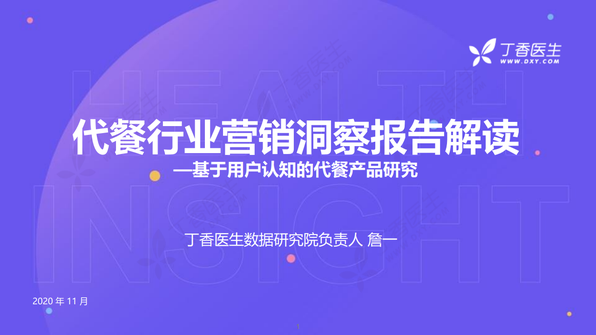 RecordTrend.com is a website that focuses on future technologies, markets and user trends. We are responsible for collecting the latest research data, authority data, industry research and analysis reports. We are committed to becoming a data and report sharing platform for professionals and decision makers. We look forward to working with you to record the development trends of today's economy, technology, industrial chain and business model.Welcome to follow, comment and bookmark us, and hope to share the future with you, and look forward to your success with our help.
The following is the Insight report of catering industry marketing From Doctor clove recommended by recordtrend.com. And this article belongs to the classification: Life data, research report.
Dingxiang doctor Data Research Institute, together with tmall and cbndata The "tmall catering Quality Alliance Strategy Conference" was held in Hangzhou Ali visitor's lecture hall. At the conference, the "catering industry marketing insight report" (hereinafter referred to as the "report") was released. Click to read the original text to view the complete content of the report. Based on the big data of the whole network consumption and the results of in-depth user research, the situation and consumption trend of catering market were analyzed.
What is meal substitute?
There are two industry standards for substitute food in the group standard of substitute food issued by Chinese Nutrition Society: substitute food is a kind of energy control food specially prepared to meet the needs of one or two meals for adults during weight control period. Partial meal replacement food is a kind of energy control food, which is specially processed and configured to meet the nutritional needs of one or two meals of adults during weight control.
At present, the public's cognition of "meal substitutes" is relatively scattered, and there is a lack of clear cognition of "meal substitutes". Therefore, the discussion content of this report is based on the "meal substitutes" recognized by users.
Substitute meal is divided into comprehensive nutrition type and partial nutrition type. At present, the popular substitute meals on the market are mainly divided into substitute meal milk shake powder, liquid substitute meal, low calorie and low-fat meal, cereal, cereal meal, protein stick, chicken ball / vegetarian chicken breast, etc.
How big is the substitute cake?
According to Euromonitor International data, the market scale of the catering industry is growing year by year, and it is expected that the scale of China's catering market will exceed 10 billion yuan by the end of 2020. According to cbndata data, the overall market size of the catering industry has maintained a growth rate of more than 15% in consumption for consecutive years, and achieved good market performance.
In the face of the potential catering market, many new brands emerged in recent years, such as ruofen, super zero, wonderlab and smile. In recent years, old food enterprises have also arranged catering industry, such as Mengniu's fiber milkshake in 2018, COFCO's substitute biscuit Yuehuo oat bran biscuit in 2019, etc. The products on the market are gradually changing from single function to blooming.
What are the pain points facing the catering industry?
Product homogeneity and fierce market competition
As Chinese people pay more attention to healthy diet, fitness and weight loss have come into public life, and new and old brands have entered the catering industry one after another. The catering products with labels such as "light food", "low calorie", "0 sugar" and "full belly" are more and more eye-catching, and their market development speed is more rapid. At present, the products in circulation tend to be homogeneous, and consumers' cognitive boundaries for catering are blurred.
In the competitive market, how to break through the siege and occupy the minds of consumers? Clove gave her own answer.
Consumers care about nutrition, health and food safety
Knowledge popularization needs to be improved
Although "high fiber", "low calorie" and "easy to satiate" are popular labels for diet substitutes. However, with the improvement of health awareness, consumers not only pay attention to the effect of product use, but also question the nutritional and health value of meal substitute. Most people's knowledge of health and nutrition is superficial, and they still need to increase the market education and popular science.
Meal substitute is mainly used for fitness and shaping
Convenience and nutrition are the main purchasing driving forces
At present, consumers buy substitute food mainly for fitness and shaping, and some people eat substitute food for more convenience. 93% of the people choose substitute food to replace part of the diet, which is easier to adhere to. On specific meals, most people choose to replace dinner, followed by breakfast and snacks, and the use of the scene is more fixed.
What are the requirements for a high quality meal?
As for substitute food, the Chinese Nutrition Society has issued relevant technical indicators, which set strict requirements on the energy, protein, fat and nutritional components of substitute food and some substitute food.
How to create a substitute meal with both effect and nutritional value? From the perspective of nutrition, clove doctor expert group also put forward several major elements: the selection of raw materials rich in high protein, high fiber, low fat, sugar free, low salt, trans fatty acid free, high nutritional density, rich in a variety of micronutrients, energy control in 200-400 kcal.
The attempt of clove in food industry
In the field of meal substitute, Dr. clove has also tried to produce "eat rainbow sugar free" fancy oatmeal jointly with grain mill. Clove doctors are aware of the health consumption demand, and use health experts resources to jointly build with the grain mill, using "no added sugar", "low temperature baking" and "freeze-drying technology", "0 Fried "and" no trans fatty acid ", and put forward the rainbow nutrition formula exclusively, which has the characteristics of high protein, high fiber and high calcium nutrition index, and polished the delicious and healthy food, which is more in line with the healthy lifestyle of young people.
If you want to get the full report, you can contact us by leaving us the comment. If you think the information here might be helpful to others, please actively share it. If you want others to see your attitude towards this report, please actively comment and discuss it. Please stay tuned to us, we will keep updating as much as possible to record future development trends.