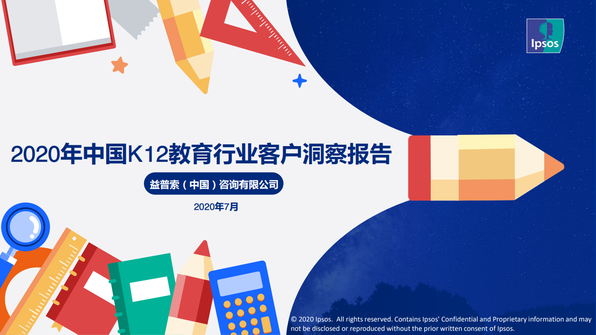 The following is the K12 education industry insight report in 2020 From Ipsos recommended by recordtrend.com. And this article belongs to the classification: Internet Education, Ipsos, research report.
With the pressure of junior high school entrance examination, high school entrance examination and college entrance examination, the competition among students is fierce. The fierce competition promotes the vigorous development of k12 education industry, and a variety of discipline education training institutions begin to emerge, hoping to enter the market. Because of this, parents have more diversified choices. A sweeping epidemic seems to have pressed the pause button for people's life. However, innovative technology has made people's life and work restart rapidly. In response to the proposal of the Ministry of education of the people's Republic of China that "classes will not be suspended", offline education has been transferred to online education. New Oriental, tal and other institutions have launched free online courses to increase market share and start the competition for students.
"Ipsos 2020 China k12 education industry insight report" through the foundation of K12 subject education institutions, the focus of online education institutions in the post epidemic era, and how to break the situation of offline education institutions, makes K12 subject education training institutions see the light. Ipsos has been deeply engaged in the education industry for many years. Based on the insight report of China's k12 education industry in 2019, it will expand to the survey of third-line parents in 2020 to gain insight into the needs of K12 families for extra-curricular training.
In the whole journey of parents registering for their children's classes, from the generation of class demand to the effect evaluation after use, each contact will affect the consumer's decision-making.
Generation of class reporting demand
Children in primary school and junior high school is an important stage of learning habits training. Parents in this period hope to cultivate children's learning habits and independent learning ability through extra-curricular training courses. While high school students are facing the pressure of college entrance examination, parents hope to consolidate and strengthen their children's learning effect and improve their performance.
Start searching for training institution information
When parents select educational institutions for their children, 58% of the parents will be willing to listen to the recommendation of classmates and other parents; 56% of the parents will be influenced by the publicity materials of educational institutions.
Decide on the right training organization
When making the final decision, teaching soft power is the most important factor for parents to choose training institutions. Although parents will give priority to learning about educational institutions through word-of-mouth, the word-of-mouth factor (39%) ranks behind the teaching soft power (79%) and service quality (45%) of training institutions, and the teaching soft power is also an important factor affecting word-of-mouth. Therefore, educational institutions should pay attention to the improvement of teaching soft power and strengthen teachers. The brand needs to recruit more talents to improve its educational strength. At the same time, reasonable arrangement of class time and good tracking service are the key to improve the quality of service.
Post use evaluation
Parents of different grades have different evaluation on the use of extracurricular training classes. Parents of primary school students want their children to win at the starting line, so they agree more with the effect of extracurricular training classes in exploring and cultivating their children's subject expertise; parents of junior high school students want their children to form the ability of independent learning and thinking; parents of senior high school students want their children to improve their academic performance and win the college entrance examination. However, parents of high school students have a strong demand for performance improvement, and most parents say that the extracurricular classes fail to meet the initial expectations.
Compared with the survey data of Ipsos 2019 China k12 education industry insight report, parents' NPs (net recommended value) score of the overall k12 education brand is more scattered, especially the offline education brand. The word-of-mouth gap of overall k12 education brands is gradually widening. The reason is that affected by the epidemic situation, the evaluation gap of different offline education brands in response to the epidemic situation is large. The word-of-mouth recommendation score of K12 online education head brand (NPS = 54) is relatively stable, and there is no significant difference compared with 19 years (NPS = 55).
Under the epidemic situation, all types of parents are willing to strengthen online education
Based on the four types of parents derived from COVID-19 (loyal online education course users, new online education curriculum users, offline conversion online course users and loyal offline education curriculum users), the users' intention of online education has been strengthened. Users of loyalty online education courses and users of new online education courses have more willingness to online education. .
Ipsos research shows that online courses can be learned anytime, anywhere and played back infinitely, which is one of the main reasons why all kinds of parents consider online tutoring classes in the future. As the users of offline to online courses are transformed in the same training institution, their children are already familiar with their teachers and have tutors to solve their children's problems at any time, so it is easier to transfer to online courses.
With the gradual improvement of the epidemic situation, there will still be two types of parents (49% of users who switch from offline courses to online courses and 42% of loyal users of offline Education) who will choose extracurricular training classes based on offline education for their children. The main reason why loyal users of offline education courses do not consider online tutoring classes is that they are worried about their children's eyesight, which is related to the fact that most loyal users of offline education courses are primary school students' parents.
Loyal and new online education course users recognize the cultivation of children's learning habits through online education, while offline to online and loyal online education course users recognize the reputation of online education brand. Relatively speaking, loyal offline education course users have a low degree of recognition of online education.
If you want to get the full report, you can contact us by leaving us the comment. If you think the information here might be helpful to others, please actively share it. If you want others to see your attitude towards this report, please actively comment and discuss it. Please stay tuned to us, we will keep updating as much as possible to record future development trends.
RecordTrend.com is a website that focuses on future technologies, markets and user trends. We are responsible for collecting the latest research data, authority data, industry research and analysis reports. We are committed to becoming a data and report sharing platform for professionals and decision makers. We look forward to working with you to record the development trends of today's economy, technology, industrial chain and business model.Welcome to follow, comment and bookmark us, and hope to share the future with you, and look forward to your success with our help.