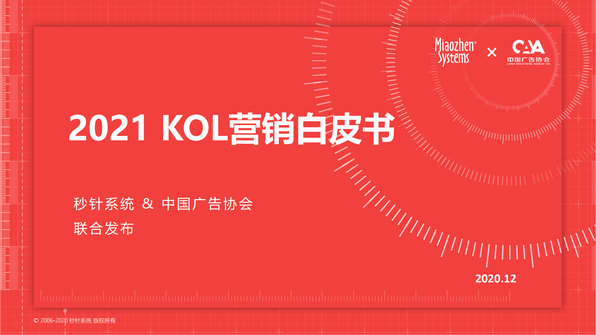 The following is the KOL marketing trends white paper 2021 From Miaozhen Systems recommended by recordtrend.com. And this article belongs to the classification: research report, network marketing.
The brand continued to increase its weight, with an increase of more than 50% in sales. More attention was paid to planting grass and bringing goods
According to the survey of China's digital marketing trends in 2021, social marketing will resume high growth in 2021. Nearly 80% of mature advertisers will increase their investment in social marketing, while new advertisers will be more aggressive. Nearly 40% of marketing budget is expected to increase by more than 30%. Short video and KOL promotion are the "double points" of advertisers' social marketing in 2021.
From 2018 to 2020, the overall marketing value trend of KOL shows a rising trend, with a year-on-year growth of 52% in 2020q1-q3.
Platform to accelerate the closed-loop construction, "double micro tiktok" into a standard, the growth of the sound of trembling is more than 1 times.
The conversion rate is a key indicator for advertisers to launch KOL marketing, which stimulates the major head media platforms to speed up the construction of closed-loop ecology, and try to realize the flow in the station. The boundaries of social networking, short video and e-commerce platforms are gradually blurred.
From the perspective of advertisers, "double micro and one shake" has become the standard configuration of KOL marketing. According to the second hand system tiktok, KOL selects the evaluation system data. In 2020, the marketing value of the KOL was doubled than that of 2019.
In addition, in the top 10 industries of KOL's overall marketing value in 2020, cosmetics, food and beverage and other consumer industries and Internet technology are in the leading position. Tiktok KOL marketing value is the most prominent in the Internet technology industry.
Different industry genes and target audiences form different KOL launch preferences. For example, 3C digital industry prefers film and television entertainment accounts, and Internet technology industry prefers celebrity accounts.
Super head KOL star, endorsement performance super market; Koc investment accounts for nearly 50%, and the circle influence is better
This year, the value of super head KOLs such as Li Jiaqi and Weiya has been upgraded, and their images have gradually become "stars", participating in variety show recording, guest role in movies, and endorsing brands. Li Jiaqi ranked 22nd in the second hand system CSI brand assistance list in October 2020, and her delivery ability is comparable to that of a popular star.
Second hand system "2021 social and content trends" shows that, in addition to KOL, Koc with deeper influence and higher cost performance is rising strongly. Compared with KOL with halo, Koc has better circle influence. They usually have higher quality and lower water content; More frequent interaction with fans; Fans pay more attention to the product itself. Taking the beauty industry and its key platforms as an example, brand founder is gradually increasing its investment in waist and tail KOL & Koc.
Intelligent tools help creative production, content insight closed loop, and continuously improve operational efficiency
It is also mentioned in "2021 China social networking and content trends" that China's live e-commerce has entered the "trillion era" in 2020. After the trillion inflection point, live e-commerce "refined operation" has become a trend. For example, the construction of global scene, pay more attention to the quality of live content.
However, under such market demand, the traditional creative way is faced with great challenges, such as the exhaustion of creativity, the repetition of content information, the shortening of work life cycle, etc. At this time, we need AI intelligent content analysis technology to help advertisers and creative personnel in the era of information overload. The multimedia content analysis technology of the second hand system can accurately capture the massive information on the Internet, translate the multimodal content such as text, pictures and videos into text form after identification, and conduct intelligent analysis, including hot spot analysis, category trend, pain point mining, crowd insight, etc.
In addition, the second hand system also provides AI intelligent creation platform, through high-quality corpus input, distinguish copywriting type, style, industry and so on, carry out targeted model training, and finally produce copywriting models suitable for different business scenarios.
Practical operation
Supporting the good and recognizing the bad
What should we do next when we understand the basic situation and future trend of the market《 The 2021 KOL marketing trends white paper directly gives six practical guidelines.
According to the white paper, in order to do a good job in KOL marketing in 2021, the first task is to crack down on data fraud. According to the data from the second hand system, the average invalid fans rate of KOL will exceed 60% in 2020, up from last year.
The sub platform water removal model of the second hand system can effectively filter the false flow. For example, micro-blog uses AI algorithm to simulate and tiktok data and fans to interact with data. WeChat, jitter, and Taobao live broadcast are monitored by minute level monitoring to monitor abnormal flow and remove water.
Quickly capture the trend of marketing content and tap the potential of creativity and content
In addition to cracking down on counterfeiting, advertisers need to systematically grasp the market and competitive KOL delivery information, and continuously optimize their own delivery strategies. Nowadays, the phenomenon of information overload on the Internet is prominent, and the information about competitive products and the market is miscellaneous. How to quickly filter and summarize the valuable information from it is a headache for many advertisers. At this time, we need to use intelligent content analysis technology to improve the efficiency of information processing. For example, content pulse, an AI based content insight and intelligent creation platform developed by the second hand system, can quickly locate the most popular content categories of each platform and excavate high potential content based on video frame extraction OCR + ASR voice translation analysis + image recognition, video classification technology + NLP topic recognition.
Multi level and multi ecological combination, make full use of the long tail flow, and continuously promote the transformation of product efficiency
Understanding the market is ultimately to help advertisers solve the most realistic problem of delivery. So, how to make the delivery efficiency the highest?
The proposal of the white paper is to carry out multi-level pyramid delivery: efficient layered drainage, make full use of the long tail, and promote the transformation of product efficiency in stages. Take bolumei small red pen eye cream KOL matrix launch strategy as an example, launch a star, let it lead the voice, quickly detonate the topic; Super head KOL and head KOL drive topics, enhance the exposure of new products, and strongly plant grass to promote direct transformation; The shoulder KOL can diffuse vertically, and the depth affects the circle; KOL at the waist and Koc at the tail precipitate brand reputation and form social fission.
In addition, the brand needs to do a good job in purchasing optimization to get the maximum touch at the lowest cost. In this regard, the second hand system can use intelligent algorithms to help advertisers optimize the delivery plan with one click, saving money and effort.
If you want to get the full report, you can contact us by leaving us the comment. If you think the information here might be helpful to others, please actively share it. If you want others to see your attitude towards this report, please actively comment and discuss it. Please stay tuned to us, we will keep updating as much as possible to record future development trends.
RecordTrend.com is a website that focuses on future technologies, markets and user trends. We are responsible for collecting the latest research data, authority data, industry research and analysis reports. We are committed to becoming a data and report sharing platform for professionals and decision makers. We look forward to working with you to record the development trends of today's economy, technology, industrial chain and business model.Welcome to follow, comment and bookmark us, and hope to share the future with you, and look forward to your success with our help.