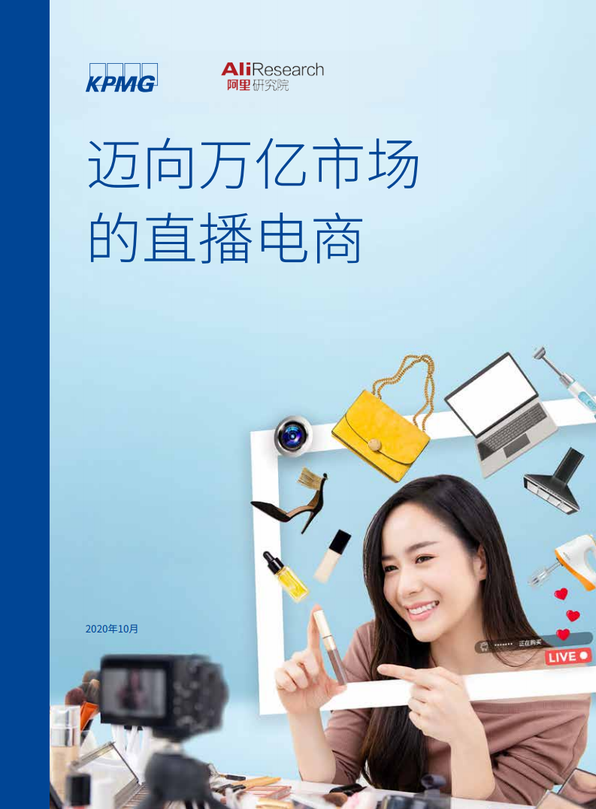 RecordTrend.com is a website that focuses on future technologies, markets and user trends. We are responsible for collecting the latest research data, authority data, industry research and analysis reports. We are committed to becoming a data and report sharing platform for professionals and decision makers. We look forward to working with you to record the development trends of today's economy, technology, industrial chain and business model.Welcome to follow, comment and bookmark us, and hope to share the future with you, and look forward to your success with our help.
The following is the Live broadcast e-commerce towards trillion market From KPMG & Ali Research Institute recommended by recordtrend.com. And this article belongs to the classification: kpmg , Electronic Commerce, research report, +2 more.
KPMG and Ali Research Institute released the report "live e-commerce towards a trillion market". It is predicted that the overall scale of live e-commerce will reach 1050 billion yuan this year, and the penetration rate of live e-commerce in the whole e-commerce market will increase by more than 4 percentage points to 8.6%. However, experts believe that not everything is suitable for live broadcasting, and only products with high experience, high gross profit and high customer price can better match the advantages of live e-commerce.
The scale is more than one trillion yuan
In the past few years, the scale of live e-commerce has been in a sustained and high-speed growth trend. According to the report of "live e-commerce towards a trillion market", the overall market size of live e-commerce will reach 433.8 billion yuan in 2019, with a year-on-year increase of 210%, and its penetration rate in the e-commerce market is 4.1%. It is predicted that the overall scale of live e-commerce will exceed trillion yuan in 2020, reaching 1050 billion yuan, and the penetration rate will reach 8.6%, However, in 2021, live e-commerce will continue to grow at a high speed, with a scale of nearly 2 trillion yuan (1995 billion yuan) and a penetration rate of 14.3%.
Kang Yong, chief economist of KPMG China, introduced that the development of e-commerce has experienced three stages: Graphic shelf, short video and live broadcast. Live e-commerce is the result of e-commerce format updating and iteration. It is more intuitive and real than pictures and short videos. It can interact with the anchor in real time and produce a better shopping experience. Therefore, it is widely welcomed by consumers.
Live e-commerce began to sprout in 2009, but it was not officially the first year of development until 2016. The novel coronavirus pneumonia was launched in 2019, and the live broadcast of Jingdong was launched. After 2019, the live broadcast business entered the outbreak period. This year's new crown pneumonia epidemic has further accelerated the development of live broadcasting business.
According to the Ministry of Commerce, in the first half of this year, more than 10 million live broadcasts were held across the country, and nearly 50 billion people watched them, with an average of more than 30 live broadcasts per person.
Li Yongjian, director of the Research Office of the Institute of financial strategy, Chinese Academy of Social Sciences, said when analyzing why live e-commerce can continue to create value, live e-commerce is actually the 2.0 stage of commodity data. In the past, e-commerce actually digitized commodities, and live broadcasting actually solved the problem of trust mechanism after commodity digitization. He also believes that live e-commerce can save trial and error costs, search costs and traffic costs. Therefore, from the perspective of economics, live e-commerce has created value and will continue to grow in the future.
According to KPMG's questionnaire survey, more than 70% of the brand companies think that the live e-commerce has increased the sales volume of their products, allowing them to expand the range of customers; nearly 50% of the brands believe that the main factor that attracts consumers is the low price.
Hao Jianbin, director of the industry research center of Ali Research Institute, said that clothing is a very important category in live e-commerce. In the past, the clothing industry had to go through three or four links from the factory to the consumer, with each link increasing by 15% – 20%. However, through the way of live broadcasting room, the circulation link can be reduced and consumers can buy relatively low-cost products.
Not industry standard
After the live e-commerce has entered the trillion scale, does the live e-commerce still have a growth dividend period? Will it really usher in the stage of "everything can be sown"?
According to KPMG's questionnaire survey, 45.2% of the brand companies are still very confident in the development of live e-commerce, and believe that it will continue to maintain rapid development; 24.1% of the brand providers believe that the live e-commerce will enter a stable development period.
If you want to get the full report, you can contact us by leaving us the comment. If you think the information here might be helpful to others, please actively share it. If you want others to see your attitude towards this report, please actively comment and discuss it. Please stay tuned to us, we will keep updating as much as possible to record future development trends.