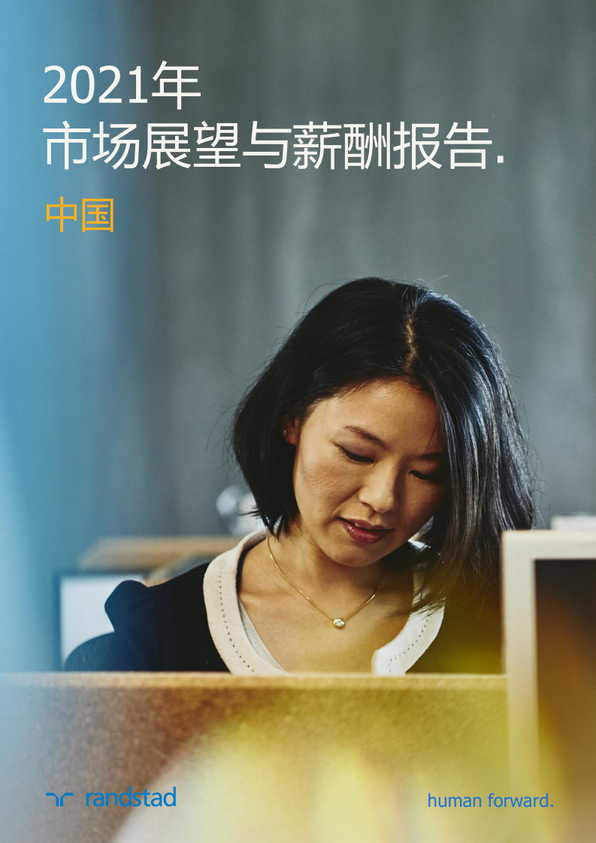 The following is the Market outlook and compensation report in 2021 From Ren Shida recommended by recordtrend.com. And this article belongs to the classification: research report, Online recruitment.
In the past year, from offline to online, the epidemic has accelerated the transformation of business model and work mode of enterprises. With the launch and wide application of new crown vaccine and the implementation of artificial intelligence, blockchain, cloud computing and big data technology scenarios in various fields, 2021 is bound to be a turning point year. The economy will recover more widely than last year, and the demand for talents will be further upgraded.
Under the new trend, what changes will talent demand have? Which talents are in short supply and what changes will take place in salary? Recently, renshida Greater China region released the report "2021 market outlook and salary report", which discusses, analyzes and forecasts the annual talent market development trend and job demand from five major fields of manufacturing, medical services, finance, entertainment consumption and ICT Internet.
manufacturing
From "made in China" to "made in China", the digital transformation of manufacturing industry led by the development of scientific and technological innovation has reduced the number of talent demand and turned into the demand for talent quality.
With the continuous iteration and upgrading of technology, these impacts will continue. From the trend, technology research and development, technicians, foreign trade, marketing skills will face a shortage of talents.
Enterprises that freeze salary or bonus before or continue to freeze salary will face the risk of brain drain and limited business development. Economic recovery will make more job seekers willing to change jobs.
How to obtain the talents needed by enterprises in time, recruit experienced hrbp, or cooperate with professional human resource service agencies become an important way for enterprises to deploy talents.
Medical health
The epidemic situation has promoted the development and upgrading of the medical and health industry. According to BCG & Tencent's 2020 digital medical insight report, the number of Internet hospitals has rapidly increased from 170 to more than 1000 in May. The number of Internet enterprises registered in the first half of 2020 far exceeds that of the whole year of 2019.
Medical informatization, medical AI, Internet medicine, gene testing Smart medicine will usher in a golden period of development. From the perspective of the longitudinal breadth of big health, it includes biomedicine, medical devices, medical services, health management and other branches, and the demand for talents will continue to maintain stable growth.
The further extension of the industrial chain will make the job demand and work scenarios more diversified. For example, the demand for Internet Medical Online Medical customer service, nursing workers in pension apartments, medical customer service of insurance companies, and medical liaison officers of pharmaceutical companies will increase significantly.
Salary and welfare, work pressure and career development opportunities are the main factors of job hopping. According to incomplete statistics, the salary increase is expected to be 10% – 20% in 2021. However, for talents in short supply, such as Internet medicine, medical big data, genetic testing, innovative medicine and surgical robot, the salary increase provided by employers may be as high as 30% or more.
financial service
At present, digital technology has widely penetrated into various fields of financial services, including intelligent payment, intelligent network, intelligent investment advisory, digital financing, etc., enabling financial digital transformation into a new stage.
The application scenarios cover banking, insurance, securities companies, private placement, financial technology companies, etc. Such as AI, customer service robot, OCR recognition technology, etc., in the application of intelligent payment, clearing and settlement, decp, risk control and other fields, this trend will stimulate the demand for talents in related fields.
Overall, with the wide application of technology, the recruitment plan of the financial industry has rebounded, but the demand is relatively conservative. In terms of talent structure, the demand for basic talents decreases, while the demand for financial technology talents increases.
Due to the epidemic situation and economic uncertainty, the proportion of bonus and salary increase is expected to decline compared with previous years, and the proportion of job hopping salary increase is expected to be less than 20%.
Entertainment consumption
Affected by the epidemic, the hotel and catering industry, entertainment and film and television industry are relatively affected in the consumption of clothing, food, housing and transportation. From the demand side, consumer behavior is undergoing great changes, consumption upgrading and consumption degradation. The competition between brands is also more intense.
On the whole, the cultivation of internal talents and the attraction and retention of key talents are still the key to drive the development of the industry.
There will be a slight increase in the recruitment of talents in the consumption field in 2021. Accordingly, the competition of consumer technology and marketing talents is becoming increasingly fierce. Jobs related to new consumption and new services will increase accordingly.
The labor force mix of cultural and entertainment consumption industry will be more diversified. With the penetration of flexible office and related technical support, more and more people will be able to accept the long-term and short-term combination of main and sideline employment.
ICT Internet
ICT technology is closely related to the development of digital economy. With the rapid development of digital economy, the ICT Internet field has been faced with a shortage of talents. In 2021 and the next 10 years, this gap will be further aggravated.
Talent shortage involves various fields. From the perspective of medium and high-end talent search, technical high-tech talents have been in short supply for a long time in recent years. Software development engineers are at the top of the list, and talents in many fields, such as artificial intelligence, big data, data center technology, cloud computing and security, are hard to find.
In the past, although enterprises mainly employed local talents, more and more recruitment managers are looking for overseas talents due to skill shortage. Due to the limitation of epidemic prevention and control and border control, the flow of cross-border technical talents will be affected in a short time. From talent introduction to local talent cultivation and inland talent mining, employers should seize the opportunity and broaden the source of talent channels.
ICT Internet talent job hopping salary increase expectations are generally more than 30%. The overall increase is about 20% – 35%.
In this trend, the employment of enterprises is more diversified. For specific short-term Internet technology projects, enterprises prefer human resource service outsourcing. Technology outsourcing teams and internal teams cooperate with each other to optimize the allocation of human resources and control costs.
If you want to get the full report, you can contact us by leaving us the comment. If you think the information here might be helpful to others, please actively share it. If you want others to see your attitude towards this report, please actively comment and discuss it. Please stay tuned to us, we will keep updating as much as possible to record future development trends.
RecordTrend.com is a website that focuses on future technologies, markets and user trends. We are responsible for collecting the latest research data, authority data, industry research and analysis reports. We are committed to becoming a data and report sharing platform for professionals and decision makers. We look forward to working with you to record the development trends of today's economy, technology, industrial chain and business model.Welcome to follow, comment and bookmark us, and hope to share the future with you, and look forward to your success with our help.