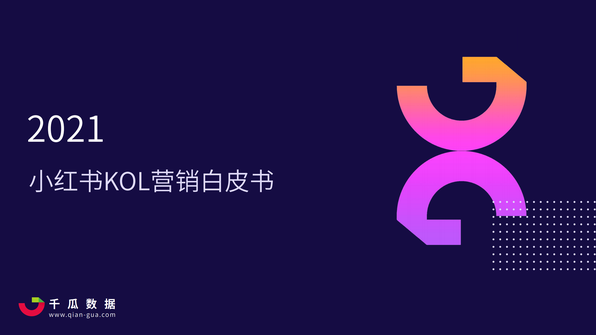 The following is the Marketing white paper of xiaohongshu KOL in 2021 From A thousand melons recommended by recordtrend.com. And this article belongs to the classification: research report, Webcast.
1. Marketing trend of little red book KOL
Little red book brand continues to gain weight
Under the influence of the epidemic in 2020, the development of various industries will be affected to varying degrees. Brand business ﹣ Gmv downward pressure ﹣ promotes the in-depth development of online marketing channels; and with the "little red book first share" perfect diary listed, little red book and other social media platforms ﹣ KOL marketing ﹣ are generally recognized by the market. With the rapid development of KOL group, little red book is the most eye-catching one.
Xiaohongshu brand continued to gain weight, and KOL's marketing budget increased by more than 42%. Skin care, cosmetics and personal care brands are still at the top of xiaohongshu KOL's marketing food chain, while Lancome, Olay, Estee Lauder and other well-known brands at home and abroad dominate the list for a long time.
Nestle, Midea, Tomson Beijian, Feihe, Liufu jewelry and other industry brands have entered the market one after another, filling the blank area of little red book industry ecology. Little red book is changing from a platform for women to an encyclopedia of women's life.
In May 2020, the Ministry of human resources and Social Security announced that "Internet Marketer" has become a national certified profession, and KOL's commercial value and social status have been further improved. By September 2020, the number of active KOLs in xiaohongshu (4 or more articles per week) has exceeded 100000, and some of them have entered the daily change stage.
KOL group differentiation is accelerated, and professionalism has become the core competitiveness of KOL. KOL, which has a deep understanding of a certain field, is becoming more and more professional. Meanwhile, it is inevitable that there will be KOL who makes up for the number. How to identify the inferior and support the superior with the help of data tools, do a good job in purchasing optimization, and get the maximum touch with low cost has become a common issue faced by brand businesses.
Xiaohongshu data analysis tool with AI intelligent water removal model, multiple data evaluation, rich screening and addition, and convenient management system has become an essential tool for brand KOL marketing.
02. Evolution of consumer decision making path
KOL marketing becomes the key
KOL marketing has become the mainstream of brand marketing, which reshapes the consumer decision-making path. Traditional consumer decision-making path: awareness – interest – purchase – loyalty. The boundaries among social networking, short video and e-commerce platforms are gradually blurred as KOL holds the right to speak.
KOL marketing can complete the whole process of AIPL with several or even one touch. The previous consideration and evaluation process of traditional consumption are extremely compressed or skipped, and directly enter the purchase process. New consumption models are emerging: purchase experience recognition binding.
The key variable to change the path of consumption decision-making is key opinion leader (KOL). Marketing is defined as: they have more and more accurate product information, and are accepted or trusted by the relevant groups, and have greater influence on the purchasing behavior of the group.
Effective fan value is the key to accelerate consumption decision logic. KOL gradually gains the trust and recognition of consumers in the long-term content sharing, and becomes the trust source of KOL marketing, and then changes the consumer decision-making path.
The most typical example is lipstick brother Li Jiaqi, a sentence: "oh my God, buy it, buy it!" Can let a lot of fans can't help but directly into the purchase link. Many new products and even new brands have become popular because they have been on Li Jiaqi's live studio. Huaxizi, who focuses on Oriental beauty, has become popular because she got on Li Jiaqi's "express" early.
The effective fans value of KOL directly affects the marketing effect of KOL. According to the data of China Advertising Association, the average invalid fans of KOL will account for 60.5% in 2020 (that is, the average activity of KOL fans will be 39.5%). More than 60% of xiaohongshu KOL fans are active, accounting for 63.63%, far higher than the market average.
Thanks to the highly decentralized xiaohongshu platform, xiaohongshu KOL is similar to a small private domain. Compared with other platforms, the emotional distance between xiaohongshu users and KOL is closer to real friends, and the influence of xiaohongshu KOL is more direct and effective.
Different from the global trend of xiaohongshu users, the active fans (users who have commented on or viewed Daren's notes in the past 30 days) still maintain the image of "young women in the three first tier cities of Beijing, Shanghai and Guangzhou".
Especially the 18-34 year-old women, who are the main force of "her economy", are in the booming stage of "B demand" in Maslow's hierarchy of needs theory, and have a natural affinity to "B demand" and products and brands that can show their values.
In the Research Report on China's data advertising market in 2020, xiaohongshu was rated as the "digital media platform" with the highest advertising value in China's market, ranking first with Taobao and tmall. The deep influence of xiaohongshu KOL on users' consumption decision-making, as well as the high consumption potential of xiaohongshu users, xiaohongshu platform has become one of the most effective ways for brands to carry out category education for target groups.
03. Multi level pyramid launch
With the waist up to people
2020 is a year for change, with short videos and live broadcast. Little red book platform vigorously supports short video and live content.
The report shows that: the proportion of business notes in video form has increased by more than 140%, and the ratio of video notes and graphic notes in top 1000 popular notes in 2020 is 3:1, more than 70%. The large reserve of short video talent also lays a solid foundation for the cultivation of high-quality live talent.
The distribution of active KOL, live KOL and high momentum talent is roughly the same, mainly concentrated in the primary talent, waist talent. They are the core level of the "pyramid" delivery model.
Whether it is the perfect diary in the early days or now, Estee Lauder group generally adopts the "pyramid" delivery model with waist talent as the main body in the little red book.
This is the most classic and effective strategy of little red book. Through the multi-layer pyramid type delivery, high-efficiency layered drainage, make full use of the long tail flow of small red books, and promote the transformation of product efficiency in a step-by-step manner.
Waist talent is the most beneficial KOL group under the recommendation mechanism of little red book platform. In 2020, Estee Lauder, mystery of sea blue and Lancome show that the re investment rate of waist talents is more than 70%, which further proves the high ROI of the "pyramid" investment model dominated by waist talents.
Marketing suggestions of KOL in 2004 and 2021
With the evolution of consumer decision-making path, a new consumption closed loop (purchase experience recognition binding) replaces the old system, and category education for consumers through KOL can effectively shorten the AIPL process.
Based on Maslow's demand hierarchy theory of B demand, deepen the brand concept, and create attitude products.
"Pyramid" multi-level and multi ecological combination investment, focusing on the re investment of waist talents, fully developing the long tail flow of xiaohongshu.
Make good use of data tools to do a good job in purchasing optimization, identify the inferior and support the superior, so as to obtain the maximum access of small red book users at low cost.
If you want to get the full report, you can contact us by leaving us the comment. If you think the information here might be helpful to others, please actively share it. If you want others to see your attitude towards this report, please actively comment and discuss it. Please stay tuned to us, we will keep updating as much as possible to record future development trends.
RecordTrend.com is a website that focuses on future technologies, markets and user trends. We are responsible for collecting the latest research data, authority data, industry research and analysis reports. We are committed to becoming a data and report sharing platform for professionals and decision makers. We look forward to working with you to record the development trends of today's economy, technology, industrial chain and business model.Welcome to follow, comment and bookmark us, and hope to share the future with you, and look forward to your success with our help.