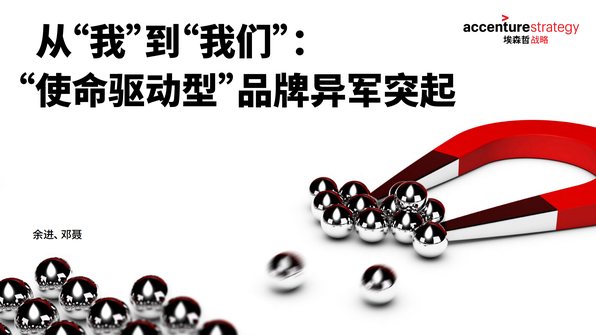 The following is the "Mission driven" brand rises suddenly From From "I" to "we" recommended by recordtrend.com. And this article belongs to the classification: accenture , research report.
The significance of mission driven brand
If enterprises can create the same mission as consumers' interests, cultivate consumers' sense of brand belonging, they can establish a more long-term and in-depth friendly relationship with consumers, and change consumers' attitude towards brands from "providing 'I' with the products they want" to "supporting 'our' common ideal". This relationship is based on the same position between consumers and brands, and its role is not even limited to promoting the income growth of enterprises.
Consumers will choose to give up forever.
Understanding of "brand mission" of Chinese consumers
Chinese consumers seem to be more sensitive to "stand economy.".
Mission factors influencing purchase
80% of the Chinese consumers interviewed said that when purchasing products and services, they are more willing to choose enterprises whose mission is consistent with their personal values and beliefs, and 79% of the Chinese consumers want enterprises to take a stand on social, cultural, environmental and political issues.
Social and environmental issues receive the most attention
78% of Chinese consumers prefer enterprises using high-quality raw materials, 69% of Chinese consumers prefer enterprises that treat their employees well, while 71% of Chinese consumers agree with enterprises that reduce the use of plastics and improve the environment.
Transparency and trust are crucial
75% of Chinese consumers said that they would consider the enterprise's ethics and sincerity when purchasing products, and 84% of them hoped that the enterprise would improve its business level transparency.
The key vote for consumers
Thanks to the empowerment of new technology and digital world, Chinese consumers have greater voting rights in influencing the success or failure of brands.
According to Accenture's global survey data, nearly half of the companies surveyed have built (or are building) a brand ecosystem to cope with the threat of industry subversion.
Create a "Shengli enterprise" with a sense of mission
At the moment when the economic trend is more and more obvious, mission driven brands are more likely to build stronger and more resilient consumer relations. At the same time, the mission driven brand also helps to enhance consumers' confidence in the brand and make the brand more capable of coping with the "trust crisis" (which is almost inevitable), so as to ensure that the profits of enterprises are not greatly affected.
Once the enterprise has formulated a lofty mission after careful consideration, it will be further away from becoming a "Shengli enterprise". Shengli enterprises can timely meet various consumer needs according to the specific situation, so as to cultivate super high relevance and realize sustainable development. Shengli enterprises can also take consumers as the core, quickly adapt to the changing preferences of consumers and the complex market environment, so as to maintain the vitality of development.
Nearly two-thirds of consumers want companies to take a stand on their concerns, so "mission driven" brands tend to be more competitive and more profitable.
Practice the mission and stand out
Learning to integrate "brand belonging" into the mission is rapidly becoming an essential element to improve the competitiveness of enterprises. For enterprise leaders who are willing to comply with and practice the economic trend, the following guiding principles can help build mission driven brands.
people oriented
Enterprises need to think about the mission value of their existence from a more macro perspective, insight into the expectations of consumers, listen to the demands of employees, and understand the value needs of partners from the people-oriented perspective.
Be determined to innovate, focus clearly and treat people sincerely
Transparent communication is the key for enterprises to establish emotional connection with consumers. Nearly two thirds (64%) of consumers believe that brands that actively promote their mission are more attractive.
Enterprises should not spend too much energy on attracting consumers, but should spend more energy on building a good relationship with new partners in the ecosystem to enhance agile competitiveness.
Do what you say
In the trend of position economy, enterprises should not only make up their mind to integrate new values and moral standards into the core of their business, but also set an example and put into practice the code of conduct they are determined to pursue.
If you want to get the full report, you can contact us by leaving us the comment. If you think the information here might be helpful to others, please actively share it. If you want others to see your attitude towards this report, please actively comment and discuss it. Please stay tuned to us, we will keep updating as much as possible to record future development trends.
RecordTrend.com is a website that focuses on future technologies, markets and user trends. We are responsible for collecting the latest research data, authority data, industry research and analysis reports. We are committed to becoming a data and report sharing platform for professionals and decision makers. We look forward to working with you to record the development trends of today's economy, technology, industrial chain and business model.Welcome to follow, comment and bookmark us, and hope to share the future with you, and look forward to your success with our help.