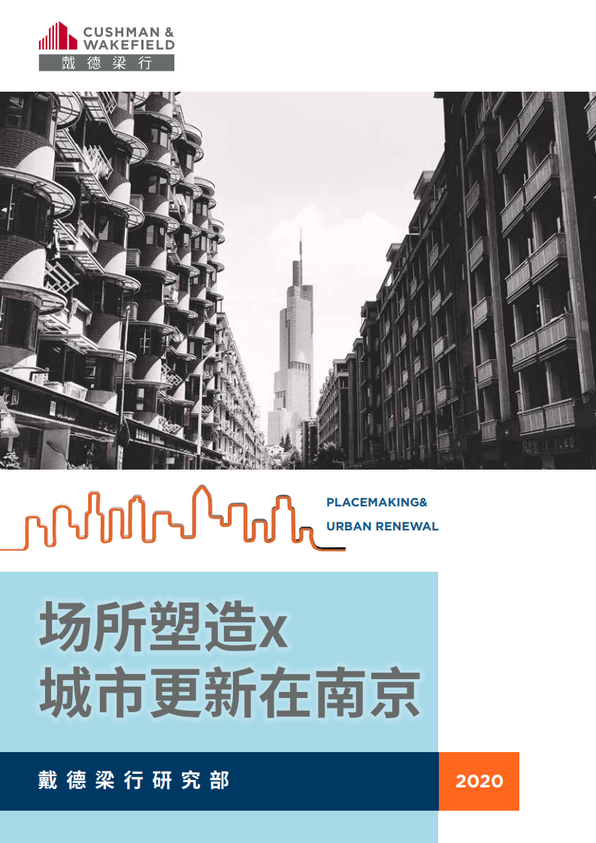 The following is the Place shaping X city renewal in Nanjing From DTL recommended by recordtrend.com. And this article belongs to the classification: Life data, research report.
Shaun Brodie, head of tenant research for Greater China, said that China's urban renewal has moved from the 1.0 era of "big demolition and big construction" to the 4.0 era of pursuing wisdom, green and sustainable development, and Nanjing is no exception. Nanjing is gradually becoming an "innovative city and beautiful ancient capital". With the "talent war" becoming more and more fierce today, more and more people are willing to become "new Nanjing people". How to further attract more top talents to take root in Nanjing is not just a matter of household registration, salary and housing price. Let the real estate have temperature, let the user have "master" consciousness and sense of belonging is one of the very important conditions.
As the capital of Jiangsu Province, a mega city in the Yangtze River Delta and an important central city in the eastern region, Nanjing takes "innovative famous city and beautiful ancient capital" as its urban development vision. The construction of beautiful ancient capital represented by the transformation of old city has become the focus of the government's work in recent years, and constantly promotes "organic renewal" to restore the function and vitality of the old city. On the other hand, with the gradual saturation of land construction, Nanjing real estate market has gradually entered the stock age, and the exploration and research of urban renewal has become the focus of the industry.
Different from the old road of extensive expansion of "large-scale demolition and construction", Nanjing's urban renewal has entered a new stage of urban renewal 4.0. Looking back on the urban renewal of Nanjing, it has experienced the upgrade from 1.0 to 4.0. Urban renewal from 1.0 to 3.0 is essentially a "steady and gradual" renewal with the pursuit of economic benefits as the main goal and the focus on incremental development. Urban renewal 4.0 is a "breakthrough innovation" involving new communities, internationalization, strong industrial chain and other aspects of urban development, through a series of demand changes such as industry, life, consumption, and intensive land use and space utilization Compound development to build a smart, efficient and sustainable city.
A high-quality place can cultivate the sense of community identity, support the development of community economy, enhance the sense of comfort, and provide a more healthy and pleasant environment. Under the background that the main urban area of Nanjing has entered the era of stock, the combination of the place building that has been tried in Europe and America with the current urban renewal can create more places for residents to stay repeatedly and inject more vitality into the material and spiritual consumption in the place. In the comparison of globalization dimension, great cities are the gathering place of high-quality places. It is of great significance to help Nanjing build a world-famous innovation city by building more business places with the method of community guidance.
Song Shiyu, deputy general manager of Nanjing company of DTL, believes that Nanjing, which combines fashion and ancient charm, is gradually entering the era of urban renewal 4.0, and the concept of place shaping is conducive to stimulating more vitality of old reform projects in Nanjing. We expect Nanjing to further improve its soft and hard power under the guidance of high-quality urban renewal, and make the urban environment more livable and suitable for industry. As a professional consultant in the field of real estate, DTL brings together many experts in the industry to build an urban renewal service platform, integrate internal comprehensive services and relevant social resources, provide customers with high-quality one-stop project consultancy services in the whole life cycle, promote urban "organic renewal", and contribute to the high-quality construction of "strong, rich, beautiful and high" new Nanjing.
Tang Yaoguang, general manager of the Hangzhou, Nanjing and Hefei companies of DTL, said that as a mega city in the Yangtze River Delta, Nanjing is making use of its own resources and endowments to create representative innovative achievements in contemporary China. In today's rapid development, Nanjing's urban influence is further deepened, promoted to the "new first tier city", and a number of indicators rank in the forefront of the country. This is inseparable from the improvement of Nanjing's urban temperament over the years, which makes the ancient capitals of the Six Dynasties still glow with new vitality today. Having been with Nanjing for more than ten years, DTL hopes to show the readers the positive impact of urban renewal on all kinds of properties in Nanjing in the new era by using this Nanjing city white paper. It also introduces the concept of building various types of business places, and explains the good experience of building places for users in the form of cases, hoping to give some inspiration and thinking to relevant industries. In the future, DTL will, as always, provide professional services in different fields such as regional development, industrial planning, urban function research and judgment for multiple subjects in Nanjing. Through the cooperation of all departments of the enterprise, we provide customers with the strategic escort of the whole life cycle from top-level design to practical operation.
If you want to get the full report, you can contact us by leaving us the comment. If you think the information here might be helpful to others, please actively share it. If you want others to see your attitude towards this report, please actively comment and discuss it. Please stay tuned to us, we will keep updating as much as possible to record future development trends.
RecordTrend.com is a website that focuses on future technologies, markets and user trends. We are responsible for collecting the latest research data, authority data, industry research and analysis reports. We are committed to becoming a data and report sharing platform for professionals and decision makers. We look forward to working with you to record the development trends of today's economy, technology, industrial chain and business model.Welcome to follow, comment and bookmark us, and hope to share the future with you, and look forward to your success with our help.