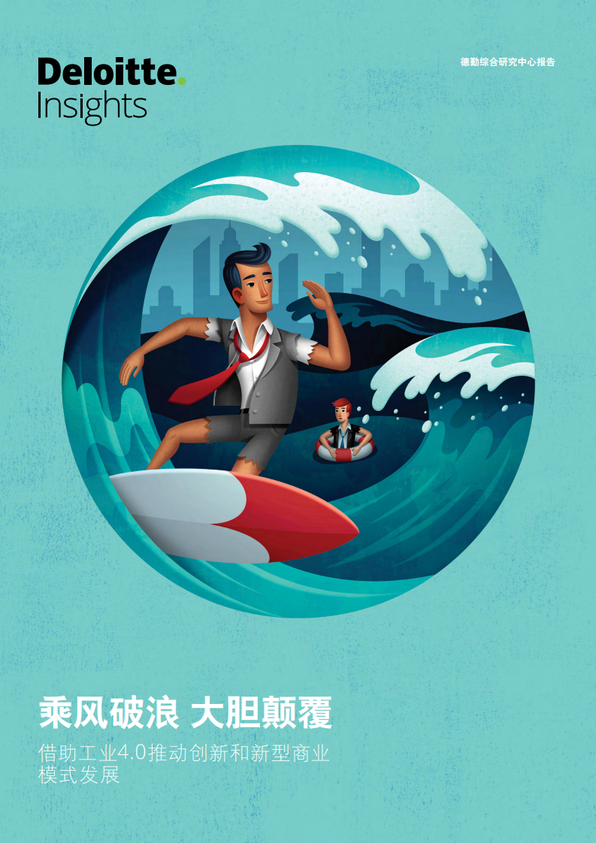 The following is the Promote innovation and new business model development with industry 4.0 From Deloitte Consulting recommended by recordtrend.com. And this article belongs to the classification: Industry 4.0, Deloitte Consulting , research report.
Industry 4.0 creates great opportunities for enterprises to apply advanced technology in the whole value chain, and promote excellent operation and business growth in many fields, from products and services to supply chain and stakeholders (including employees, partners and customers). Nevertheless, business leaders continue to use industry 4.0 technology to protect themselves from being surpassed by competitors, rather than looking for new opportunities to subvert the market.
In a recent survey of global chief executives, 56% of leaders said that investment in industrial 4.0 technology would give priority to self-protection strategy to avoid the subversion of competitors; 26% wanted to use it to build a new business model and subvert the existing competitive pattern; and less than half of the respondents (40%) said that they would give priority to the development of innovative differentiated products and services to create new revenue Source. Similar situations have occurred in other studies. Leaders have indicated that priority should be given to preventing external subversion rather than actively transforming existing business models, with a ratio of two to one or higher.
Industry 4.0 and digital transformation can provide massive opportunities for change. Why is this still happening? From the perspective of behavioral economics, this avoidance of subversion is at least understandable to a certain extent, because human beings want to protect themselves from loss, rather than risk seeking new unknowns. However, only focusing on protection may lead to greater risks, resulting in missed development opportunities.
So what is protection and subversion? Giving full play to the power of technology to protect means using technology to optimize the existing process. In other words, it is to perform the original tasks in a more efficient, safe and effective way. Protection usually involves maintaining or increasing profits by reducing costs and increasing efficiency, as well as operation excellence. On the other hand, using the power of technology to subvert means doing new tasks with new methods, such as promoting the implementation of new processes and finding new ways to improve efficiency, increasing revenue through the development of new or innovative products and services, or implementing new business models.
Deloitte's research results show that if the method is appropriate, enterprises are expected to achieve 22% revenue growth and 19% EBIT growth with the help of digital transformation, which is the driving force for enterprises to move towards transformation and innovation. In addition, although the probability of innovation driven enterprises and operation and production target driven enterprises to obtain rich return on investment from digital transformation is almost equal, the return on investment cycle of transformation innovation is shorter. Research shows that digital initiatives such as developing new products, services and business models usually take only two years to produce initial financial impact and achieve double growth of income and EBIT, while protective measures such as internal optimization take five years to produce the same effect.
The benefits of digital transformation are obvious. What hinders enterprises and leaders from pursuing transformation and innovation? The answer involves multiple considerations: whether you have the right strategic thinking, whether you have the right talent and culture, and whether you have a clear action plan including investment timing and investment focus. Together, these factors point to two more pertinent questions: do leaders know what they are using technology for, and do they have a clear strategy?
In the process of transformation from protective strategy to transformational innovation strategy, enterprises may also face multi-dimensional challenges, including too many choices, lack of long-term vision and short-term thinking, lack of strategic plan, lack of talents and skills, and lack of diversified perspectives.
In order to transform from excellent operation to transformation and innovation, enterprises can first use advanced technology for protection and process optimization to build a solid foundation for excellent operation. Or enterprises can take a multi pronged approach to take a protective strategy in one field, while carrying out transformation and innovation in another field.
Operation activities affect the core of digital investment, which tend to focus on business process simplification and improvement, technology use and information flow to help enterprises realize business intelligence. In other words, it can be classified as "protective strategy", or more accurately, it is an important basic step towards a more comprehensive innovation and growth transformation route. From a strategic perspective, leaders can not only use new technological capabilities to promote the connection between the digital and physical worlds, but also use the resulting data and information flows to identify new business opportunities, improve or build new products or services, and quickly adapt to changes.
Finally, enterprises need to develop a comprehensive plan to achieve transformation and innovation. Industry 4.0 provides a series of opportunities with different values, different complexity and impact on the value chain. According to their own actual situation, enterprise goals or industries, the ways for enterprises to achieve excellent operation, growth and innovation are quite different. Leaders can create a global transformation plan and build a more intelligent and flexible enterprise with the help of industry 4.0.
But at the same time, when enterprises invest in and implement digital transformation, they still focus on protection rather than subversion, which leaves room for more profound transformation. Enterprises need to change their way of thinking and realize that "protection" and "subversion" are not either options, which can lay a solid foundation for operational excellence, technical infrastructure and capabilities. The foundation can also promote enterprises to explore opportunities for innovation and transformation.
Enterprises can integrate technology investment into dynamic and sustainable long-term investment plans: consider the operation activities with short-term investment return, and investment plans that can help enterprises move towards long-term transformation vision. For enterprises, they need to cultivate cross functional collaboration culture and use external partners in the ecosystem to seize the end-to-end opportunities of industry 4.0 in the network.
If you want to get the full report, you can contact us by leaving us the comment. If you think the information here might be helpful to others, please actively share it. If you want others to see your attitude towards this report, please actively comment and discuss it. Please stay tuned to us, we will keep updating as much as possible to record future development trends.
RecordTrend.com is a website that focuses on future technologies, markets and user trends. We are responsible for collecting the latest research data, authority data, industry research and analysis reports. We are committed to becoming a data and report sharing platform for professionals and decision makers. We look forward to working with you to record the development trends of today's economy, technology, industrial chain and business model.Welcome to follow, comment and bookmark us, and hope to share the future with you, and look forward to your success with our help.