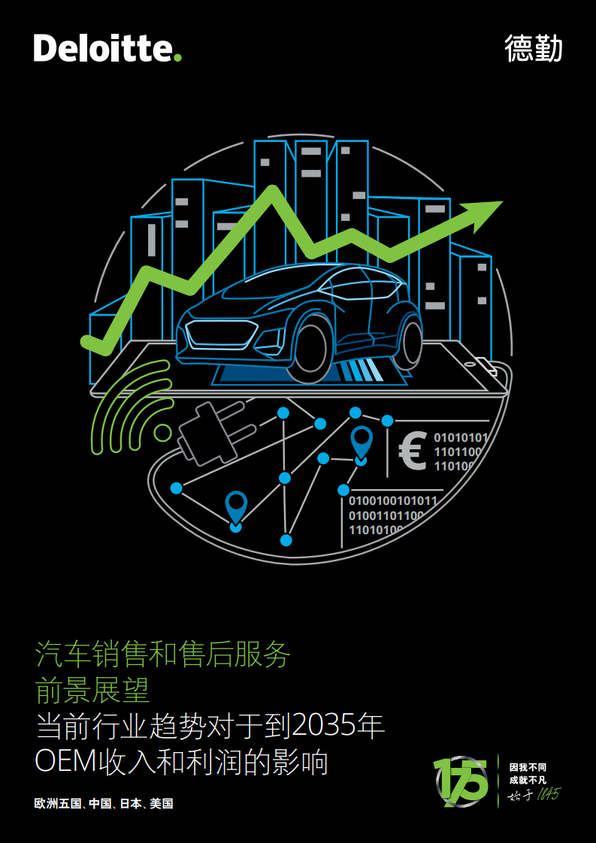 RecordTrend.com is a website that focuses on future technologies, markets and user trends. We are responsible for collecting the latest research data, authority data, industry research and analysis reports. We are committed to becoming a data and report sharing platform for professionals and decision makers. We look forward to working with you to record the development trends of today's economy, technology, industrial chain and business model.Welcome to follow, comment and bookmark us, and hope to share the future with you, and look forward to your success with our help.
The following is the Prospect report of automobile sales and after sales service in 2035 From Deloitte Consulting recommended by recordtrend.com. And this article belongs to the classification: Deloitte Consulting , Automobile industry, research report.
The global automobile industry is on the cusp of major changes. In addition to the emerging technology trends of intelligent connected vehicles, electric travel and automatic driving, we can also see significant changes in consumer behavior in terms of travel mode and purchase preference. It is difficult for almost all industry experts to question these trends, but we believe that what is missing in the current market is the overall understanding of these technology trends, especially from the perspective of sales volume and profit, and the impact of existing OEM automobile sales and after-sales business.
This study aims to improve information transparency, quantify trend impact and development opportunities, and provide strategies and methods for OEMs to survive the transition period. The markets involved in this study include China, the United States, five European countries (Germany, France, Britain, Spain, Italy) and Japan. Deloitte expects that by 2035, new car sales in these markets will account for about 70% of global new car sales.
1. Industry trend analysis and driving factor prediction
Interconnection
Deloitte expects that the degree of automotive connectivity ("connected vehicles") and the degree of customer connectivity ("connected customers") will vary significantly in different markets due to technological infrastructure and consumer preferences. We expect that by 2035, almost all the cars on sale in all markets will be connected.
By 2035, even if all cars have achieved basic interconnection, only a small part of them can achieve full interconnection. The main reason is that the increase of hardware cost makes v2x a high-end choice in the field of passenger cars.
By 2035, 75% of new cars on sale in China are expected to have v2x functions. At present, 76% of Chinese consumers believe that it will be convenient to improve the connectivity of cars, and they are most interested in receiving instant messages about traffic congestion and nearby parking.
By 2035, 40% of new cars on sale in the United States are expected to have v2x functions. At present, the United States is the market with the highest level of development of Internet automotive services, and also the pioneer of the application of automatic driving technology.
By 2035, it is estimated that 29% of the new cars on sale in the five European countries will have v2x function. Overall, consumers in five European countries are skeptical about the improvement of automotive connectivity: only 36% of German consumers believe that the improvement of automotive connectivity will bring convenience.
Japanese consumers are skeptical about the improvement of automotive Internet, and only 49% of them think that the improvement of automotive Internet will bring convenience.  
Alternative power system
Deloitte expects that in the future, it will take pure electric vehicles as the leading force and realize the coexistence of multiple power systems. The emergence of alternative power system is mainly due to the continuous decline of production costs, the increasingly perfect regulatory mechanism, the gradual popularization of charging infrastructure and the continuous improvement of power system performance.
China has great potential to replace power systems, mainly due to government incentives such as subsidies for new energy vehicles and fuel cell vehicles and direct R & D investment.
Although the United States is seen as a pioneer in the development of alternative power systems, American consumers believe that their next car may still be an internal combustion engine.
By 2035, Deloitte expects that 35% of new cars in the five European markets will adopt alternative power systems.
Japan ranks the first in the world in terms of market penetration of hybrid vehicles, in which plug-in hybrid vehicles account for only a small part.  
carpooling
Shared travel will improve vehicle utilization and promote the transfer of vehicle ownership from private customers to fleet operators. In addition, automatic driving technology is expected to accelerate the development of travel services.
The trend of China's shared travel has risen quietly in China. In terms of user base and daily average number of trips, China has become the largest shared travel service market in the world.
Due to the high level of urbanization (82%) in the United States, there is a huge demand for shared travel, but the growth rate is lower than other markets.
The continuous improvement of urbanization level in five European countries (from 74% to 84% in 2050) and the increasingly strict internal combustion engine regulation will promote the sustainable development of shared travel and stimulate the consumption demand of shared travel.
Japan's public transport system is well developed and well recognized, which poses a challenge to shared travel service providers. Railway transportation mileage accounts for more than half of passenger transportation mileage.
Automatic driving
The biggest technical obstacle lies between Level 3 and level 4 automatic driving technology. Deloitte expects that level 4 technology can be applied to specific situations at least. Under the basic circumstances, China will rank first in the sales of new cars in auto driving (grade 4/5) by 2035.
Compared with other markets, China has the most growth potential. Under basic conditions, it is estimated that 10% of new cars will adopt the level 4 / 5 ADAS system. The Chinese government attaches great importance to the promotion of new technologies and is willing to invest heavily in infrastructure investment in the city's popularity of China's self driving cars.
In the United States, under basic conditions, we expect that 8% of new cars in the United States will adopt the level 4 / 5 ADAS system (limited to specific urban areas or dedicated routes). The United States currently has the most advanced environment for the use of autopilot.
Under the basic situation of the five European countries, we expect that 5% of the new cars in Europe will adopt the 4th / 5th level ADAS system. However, under the subversive situation of favorable regulatory decisions, general acceptance by the public and continuous promotion of scientific and technological innovation, this proportion may be as high as 43%.
Japan has one fourth of its population aged 65 and above. Therefore, automatic driving technology can be used to provide motorized travel services. As local OEMs, governments and start-ups drive technology development and deployment, we will soon witness the first fully automated application.
2. The future state of strategic choice
We will present different views on the impact of trends based on the two situations under each trend. In addition, we will also analyze the two dominant positions of OEM in the future competition pattern, so as to get four possible future states by 2035.
The future state in the case of stagnant trend
In the case of weak Casa trend, the practical significance and market potential of new business sectors such as travel as a service and car as a platform will be reduced. Even so, we will still see the type of car sales customers change into fleet customers and private customers who require Omni channel interaction in the process of car purchase and use.
The future state in the case of trend reversal
In the case of strong Casa trend, OEM will face greater transformation pressure if they want to occupy a dominant position in the new travel environment. In addition, there will be a strong integration and "winner take all" market situation in the new business sector. At the same time, a new generation of "digital Aboriginal" competitors will also have a strong impact.
No matter in what future state, OEM must carry out major transformation to gain market share and resist market competition.
3. Qualitative and quantitative evaluation of five business sectors
a) Car sales
In the basic case, the sales revenue of OEM will increase by 25%. The growth mainly comes from China, and the United States will also achieve a small growth. Sales of new and used cars in five European countries and Japan all declined.
The main drivers include macroeconomic trends such as wealth, population and urbanization, but the shift from private ownership to shared use of vehicles also affects car sales.
To achieve significant growth and profitability, OEMs need to succeed in China and transform their existing retail networks across all markets.  
b) After sales service
Casa trend will lead to the decline of OEM's current after-sales service revenue, especially the threat of replacing power system to OEM's current total profit.
As the number of vehicles in use has soared, China has become the only market to realize the growth of after-sales service revenue.
The trend of Casa has little influence on the business of elderly cars dominated by independent after-sales market.
The shortening of development cycle may lead to the increase of warranty rate, which makes warranty service more and more important in retail network.
c) Financial services
By 2035, financial services revenue will more than double, mainly due to China's strong growth – China's contribution to agency OEM financial services revenue will exceed 50%.
Due to the vigorous development of the new business sector, all markets are expected to achieve revenue growth in the service-oriented business area.
Omni channel sales focusing on direct sales will become the key factor for all markets to achieve success in the asset and service-oriented business areas.
d) Travel as a service
In the basic case, by 2035, OEM can achieve significant revenue growth in the travel as a service segment, with a compound annual growth rate of 11%.
China's market potential is huge, but the competition is fierce. European market potential is relatively small, but traditional OEM still has a greater opportunity to dominate the market.
Creating a new travel environment helps to fully tap the profit potential. This means that OEM needs to be a "full range travel service provider", and this will have a huge synergy.
The market potential of travel as a service sector mainly depends on the rise of industry trends.
e) Car as platform
The direct revenue of auto as a platform business segment is expected to increase, but interconnection will play a role in promoting the development of other business segments or optimizing costs.
In general, the revenue of automobile as a platform is still low, accounting for only 4% of OEM's total revenue under basic conditions.
Auto as a platform revenue mainly comes from China's Internet service sales.
As OEMs seek to create a new travel environment, data as a service will become the main source of revenue for all markets.
In the basic case, the compound annual growth rate of OEM revenue from 2018 to 2035 is 3%. Of all the markets, China will make the biggest contribution to the overall growth, while other markets will show only moderate growth.
4. Research conclusions and priority actions
1) Understand relevant information and make clear decisions. OEM should fully understand the impact of current and future industry trends on its business, refer to the above analysis results and make adjustments according to its own business characteristics.
2) Make sure you take full advantage of the drivers. No matter whether they are involved in new business segments or not, OEM must carry out product and process transformation in response to technological progress. OEM needs and should make full use of various levers, such as strategic cooperation and acquisition, Internet infrastructure and platform construction.
3) No matter in what future state, ensure to have Omni channel service ability. OEMs have to make major changes to their existing physical sales and after-sales service network, including various fundamental sales transformation changes, such as reducing the scale and assets of traditional retail network, introducing new business model and digital customer experience for retail portfolio.
If you want to get the full report, you can contact us by leaving us the comment. If you think the information here might be helpful to others, please actively share it. If you want others to see your attitude towards this report, please actively comment and discuss it. Please stay tuned to us, we will keep updating as much as possible to record future development trends.