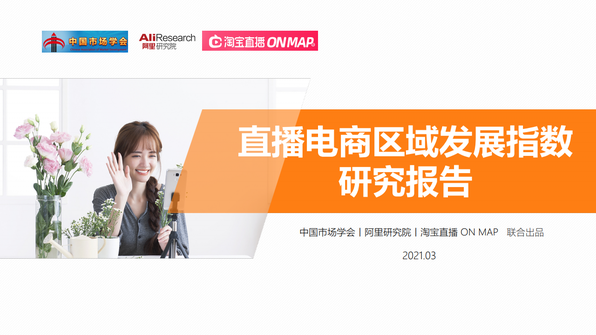 The following is the Research Report on regional development index of live E-commerce From Ali Research Institute & Taobao live broadcast recommended by recordtrend.com. And this article belongs to the classification: Electronic Commerce, research report, Webcast, Ali Research Institute.
Recently, China Marketing Association and Alibaba Research Institute jointly live Taobao Map jointly released the Research Report on the regional development index of live broadcasting e-commerce (hereinafter referred to as the report). Through the data analysis of Taobao live broadcasting in 2020, the report quantitatively evaluates the development of live broadcasting e-commerce in all regions of China from five dimensions: Live Broadcasting commodity consumption, live broadcasting content supply, live broadcasting content consumption, live broadcasting quality and industry promotion.
Zhejiang, Guangdong and Shanghai are among the top 100 live e-commerce regions in China. According to the report, the top 100 live broadcast areas are distributed in 16 provinces. Zhejiang accounted for 21 at most, followed by 18 in Guangdong, 13 in Shanghai and 12 in Beijing. Six in Jiangsu and Sichuan, five in Shandong and Liaoning, three in Fujian and Hebei, two in Jiangxi and Yunnan, and one in Henan, Chongqing, Hubei and Heilongjiang.
The top 10 of the top 100 live broadcast areas: Binjiang District (Zhejiang), Baiyun District (Guangdong), Jianggan District (Zhejiang), Pudong New Area (Shanghai), Yuhang District (Zhejiang), Xiaoshan District (Zhejiang), Donghai County (Jiangsu), Yiwu City (Zhejiang), Tianhe District (Guangdong) and Chaoyang District (Beijing).
According to the national live e-commerce characteristic map, the development of live e-commerce is closely related to the local industrial foundation. In the southeast coastal provinces, the manufacturing industry is relatively developed, and the main categories of live e-commerce are clothing and shoes, such as Hangzhou women's clothing, Haining leather, Jinjiang shoes, etc. The central and western provinces have unique climate and environmental resources, and the direct broadcast e-commerce mainly focuses on agricultural and sideline products, such as Aksu apple, Zhongning wolfberry, Zhashui agaric, etc. Jade live broadcasting has become a popular product of live broadcasting network, such as Ruili jade, Hotan jade and Xiuyan Jade.
Most of the top 100 live broadcast e-commerce areas have one or more characteristics, such as "old e-commerce strong area", "solid industrial foundation", "rich MCN / talent resources", "perfect live broadcast ecology". For example, Sijiqing in Hangzhou, Zhejiang Province, is one of the most influential garment wholesale and circulation markets in East China. Relying on the market, Sijiqing carries out "live broadcast at the stall". As an off-line wholesale market stall, Sijiqing can also be used as an on-line retail live broadcast room. Sijiqing has a dual purpose. Sijiqing is moving towards the mode of Online + off-line common development. Ruili, a small border town in Dehong Dai and Jingpo Autonomous Prefecture of Yunnan Province, is one of the most important distribution centers of jewelry and jadeite in China. In the past two years, young people from all over the country have flocked to Ruili. The 24-hour work of more than 40000 anchors has turned Ruili into a city that never sleeps. The number of anchors, customer service, shippers, couriers, drivers and catering employees has doubled in the past two years. Haining, the leather capital of China, has made tens of thousands of merchants take advantage of Taobao live broadcast to "sell goods in the cloud".
The report shows that the policy of live e-commerce has a significant effect on the promotion of live e-commerce business. According to incomplete statistics, in 2020, 33 regions (including provinces, cities and districts) of the country have introduced live e-commerce support policies. For example, on June 20, 2020, Yuhang District of Hangzhou City issued the "live e-commerce policy of Yuhang District" and 12 "live e-commerce" supporting policies to create the first live economic zone. On June 22, Yiwu City issued the action plan for speeding up the development of live broadcasting e-commerce in Yiwu City, which supports well-known live broadcasting platforms, large-scale online red service institutions, and "online Red" with its own traffic in finance, taxation, talent purchase, and children's enrollment. Many local governments have clearly proposed to build a "live e-commerce city" and "live economic headquarters base", and listed the e-commerce anchor as a talent introduction policy. A series of supporting policies related to talent training have been issued, setting off a wave of upsurge in the development of live e-commerce economy.
If you want to get the full report, you can contact us by leaving us the comment. If you think the information here might be helpful to others, please actively share it. If you want others to see your attitude towards this report, please actively comment and discuss it. Please stay tuned to us, we will keep updating as much as possible to record future development trends.
RecordTrend.com is a website that focuses on future technologies, markets and user trends. We are responsible for collecting the latest research data, authority data, industry research and analysis reports. We are committed to becoming a data and report sharing platform for professionals and decision makers. We look forward to working with you to record the development trends of today's economy, technology, industrial chain and business model.Welcome to follow, comment and bookmark us, and hope to share the future with you, and look forward to your success with our help.