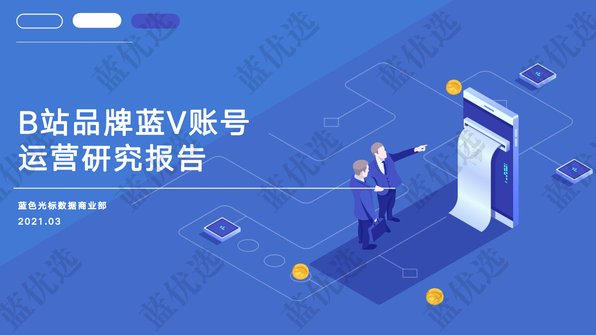 The following is the Research Report on the operation of station B brand blue V in 2021 From Blue cursor recommended by recordtrend.com. And this article belongs to the classification: research report, Network video.
"B station brand blue V Operation Research Report" produced by the Ministry of Commerce of blue cursor data was officially released! Based on the big data analysis of station B, combined with the popular cases, the report captures the new operation methods of brand blue V, insight into the new trend of brand marketing, and helps the brand enter station B as soon as possible, catch the bus blue V, and taste the platform bonus.
At the same time, this report adopts the live class form of hot, dry, real and interesting. Cui Jing, senior data consulting manager of the Department of Commerce of blue cursor data, is specially invited to help you understand. Nearly 400 people watch it online, proving that the current brand and the public are concerned about how to play B station marketing.
This report contains four major contents
01. Z generation flow depression not to be missed by brand
The scale of generation Z in China has reached 328 million, which is the country with the largest number of generation Z in the world. The "post-95s" begin to enjoy the positive demographic dividend, and the "post-00s" become the generation with the richest growth dividend. In 2020, generation Z will account for 40% of the total consumption power, and generation Z will have stronger Consumption Willingness and ability.
From 2009 to now, after 11 years of development, station B is no longer the platform of the original two-dimensional and homestead culture, but has gradually become a cultural community where Chinese young people gather.
02. Z generation flow depression not to be missed by brand
The report shows the huge family system of station B blue V, involving eight industries including Internet applications, food and beverage, beauty personal care, game services, 3C digital, automobile transportation, learning and education, and home appliances. According to incomplete statistics, 504 brands have set up 710 blue V accounts in station B, among which the Internet industry has the largest number of brands, 94 brands and the largest number of accounts; the food and beverage and beauty care industry has followed closely, ranking second and third.
Through the insight research and case dismantling of eight industries, some of the main contents of the brand's entry into station B are summarized in one sentence: the brand regards itself as the up master; it is summarized with a formula, namely "brand up people set up" + "B station flow shell" + "operation".
Here we need to pay attention to the following five points:
03. The "secret book" of blue V
Recently, a leading brand has emerged in the food and beverage industry, with millions of fans. This brand is Yuanqi forest. According to the survey, Yuanqi forest's blue V only had more than 2000 fans in mid December last year, but it already had 1 million fans in mid January. Besides being a new brand, new concept and new category, what makes the number of fans of this blue V account increase more than 400 times a month? Up to 99.8%? With this problem, the report analyzes the operation of Yuanqi forest blue v.
With flexible implantation, deep IP binding and cross-border linkage, Yuanqi forest achieves empathy with consumers and target audiences. It can be seen that although he is a marketing expert, Yuanqi forest is not only "marketing for the sake of marketing", but also trying to use a unique consumer perspective to customize the marketing content for consumers, naturally stimulate the brand value and internal spirit, and achieve emotional resonance with the audience and consumers.
Five marketing trends of Bizhi B station in 2004 and 2021
01. More brands are converging with young users of station B
02, B station blue V is gradually developing to the main direction of "up"
Brand marketing needs a long time of accumulation and test. Short video has the advantage of planting grass in a short period of time, but it is not enough to undertake the demand of long-term marketing. The community atmosphere and content ecology of station B can just make up for this shortcoming, and it has considerable potential to be explored.
For station B, which needs to make achievements in business, the favor of brand will help the commercialization of station B go more solid. At the same time, the brand has been seeking marketing methods that are not out of touch with the times, and station B is just a gathering place for young people. Both sides need each other to achieve a win-win situation.
It is foreseeable that more and more brands will enter station B next, and the commercial road of station B will have a broader development space.
If you want to get the full report, you can contact us by leaving us the comment. If you think the information here might be helpful to others, please actively share it. If you want others to see your attitude towards this report, please actively comment and discuss it. Please stay tuned to us, we will keep updating as much as possible to record future development trends.
RecordTrend.com is a website that focuses on future technologies, markets and user trends. We are responsible for collecting the latest research data, authority data, industry research and analysis reports. We are committed to becoming a data and report sharing platform for professionals and decision makers. We look forward to working with you to record the development trends of today's economy, technology, industrial chain and business model.Welcome to follow, comment and bookmark us, and hope to share the future with you, and look forward to your success with our help.