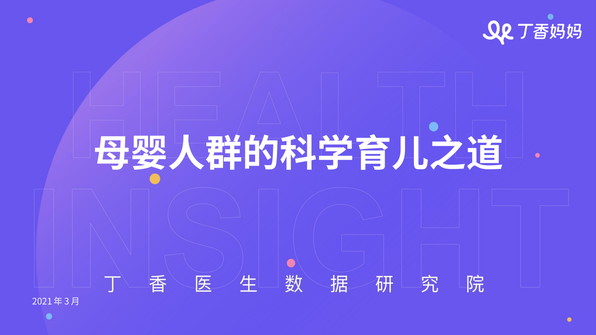 The following is the Scientific parenting for mothers and infants From Lilac mother recommended by recordtrend.com. And this article belongs to the classification: Life data, research report.
two thousand   From 2010 to 2019, the number of newborns in China is generally on the decline, but the investment of single mother infant population is increasing. Young mothers adhere to the concept of fine parenting, and are more willing to pay for high-quality products and services.
99.8% of the respondents said that the current mode of parenting is family parenting. Besides "Mom", the commander in chief, dad is no longer marginalized and begins to play an increasingly important role.
When it comes to parenting, mothers want to know not only how to do it, but also why. They will learn daily knowledge through incubation tools, pay attention to the micro blog or live interaction of parenting experts and KOL, and systematically study through purchasing professional online courses, so as to gradually upgrade from entry-level parents to professional parents. The help degree of online maternal and child knowledge by mothers can reach 7.3 out of 10 scores.
Mothers generally learn from both the present and the future
The post-80s and post-90s have mature pregnancy preparation consciousness. Most of the post-80s and post-95s pay attention to the content of mother and baby from the beginning of pregnancy preparation, and 40% of the users say they will continue to pay attention to the information of mother and baby.
Pregnant people have mixed feelings. They will use the calendar of pregnancy, Encyclopedia of pregnancy, can eat and other tools to learn parenting knowledge in advance and get all-round scientific guidance. During pregnancy, users are most concerned about painless needles, ready to pack and sensitive muscle creams.
In addition to the content of pregnancy, mothers will pay attention to baby care, feeding, early education and other aspects before the baby comes. More than 50% of pregnant mothers begin to pay attention to the content of child rearing after the second trimester of pregnancy.
Novice parents regard the daily health and nutrition supplement in the healthy growth of their baby as the top priority, and begin to pay attention to the content of early education when their baby is 1 year old. Through systematic and scientific early education courses in advance, mothers will cultivate their babies' abilities according to the development characteristics of their babies at different stages.
Plant grass widely and pull grass at ease   Doctors and experts are the compass in the decision-making chain
WeChat official account and WeChat group are the main channels for mothers to get information about mother and baby products and grass planting. More than half of mothers bought mother and baby products. But compared with ordinary recommendation, mothers have higher trust in the evaluation and recommendation of professionals and experts.
"Safety" is the primary factor for mothers and infants to consider when purchasing products. No matter what kind of food, clothing, housing and transportation, nothing can impress mothers more than "safety", especially the attention to baby food safety is much higher than other categories.
Clove has something to say
The new generation of mothers and infants generally advocate the scientific and rational concept of parenting and consumption. They think independently and choose to be calm. When a new need arises, mothers usually go through a rigorous and long process of "consideration assessment / comparison".
The image of experts with high credibility and professional popular science content can break through the psychological defenses of mothers in a short period of time, so that mothers can build up trust in brands / products, greatly shorten their thinking time, form a positive action closed loop of "consider – buy – Love – trust – share", and accelerate the brand out of the circle.
Through the cooperation with high-quality platforms and channels, the brand has the opportunity to play a beautiful "safety card" for the "safety" that mothers care about most, establish a marketing energy field based on knowledge empowerment, reach the target audience and achieve a win-win situation.
Take clove doctor's IP clove mother as an example. Clove mother focuses on the contemporary maternal and infant population's demand for a large number of scientific parenting knowledge, with the national 70% owned by dingxiangyuan   The above professional experts and doctors output powerful and authoritative science popularization ability, and constantly create popular products in the market segments with professional and reliable content.
From lilac mother × From the perspective of BabyCare's cooperation, clove mothers first collected the parenting problems of mothers in the four fields of feeding, growth and development, daily care, pregnancy and childbirth online, and output the "scientific baby guide" to answer 100 questions of mothers in 1000 days. After that, on the one hand, we will export more scientific and professional knowledge through the "clove doctor theory" to make professional popular science blessing for the core selling points of BabyCare's main products; On the one hand, we focus on the accurate population of mothers and infants, and carry out science popularization and goods, so as to build momentum for the brand and expand product sales at the same time. In addition, BabyCare also displayed the popular science testimonies + videos of clove signing experts through tmall flagship store, which once again ignited the brand's popularity driven by Taoxi community and dingma community.
And in lilac mom × In the cooperation of Nestle super Kennen, around the sensitive scenes of baby in spring, clove mother guides Baoma to pay attention to baby's sensitive issues through a series of expert science videos, and establishes links between brands, products and consumers. Meanwhile, tiktok is extended to many media channels such as jitter and other everfount channels through knowledge posters, which can create lasting influence through continuous circulation.
With unique expert resources and content creation advantages, clove has been committed to the spread of health marketing concept and the breakthrough of innovative marketing methods. In the future, clove is looking forward to more partners with healthy mind to join in and create a new way of health marketing for mother and baby track!
If you want to get the full report, you can contact us by leaving us the comment. If you think the information here might be helpful to others, please actively share it. If you want others to see your attitude towards this report, please actively comment and discuss it. Please stay tuned to us, we will keep updating as much as possible to record future development trends.
RecordTrend.com is a website that focuses on future technologies, markets and user trends. We are responsible for collecting the latest research data, authority data, industry research and analysis reports. We are committed to becoming a data and report sharing platform for professionals and decision makers. We look forward to working with you to record the development trends of today's economy, technology, industrial chain and business model.Welcome to follow, comment and bookmark us, and hope to share the future with you, and look forward to your success with our help.