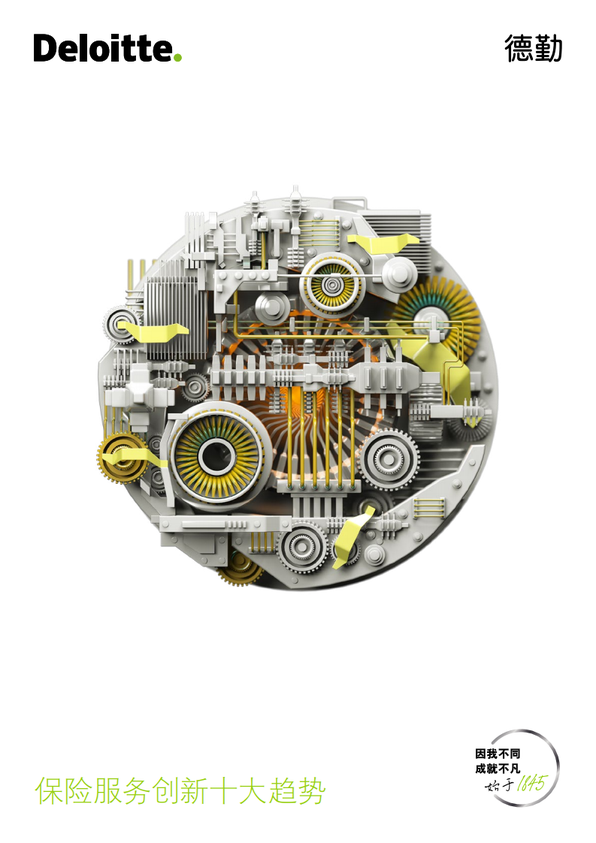 The following is the Ten trends of China's Insurance Service Innovation in 2021 From Deloitte Consulting recommended by recordtrend.com. And this article belongs to the classification: Deloitte Consulting , research report.
Deloitte released the report of ten trends of insurance service innovation based on the innovation cases submitted by various insurance companies to Bank of China Insurance daily.
1. Online customer service
Online consumption is becoming more and more common, and it has irreversibly penetrated into all aspects of people's life. COVID-19 started a huge impact on many industries in the Spring Festival of 2020. Insurance companies must also modify the traditional service processes to improve the degree of online business in order to avoid business interruption. It is understood that many insurance companies have substantially reduced the number of outlets. This seems to be a logical thing, but it is of great significance for the penetration of insurance industry into rural areas. In the past, it was not necessary to have a good input-output ratio to develop in rural areas with low consumption power and less dense population than in urban areas. The online and paperless process of sales, preservation, claims and so on may make the development of insurance industry in rural areas get better popularization as it directly strides over fixed telephone and enters the era of mobile phone.
2. Intelligent and centralized customer service
In addition to the trend of online customer service, it also presents the trend of intelligence and centralization. Technologies such as robotics and artificial intelligence are beginning to be applied to customer service, rather than just relying on human resources. For example, robots perform AI video new contract revisits. Dehumanization contributes to the standardization of services, and the development of artificial intelligence technologies such as voice recognition reduces the sense of machine in the process of dehumanization. The improvement of online level also promotes the realization of centralized processing, so as to reduce the probability of service quality problems due to the difference of personnel quality in different places.
3. Claim settlement speed up
Claim settlement is often the link that most affects consumers' feelings, and it may also be the link that most affects the reputation of insurance companies. From the perspective of consumers, the shorter the waiting time of customers, the less cumbersome the claim process, and the faster the claim arrives, the better the customer's consumption experience will be. Therefore, many insurance companies have put forward the slogan of second compensation and flash compensation to attract individual consumers. The realization of these slogans depends on the improvement of the background intelligence.
4. The loss determination means of agricultural insurance are becoming more and more high-tech
Agricultural insurance is a kind of insurance that directly supports the development of agriculture. However, agricultural insurance used to be difficult to underwrite, determine the loss and settle the claim. More and more insurance companies continue to improve the use of high-tech in claims exploration tools, using 3S Technology (remote sensing technology RS, geographic information system GIS, global satellite positioning GNSS), meteorological big data, UAV and other means, aiming at the problems of wide area, the judgment of the degree of disaster prone to divergence, so as to improve the accuracy of loss determination.
5. Create an ecosystem with diversified services
Insurance companies began to use their brains in building an ecosystem to increase the contact of insurance users, enter the life of users in more aspects, and finally enhance the loyalty and total consumption of users. In addition to providing services such as driving and annual inspection, some insurance companies provide additional services such as interpretation of physical examination and online doctors. In terms of creating an ecosystem, Ping An of China has always been in the leading position in the industry. In terms of financial services, it has not only opened up life insurance, property insurance, health insurance, banking, securities, trust and other services, but also entered the fields of Ping an good doctor and Ping an good car. Of course, the ecosystem is not a new concept, but in terms of the trend of the insurance industry, we can see that the content of the insurance app is far less diverse than that of the bank.
6 UBI applications may make a comeback
UBI is the abbreviation of usage based insurance. Its pricing is based on some usage information, not just some basic information displayed during underwriting, such as driver's age, gender, vehicle type and so on. With the further deepening of the comprehensive reform of auto insurance, auto insurance enterprises are more and more skilled in using big data analysis in the field of underwriting and pricing, and UBI can still make a comeback in the application of auto insurance. In particular, new energy vehicles are more and more accepted by consumers, and this kind of electronic vehicles will promote other models to improve their electronic level. The improvement of electronic level will make the monitoring software installed in the car, without the need to install plug-ins. The application of monitoring driving habits and even the use of auto parts will become more and more standard, and the information obtained from it will be more likely to be used in the pricing and underwriting of auto insurance.
7 health management app promotes win win
In addition to increasing the service content, the interaction between insurance companies and users can also link with users by obtaining user activity information. Wearable devices may have been very fashionable five years ago, but they are not widely used now. Most insurance companies turn to smart phone apps, such as exchanging insurance coverage through daily steps. Foreign mature projects, such as AIA vitality, have greatly increased user stickiness and fundamentally improved the image of insurance while cultivating users' healthy living habits. Insurance companies also pay more and more attention to medical services, and constantly explore services, such as providing green channels for medical treatment, assisting in the purchase of specific anti-cancer drugs, etc., so as to open a gap with competitors in terms of resources and services.
8 Internet of things to enhance risk prevention
For users, insurance companies often provide protection and claim, there is no difference between each other. As a result, insurance companies are trying to provide a wider range of services to customers in order to stand out from competitors and enhance customer stickiness. In addition to wearable devices and mobile app, some property insurance companies also realize active monitoring through new technologies such as Internet of things to help customers actively prevent risks and reduce losses. Technically, it's no longer difficult. Insurance companies should take the initiative to provide technology and services to help users prevent risks and reduce claims, and ultimately achieve a win-win situation.
9 direct medical insurance
In China, only the medical insurance card can achieve the direct settlement of medical treatment, and the data and expense settlement between hospitals and insurance companies are not connected. Users also need to carry out the follow-up claims process, compared with some foreign insurance markets, there is still room for improvement. On the other hand, insurance companies can't get the data they need to launch products that are more customer-friendly and more affordable. Fortunately, with the joint efforts of some insurance companies and hospitals, the data barriers between hospitals and insurance companies have been broken, the claims process has been simplified, and the service experience of users has been improved.
10 new media
Insurance companies are also using WeChat public numbers and mobile phone APP to establish contacts with users, including official account, preservation, claim and so on. Now many processes can be operated in WeChat or APP. Especially the breakthrough in the claim process. In the past, a lot of paper materials and information needed to be provided for claim settlement. Now it can be completed by self-service through video and wechat app, providing more convenience for users. In addition to daily customer service, insurance companies also began to use live broadcast, chat rooms and other forms favored by the new generation of consumers for publicity, and sales forms are becoming more and more diversified. In general, these new attempts of insurance companies will soon become the norm.
If you want to get the full report, you can contact us by leaving us the comment. If you think the information here might be helpful to others, please actively share it. If you want others to see your attitude towards this report, please actively comment and discuss it. Please stay tuned to us, we will keep updating as much as possible to record future development trends.
RecordTrend.com is a website that focuses on future technologies, markets and user trends. We are responsible for collecting the latest research data, authority data, industry research and analysis reports. We are committed to becoming a data and report sharing platform for professionals and decision makers. We look forward to working with you to record the development trends of today's economy, technology, industrial chain and business model.Welcome to follow, comment and bookmark us, and hope to share the future with you, and look forward to your success with our help.