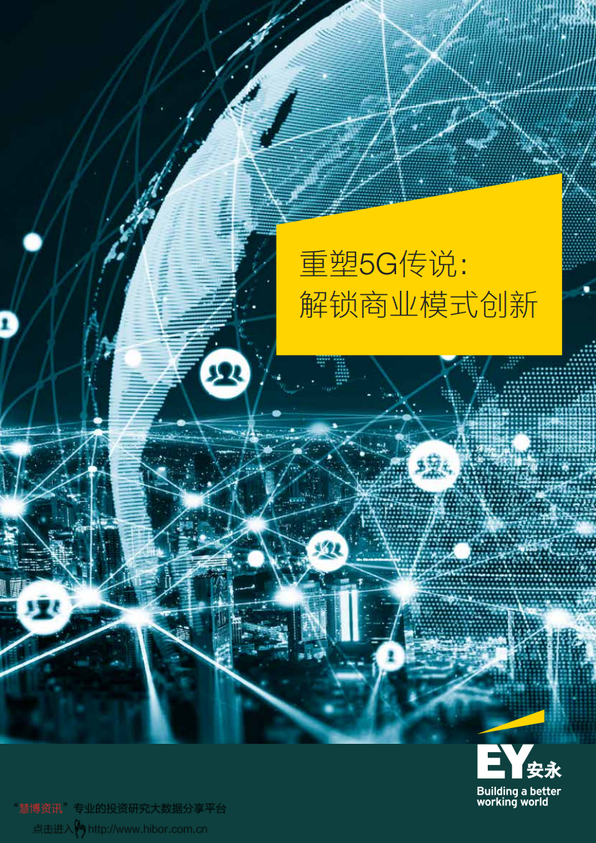 The following is the Unlock business model innovation From Communication industry reshapes 5g legend recommended by recordtrend.com. And this article belongs to the classification: 5g industry, research report.
5g technology brings not only faster data transmission speed and consumer customers. All walks of life are increasingly paying attention to the directional real-time service function of 5g in order to realize operation transformation, business innovation and competition subversion. This will be achieved through the new version of 5g standard, which will improve the technical readiness of vertical industry and some industrial Internet of things applications that need low delay communication with the Internet of vehicles (v2x). 5g network will also provide network slicing and 5g private network deployment options to help enterprises achieve the balance of cost, flexibility and network performance. All these will promote the new concept of interconnection of enterprise assets and services, enabling traditional enterprises to ride the wind and waves. Meanwhile, the novel coronavirus pneumonia epidemic will accelerate this process, because enterprises need to accelerate the implementation of digital transformation and rethink the business models that can keep themselves in the forefront of the industry. During the epidemic crisis, China accelerated the construction of 5g network, created a very dynamic environment, and launched 5g commercial applications in medical and education industries to deal with the epidemic. The national agenda under the "new infrastructure plan" will support the derivation of new 5g application scenarios and lead many industries to explore new business models. It is expected that manufacturing, health care, entertainment and transportation industries will be greatly affected in the short term.
Although 5g may bring unlimited innovation opportunities, from the perspective of business scale and implementation cost, enterprises will implement 5g innovation in different ways, so there may be several potential business models. For example, high-end platform providers will build an ecosystem to connect consumers with suppliers who provide 5g Internet of things products or services through cloud based IT infrastructure; creative enterprises may strive to use breakthrough 5g products to achieve disruptive innovation; other companies may provide dedicated 5g application scenarios for customers in the industry for segmenting professional markets. With lower investment cost, enterprises can use 5g to provide remote maintenance or improve operational efficiency, so as to improve customer experience. However, the successful implementation of business model innovation needs to solve several key points. First, companies need to be aware of the importance of building an efficient ecosystem. Establishing multiple partnerships with different parts of the ecosystem will be one of the keys to success in the 5g era. The co construction and co creation of partners will play a key role in realizing the new business model. In the process of developing new business model, enterprises should avoid falling into the technical trap and focus on creating deep customer experience to solve customer problems.
At the same time, enterprises must also consider the skill gap of employees, and obtain key technologies such as business process, cloud computing, security and big data analysis.
Successful 5g business model innovation requires enterprises to develop a comprehensive cloud strategy to gather more secure and powerful cloud infrastructure. This infrastructure should enable enterprises to manage multi cloud services and edge devices in a central management system. Enterprises should also make full use of and integrate data analysis into their new business model. They need to establish methods to identify the most useful information in the data in real time. However, the data boom may produce a wider range of multidimensional network attack vulnerabilities, which requires enterprises to redefine network strategies and create a new network awareness culture.
5g can bring endless possibilities of business model innovation. 5g is expected to bring three times as much subversion as existing technology. The key issue is not technology, but skill, process and organization. Enterprises must make clear who their target customers are, what they can provide for customers, how to deliver the promised value to customers, and how to plan to make profits.
Since 2019, 5g has attracted great attention all over the world for its widely publicized technical features such as ultra-high speed, low delay and large capacity. 5g is expected to provide a higher level of connectivity and complexity, improve the network agility to the extreme, and have a revolutionary and far-reaching impact on the business world.
5G has also brought great opportunities for the innovation and business applications of the Internet of things. It has created competitive advantages for enterprises in the field of 5G technology development and application, from self driving cars, UAVs, artificial intelligence (AI), robots and remote control machinery, virtual reality (VR) to augmented reality (AR).
Novel coronavirus pneumonia outbreak in hitherto unknown countries is of vital importance. Successful enterprises need to jump out of the inherent thinking and think about how to carry out business model innovation. Making good use of 5g is one of the decisive factors to help enterprises gain a leading position.
5g will change the rules of business game
5g technology is a connection foundation that fundamentally reshapes the future of enterprises. 5g enabled Internet of things can bring emerging technologies such as artificial intelligence and Ar into full play. The integration of 5g, artificial intelligence and Internet of things will lead to the arrival of an era of intelligent Internet, enabling new disruptive digital services.
5g's promising technology will bring huge commercial benefits to enterprises. Automation is one of them, which can help enterprises work faster and more efficiently, and then save costs and increase revenue. As real-time data analysis and artificial intelligence technology continue to promote process improvement, enterprises can achieve a higher level of productivity and efficiency.
The battery life of all kinds of equipment will be longer, which means that when enterprises invest in the construction of Internet of things infrastructure and hardware, they can immediately save costs. 5g network enables enterprises to choose the operation mode with higher cost efficiency and more dependence on cloud software and systems. In addition, 5g makes it easier to collect and analyze large amounts of real-time data from Internet of things devices and machine learning software.
5g will change the rules of the game, bring unlimited possibilities and drive innovation. Enterprises can now start to use 5g strategy to transform their business operation, subvert the competition pattern, surpass competitors and release innovation potential.
The new 5g standard will promote the application of more industries
Although a certain number of commercial networks (more than 100 operators) have been built around the world, 5g is still an evolving mobile technology in terms of standards and specifications. Under the constraints of the first phase R15 standard completed in March 2019, the existing 5g network deployment is mainly focused on enhanced mobile broadband (embB) applications. In July 2020, 3GPP standards released R16, an important milestone of 5g development cycle. With the final completion of this standard, the world has entered a new chapter of 5g era, and independent commercial networking is expected to develop on a large scale.
The much anticipated second phase of 5g is largely based on R15 standard, focusing on the vertical industry and industrial Internet of things applications with the highest relevance to 5g. However, the existing applications are mainly for broadband networks, so they cannot support 5g deployment, including ultra-low delay, v2x communication, integrated access and backhaul, and 5g in unlicensed frequency bands. In the near future, the significant improvement of R16 and the next version (R17) will greatly expand the availability and applicability of 5g NR in the industry and public services.
Network slicing creates truly flexible and optimized network resources
Network slicing is the most powerful and profitable new function of 5g, especially in the field of enterprise customers. 5g network slice can provide a very reliable network and support multiple industries to create new services flexibly. In the automotive industry, vehicle interconnection needs an extremely diverse network, which can provide high transmission rate vehicle entertainment function, ultra reliable low delay (urllc) for automatic driving, data collection and analysis of telemetry sensors, and communication between devices.
In the industrial field, factories can use urllc chips to realize automatic production, so as to control and monitor the robots on the production line. The application of network slicing technology in enterprises has just started. At present, Chinese operators are conducting network slicing trial to prepare for commercial deployment. With the gradual application of this technology in various ways in all walks of life, enterprises will gradually realize its role.
Network slicing creates truly flexible and optimized network resources
Network slicing is the most powerful and profitable new function of 5g, especially in the field of enterprise customers. 5g network slice can provide a very reliable network and support multiple industries to create new services flexibly. In the automotive industry, vehicle interconnection needs an extremely diverse network, which can provide high transmission rate vehicle entertainment function, ultra reliable low delay (urllc) for automatic driving, data collection and analysis of telemetry sensors, and communication between devices.
Using 5g private network to accelerate innovation
In the industrial field, factories can use urllc chips to realize automatic production, so as to control and monitor the robots on the production line. The application of network slicing technology in enterprises has just started. At present, Chinese operators are conducting network slicing trial to prepare for commercial deployment. With the gradual application of this technology in various ways in all walks of life, enterprises will gradually realize its role.
Today's enterprises have many advantages when considering the development of 5g. Different from the previous generation of mobile technology, 5g is accompanied by the promotion and use of open source code and automation, which makes it relatively easier to install and run the private network in factories and warehouses, and the cost is also lower, which provides a broader application range for enterprise 5g private network. According to the survey results of 5g enterprises recently released by Ernst & young, 28% of Chinese enterprise respondents believe that exclusive use and security are the biggest advantages of 5g, ranking first among all options.
Industrial 5g private network has attracted extensive attention of European manufacturing enterprises. These enterprises believe that industry 4.0, smart factory and industrial Internet of things are the future development direction of manufacturing industry. According to the statistics released by GSA, as of October 2020, 156 mobile private networks are being deployed in the world. More industrial enterprises, airlines and automobile manufacturers are using dedicated spectrum to deploy 5g in factories, so as to guarantee network coverage and network performance in terms of delay, bandwidth and reliability. At present, China's telecom operators have also announced some plans to help many industries establish 5g private networks to realize innovative industrial applications.
Only when mobile network technology is used in new business applications, can it be a reasonable business model innovation. When enterprises choose to deploy 5g private network or hybrid network, they should balance their preference and ability in spectrum ownership, network asset ownership and network operation. If 5g private network is to be deployed, enterprises need to sort out various application scenarios that rely on unlicensed spectrum, shared spectrum and licensed spectrum. The preference of different industries may be different, and it depends on the network traffic prediction and distribution between public network and private network.
China novel coronavirus pneumonia has a significant impact on China's 5G development. 5G
The novel coronavirus pneumonia outbreak in early 2020 has become a catalyst for the accelerated development of 5G in China. At the beginning of the outbreak, the government called on 5g infrastructure suppliers and telecom operators to speed up the installation of 5g networks in hospitals, urban junctions, airports and other places to ensure a high level of communication capacity. The remarkable development of 5g has made a real contribution to the epidemic resistance and the resumption of work and production.
5g is widely used in combination with robots and UAVs, and plays an important role in the process of anti epidemic. The use scenarios include temperature and blood pressure measurement for patients, hotel disinfection, meal delivery for isolated personnel in large hotels, etc. UAVs are also used to monitor home quarantine violations and provide home delivery services. 5g network supports faster response speed and real-time high-definition image transmission, thus further improving the value of the robot.
In the process of anti epidemic, 5g has shown its advantages in the fields of medical treatment, new media and distance education, providing high-speed transmission and sharing of medical image data, high-definition video news broadcast and remote video teaching services. More than ten 5g applications have been implemented in several provinces and cities. To ensure the prevention and control of the epidemic, China promised to accelerate the construction of 5g network, promote information consumption, and expand the scope of 5g services and applications from individual consumers to enterprise users. The three major telecom operators announced that they will invest 180 billion yuan (25 billion US dollars) of 5g capital expenditure in 2020, more than four times of last year's investment. With the active promotion of 5g independent Networking (SA) deployment, the focus of the government's work has shifted to 5g applications. The latest notice of the Ministry of industry and information technology points out that medical, industrial Internet and Internet of vehicles are the key areas of 5g applications.
"New infrastructure" strategy helps industrial upgrading
In response to the novel coronavirus pneumonia epidemic impact on the economy and promoting sustainable development, the government launched the new infrastructure plan, which is a 3 trillion and 750 billion yuan and 1 economic stimulus plan, focusing on seven areas of science and technology, and targeted investment in projects that promote innovation and improve the weak links in economic and social development.
5g is a leader in the seven key areas, and others include highly related information and communication technologies (ICT) such as industrial Internet, data center and artificial intelligence. The government's directive aims to speed up the construction and deployment of 5g network, enrich the application scenarios of 5g technology, increase the research and development of 5g technology, focus on the establishment of 5g security system and strengthen the organization and implementation. At present, a total of 25 provinces and cities have proposed new infrastructure related projects in the government work report, including 21 projects that plan to accelerate the construction of 5g network.
In addition, 5g network based on cloud will promote the development of data center and bring more cloud computing application opportunities. The infrastructure based on 5g base station, big data, artificial intelligence and industrial Internet helps to tap the potential of digital economy and support the transformation and upgrading of traditional industries. These technologies complement each other and provide a better network environment for continuous innovation.
Edge computing will become a bridge
Although 5g is an innovative technology, it is not a panacea. To develop a successful 5g strategy, we need to consider and adopt the whole set of technologies mentioned above. The combination of 5g and edge computing can realize the realization of differentiated enterprise services.
If we can extend the computing, storage and some functions related to the central data center to the edge of the network, we can give full play to the low delay advantage of 5g and related real-time applications. 5g can reduce the data transmission delay, and edge computing will support faster data transmission, so as to maximize the advantage of 5g.
Edge computing is particularly revolutionary for the driverless car industry. Due to the limited storage space of on-board computer, edge technology will become an effective method for automobile manufacturers to access and process various data. This is very important before and after the large-scale deployment of 5g.
As the new application scenarios require more decentralized computing and network methods, rather than the traditional, completely cloud based mode, edge technology is transiting from the concept to the early deployment stage. China is the leading market for edge computing. Driven by the goal of becoming a global leader in new technology and industry 4.0, China's industry ecosystem is striving to take the lead in promoting the development of edge computing.
Booming vertical application creates new value
New applications and scenarios are crucial for business model innovation. Statistics released by the Ministry of industry and information technology show that there are more than 400 5g innovative applications in China, covering industries, transportation, medical and other fields. In the short term, 5g network is expected to change many industries in China, providing new forms of online education, games, telemedicine, telework, live streaming and e-commerce services. Some of the most affected industries, such as healthcare, industry, entertainment and automotive, are discussed below.
manufacturing
At present, the global diversified customer groups are putting forward more stringent requirements for the manufacturing industry. At the same time, the manufacturing enterprises also need to manage the increasingly complex product portfolio. This requires enterprises to carry out flexible production to adapt to the rapid changes of production environment. Therefore, 5g will bring great breakthrough to the manufacturing industry, help enterprises reduce manual workload, promote automation, reduce enterprise costs, and finally realize the leap forward development to industry 4.0.
In general, 5g will help the manufacturing industry from two aspects: improving the connectivity of manufacturing industry and bringing many unprecedented applications. A series of new application scenarios will bring practical changes to the business model of manufacturing enterprises. For example, 5g will use the data generated when multiple sensors interact with the intelligent system to support the automatic guided vehicle (AGV) to run in an unstructured environment and adjust its route according to the surrounding environment. Other application scenarios, such as cooperative robots that need ultra-low delay to support secure collaboration, AR / VR and remote operations that need digital twin technology support, will jointly drive the investment in 5g.
China's rapid 5g deployment has laid a solid foundation for network architecture, allowing manufacturers to make better use of the industrial Internet. Related applications include the use of machine vision technology for automatic inspection of industrial products, as well as remote control of steel plant cranes. According to the data released by the Ministry of industry and information technology, China has implemented more than 1100 5g integration and industrial Internet related projects.
Medical industry
During the COVID-19, China fully utilized the related advantages of 5G in the medical industry. Many provinces have implemented 5g application to combat the epidemic. For example, remote consultation is used for diagnosis and treatment, infrared temperature measurement system is used for temperature measurement, and cloud intelligent robot is used to provide remote care, cleaning service and drug delivery.
These early cases show that 5g can provide enough bandwidth through enhanced mobile broadband function to realize the innovation of medical industry. In the long run, 5g will change the medical industry more deeply than telemedicine. 5g will provide support for the application of AR / VR and other technologies in the medical industry, and promote the extensive deployment of artificial intelligence, so as to realize the transformation from manual process to intelligent automatic workflow. Through the newly released 5g standard, 5g will provide support for robotic surgery, customized drugs, wearable medical devices, real-time analysis of patient data, and play a greater role in the future.
Entertainment and collaboration
5g is known as a new wave of media technology, which promotes the evolution of traditional media form to the so-called new media. With the increasing mobility of video consumption and even video production, 5g is bound to set off a new wave of innovation, and even subvert the existing value chain. According to the characteristics of 5g, ultra high definition video, cloud games and AR / VR will be the early scenes for people to experience 5g network. Due to the lower delay and faster data transmission rate, 5g will become the catalyst for the growth of mobile games. At the same time, we have witnessed the application of 5g HD live broadcast in large-scale activities, such as the two large temporary hospitals built in Wuhan during the epidemic period, and will see more applications of augmented reality technology in stadiums to innovate the next generation of sports experience. China has novel coronavirus pneumonia training programs for students, staff and employees in the office. 5G has played a major role in coping with the outbreak of new crown pneumonia in China. Its unique features support smooth live, high-quality video and support a large number of users.
Automobile industry
5G is expected to promote two developments in the automotive industry: Vehicle networking, self driving cars and car entertainment systems. As it covers the relevant standards of cellular Internet of vehicles (c-v2x) in rel 16, 5g will accelerate the implementation of this enabling connection technology, which aims to connect vehicles with vehicles, roadside infrastructure, road users and cloud services, so as to comprehensively improve the traffic experience and quality of life.
China's automobile industry is full of confidence in the research, deployment and testing of 5g applications over the years. Now, China has been in the real sense of 5g Internet car trial. Telecom operators, technology companies and car manufacturers are also working together to explore autonomous driving, Internet of vehicles and other 5g applications. A Chinese auto company has announced that it will provide 5g Internet of vehicles in China from 2021.
Globally, automobile enterprises are one of the most active investors in 5g private network. The same is true in China, where an equipment manufacturer has set up a 5g private network for a Chinese car manufacturer's factory in Changchun to support the digital transformation of its industrial machines and processes. As robots play a key role in the process of complex tasks, the reliability and security of 5g network is very important to ensure smooth real-time operation.
Achieve business model innovation in various industries
5g not only provides new possibilities for various industries, but also forms new concepts in the field of Internet assets and situational services, bringing a new round of innovation to enterprises. New mobile standards and innovations will generate new data that service providers can use to develop new business models.
Enterprise leaders are full of confidence in the potential of 5g transformation, and expect 5g to play a key role in its digital transformation strategy. According to the survey report 4 recently released by Ernst & young, exploring the future business model is one of the three priorities for Chinese enterprises to invest in 5g. The other two priorities are to adjust the IOT strategy and evaluate the relationship with other emerging technologies.
Exploring business model is one of the priorities for Chinese enterprises to develop 5g
Potential business model
With the maturity of 5g, more and more enterprises will explore this technology to improve their long-term competitive advantage and promote sustainable income growth. In the next few years, we expect many different business models in 5g enterprise applications. We divide these business models into four categories based on business size and implementation cost.
Ecological builder
5g may promote a new round of application and device development, and spawn a multi-user on-demand platform. Under the platform mode, enterprises can build an ecosystem through cloud IT infrastructure to connect consumers with 5g IOT products or service providers. Platform enterprises will benefit from the massive data generated by this connection, and then gain in-depth insight into customers, and further customize more services to expand into new business areas.
For example, a large-scale medical system can build a service platform by aggregating a number of 5g medical services provided by a third party, and provide value-added services such as nursing management and health guidance with the high speed and low delay of 5g. Large scale platform will support enterprises to manage different services and make profits, while effectively controlling customer relationship. In this regard, large IOT manufacturers have the advantage of creating their own platforms and opening them up to other smaller suppliers.
Enterprises adopting the first mock exam mode must have the open platform function realized by API. Its interface should adopt unified standard, so that other enterprise customers can use it conveniently. Ecosystem partners can plug and play on the platform, easily collaborate, and manage services in multiple clouds and billions of devices. Therefore, enterprises need to develop or purchase powerful cloud IT infrastructure from third-party cloud providers.
The industry must determine the ownership of data, determine who has the right to use data to profit and create a new value pool. Will the OEM continue to manage the customer relationship in the traditional way? Or, could there be a mediator in the ecosystem in managing data transactions? It may be expensive to build a large platform, and there is not enough market for each enterprise to operate its own platform. Therefore, platform suppliers will have the opportunity to cooperate with these enterprises to establish platform network.
Product subverters
Many enterprises, including product manufacturers, have been striving to launch subversive new products that can be widely accepted by the mass market in a short time. Usually, these products are either highly creative and expensive products, or products with powerful functions but reasonable prices. These enterprises can reduce production costs through process optimization or using other value-added services as subsidies, so as to expand the scale and create a new service mode.
The development prospect of 5g provides a golden opportunity to promote technological innovation. In addition to paying attention to high-speed connection, enterprises can also explore 5g's low latency and high quality of service, and create new application scenarios, just as the emergence of touch-screen smart phones in the past decade has changed people's lives. To successfully develop a super product, an enterprise must have a strong vision, sufficient creativity and innovation.
In the field of automatic driving, a possible breakthrough concept is that enterprises can use 5g network and cellular Internet of vehicles communication to change the road driving experience, improve the overall traffic situation and reduce accidents, and passengers can also enjoy better information and entertainment system. The successful implementation of this concept may have a huge impact on the whole society.
Professional slicing
Some enterprises can play the role of experts to provide exclusive services for specific market segments of their industries and help large, medium and small enterprises quickly join the tide of 5g development. Therefore, they need to use the network slicing technology to divide a virtual network for some specific application scenarios. The network characteristics are embodied in the service level agreement and definable control points. Enterprises can obtain revenue as service providers. The characteristics of sliced network include the data transmission rate of uplink and downlink, the geographical area covered, and the number of devices covered in sliced network. The key investment in the development of exclusive 5g service solutions usually results in higher implementation costs.
For example, a media company can open up its network and use 5g and edge computing to build a standard slice for creating high-definition VR solutions. This will enable other companies in the media industry to use this slice to provide new services, such as immersive media, cloud games, etc. This kind of network slice can control and manage the quality of service (including access, bandwidth and quota), also can meet the demand of low delay, and charge monthly.
The realization of 5g business profit needs non aggregation, flexible architecture and open interface. 5g network slicing enables developers to obtain network services and functions safely, reliably and easily. This means that enterprises can use open APIs to create their own network services on demand.
Value extender
The Internet products that are providing services can provide opportunities for the industry to establish new business models, and some enterprises in the industry are gradually exploring such opportunities. In the first mock exam, enterprises use 5G to provide value-added products or services. Enterprises can easily adopt 5g with only a small amount of investment. They regard the product as a service and provide remote maintenance to monitor the product after the Internet of things product is delivered. As an alternative, enterprises can also use 5g to achieve process automation and optimization to improve the efficiency of production and operation.
For example, using 5g's mass machine communication (mmtc) and ultra reliable low delay communication function to establish connections for equipment and assets, so that enterprises can have insight into the use of machines for predictive maintenance; or helping manufacturers to update products remotely through software without replacing products. These service business models can improve customer experience, improve operational efficiency, and ultimately shorten the distance between enterprises and end users, so that enterprises can obtain more usage related data.
Six pillars of innovative 5g business model
Many enterprises want to use the digital transformation process to shape their business model. However, it's not easy. Although 5g is an excellent tool, rethinking its market positioning is an important step at the beginning. When enterprises explore how to adopt 5g technology, they must also consider some other factors.
New business models need to be built on ecosystems
After the emergence of 5g, a large number of small devices will be connected to a new global service network, which will bring a new way to interact with customers, partners and other interested parties. However, from the perspective of network topology and system architecture, 5g is a more complex mobile technology than previous generations, and enterprises can not control the high complexity of 5g alone.
It's not just a matter of preparing for 5g, but a matter of adjusting the business plan. In terms of network infrastructure, enterprises need to adopt global standards with reliability and powerful functions. Therefore, enterprises need to find partners in network management and deployment, equipment supply, platform integration and other fields. The co creation between enterprises and telecom operators, vertical industry and network, it industry is very important to provide enterprise level 5g services.
If enterprises want to succeed in 5g era, they need to co create with other companies including competitors. New players such as equipment manufacturers, Internet companies and automobile manufacturers are making great efforts to enter the 5g field. For example, a Chinese science and technology enterprise and 18 domestic automobile enterprises have jointly established a "5g automobile ecosystem", hoping to accelerate the commercialization of 5g in the automobile industry and jointly manufacture influential 5g automobiles. Building an application ecosystem with start-ups and service providers is the key to promote the application of 5g scenarios in the future.
Although each enterprise adopts a different approach, it is very important for all enterprises to establish a new partnership. Only by establishing cooperative relationship and cultivating innovation ecosystem can enterprises build new business model with 5g. To promote or participate in CO creation requires stronger business consulting ability and professional ability of vertical industry. In the process of making profits by using 5g enabled content, services and connections, enterprises need to identify the participants in the ecosystem and ensure that they are systematically associated with the continuous development of 5g Internet of things services.
5g is not only a connecting network, but also an innovation platform. 5g has opened the door for the strategic dialogue among the various roles around the whole 5g ecosystem. 5g ecosystem extends beyond the telecommunications industry and connects various industries to this innovation platform. Therefore, 5g ecosystem is more like an "ecosystem of ecosystem". Enterprises must make clear what role they play in the new ecosystem of their industries, and find out: do they want their industries to innovate at the forefront, or do they want to use the innovation achievements of neighboring industries? Do you want to deploy your own private network or rent it from a supplier? In order to answer these questions, enterprises need to know which major players are still in the ecosystem of their industry, and find key partners; and establishing effective partnerships can create and deliver long-term value.
"Cloud" capability is crucial
It is generally believed that distributed 5g network infrastructure and cloud computing functions are an important part of 5g enterprise applications. These applications are expanding from enhanced mobile broadband to massive machine communication (Internet of things) and ultra reliable, low delay communication.
The combination of 5g and cloud computing will help enterprises accelerate growth and improve competition level in the extremely competitive market. 5g network improves the speed of data retrieval, expands the cloud storage space of big data, and greatly reduces the analytical problems. Enterprises can assimilate, manage and gain valuable insights from various data sources collected on the cloud.
Combined with cloud computing, 5g will be able to establish a foundation for continuous innovation and improve the operational efficiency of every enterprise. 5g and cloud computing have played a very significant role in promoting the change of business model and achieving excellent customer experience. For example, remote work has become a new normal.
Uphold the concept of customer first
Therefore, enterprises that want to successfully implement 5g business model innovation need to develop a comprehensive cloud strategy to build or acquire high security and powerful cloud infrastructure. These infrastructures not only need to meet the needs of mass storage and powerful computing power, but also should support enterprises to manage the services of multiple cloud and edge devices through a centralized management system. A report released by Huawei shows that from 2019 to 2025, the demand for computing power will grow 150000 times, and the data utilization rate will surge from 10% to 80% 5. Cloud demand will become ubiquitous, extending from regional facilities to the edge of the enterprise.
Despite industry differences, in many cases, the new business model will bring value to different customers. Therefore, whether it can provide attractive customer experience will determine the success of the business model.
One of the biggest challenges faced by companies in implementing reengineering is to focus too much on the existing solutions and think that the solutions can completely represent the company to some extent. However, companies should focus on solving customers' problems. Specifically, they need to change their perspectives, understand customers' situation and expected results, and look for new value that can be delivered to customers (or new customers).
5g brings a variety of new network functions, but the direct provision of functions is different from the provision of influential customer experience. When the company uses 5g and other new technologies to find a solution, it is easy to fall into the technical trap encountered before.
The first thing companies need to do is to find customers' needs that can only be solved by using 5g, rather than consider how to break through the limits of technology. If the company wants to successfully develop a business, it needs to rely on customers to achieve. So companies need to step back and think about the specific business results they want to achieve. At the same time, companies need to develop strategies or define and focus on expected business results (rather than technology).
Bridging the internal skill gap
In the early stage, enterprises can use the management services and professional capabilities provided by suppliers to deploy 5g. With the continuous maturity of technology, enterprises at different stages will need to improve the skills of employees, and require suppliers to have new skills to improve employees' participation in the innovation process. They need to adapt to new ways to recruit and retain highly skilled people in science, technology, engineering and Mathematics (stem). 5g will greatly increase the business world's demand for a range of key skill areas.
First, in the 5g era, it is increasingly difficult for companies to specify the technical details of solutions. Instead, they need to understand technology and how to use it to solve business problems. At the same time, they also need to find experts who know how to apply 5g to their companies, operations, products / services, etc.
Second, business process experts will become hot, because they can help enterprises improve the growing number of new applications. With the evolution of smart city and other attractive application scenarios, the already scarce talent resources will face greater pressure.
5g will consume a lot of computing resources, so it needs a wide range of cloud, privacy protection and security functions. With the increasing popularity of technology, how to protect high-speed 5g network will become the key to decide whether to adopt. For 5g network connecting massive Internet devices, edge security and privacy issues will be crucial.
At the same time, enterprises also need professional capabilities such as radio technology, big data analysis, mobile application and platform programming to take advantage of 5g and Internet of things. If an enterprise wants to deploy 5g private network, skills in software development, system integration and professional services are also crucial to the delivery of large IT projects. Enterprises either choose to acquire these professional skills, or choose to establish a strong partnership with professional companies.
Employees also need to adjust their mentality and work style to adapt to innovation and development. The front desk and back office staff need to transform to automation, networking, intelligence and digitization, from the past heavy work (such as counter operation and data analysis) to more efficient and creative marketing, customer service and technological innovation.
Real time utilization of data through 5g
In a successful digital enterprise, technology and business decision are closely integrated and inseparable. By providing decision-making information and promoting enterprise innovation, 5g technology can create great value for enterprises.
Driven by the rapid growth of the number of interconnected devices, the amount of data is growing exponentially. According to the statistics released by Ericsson 6, the amount of global mobile data will grow at an annual rate of 27% from 2019 to 2025. By 2025, 5g network will carry nearly half of the global mobile data. As enterprises apply integrated intelligence and develop and deliver customized digital services and products through efficient connectivity and analysis, the combination of 5g, artificial intelligence and Internet of things supports real-time data collection at thousands of endpoints. For example, in the transportation industry, sensors will start and collect data in real time, draw real-time 3D maps, and create a safe environment for autopilot cars. Due to competition, more and more companies will begin to give priority to real-time data analysis. In the medical industry, hospitals, enterprises and government agencies can continuously collect and analyze massive health data from health devices, wearable devices and medical devices to manage the epidemic situation and respond to emergencies.
How should enterprises use big data to adjust their business model to implement 5g and Internet of things technology? Before integrating data analysis into business model, enterprises should clearly understand and determine their value proposition, value chain and revenue model, evaluate the value of these additional data, and consider how these data can improve decision-making from timeliness and effectiveness. Enterprises need to develop methods that can identify the most useful information from the data in real time, which will further drive innovation to support processing more data at the edge.
Redefine network security policy
In today's world, networks, devices and applications are interconnected, and each activity may lead to a potential attack. The distributed and virtualized features of 5g network and other popular attributes will aggravate this vulnerability. Therefore, in the process of innovation, enterprises must pay equal or even more attention to the security of these connections, devices and applications. In the case of weak network security foundation, building 5g is like a castle in the air, which may directly endanger the security of network users.
5g network has caused a wider range and more dimensional network attack vulnerabilities. This new "ecosystem of ecosystem" network also needs to redefine the network strategy. Although the rapid implementation is very important in the new network strategy, the primary task is to create a new network awareness culture. If we miss the preemptive 5g network security opportunity, we will pay a much higher price than the network due diligence. The attack of 5g network proves the high cost of this kind of intrusion, and compared with the attack that may cause personal injury or loss of life, it can be said that it is nothing. Enterprises need to create an environment for all 5g participants to think that it is a wise choice to invest in risk-based network security in advance.
The more stringent the cost of personal data collection, the less likely it is to change the assessment of the potential benefits. In order to improve the efficiency of data analysis and ensure network security, enterprises should let employees, especially IT engineers, understand the business, business terms and requirements.
The novel coronavirus pneumonia epidemic will continue to affect all walks of life in the long run. The challenge facing enterprises is how to deal with it, and find ways to abandon the fear of change and innovate business models. The earlier the enterprise has the ability to adapt to this new normal, the faster it will turn crisis into opportunity and protect itself. To start the innovation journey, enterprises need to get rid of the factors that hinder traditional strategies. 5g is very enlightening, it will bring endless possibilities. It is very important for enterprises to make preparations in advance. Enterprises should participate in the construction and testing of 5g services while facing many challenges of adopting 5g. The first step is to identify key investment areas and provide the best products or services with 5g network. Enterprises in various vertical industries need to obtain valuable 5g technical intelligence to design marketing strategies and optimize technology investment. Successful enterprises should take the initiative to master skills and develop new models with partners. Unlike previous generations of mobile technology, 5g is a co creation process that requires close interaction among enterprises, operators and a wider ecosystem. Successful enterprises will seize the opportunity of innovation and fully grasp the next development advantage of their industry.
If you want to get the full report, you can contact us by leaving us the comment. If you think the information here might be helpful to others, please actively share it. If you want others to see your attitude towards this report, please actively comment and discuss it. Please stay tuned to us, we will keep updating as much as possible to record future development trends.
RecordTrend.com is a website that focuses on future technologies, markets and user trends. We are responsible for collecting the latest research data, authority data, industry research and analysis reports. We are committed to becoming a data and report sharing platform for professionals and decision makers. We look forward to working with you to record the development trends of today's economy, technology, industrial chain and business model.Welcome to follow, comment and bookmark us, and hope to share the future with you, and look forward to your success with our help.