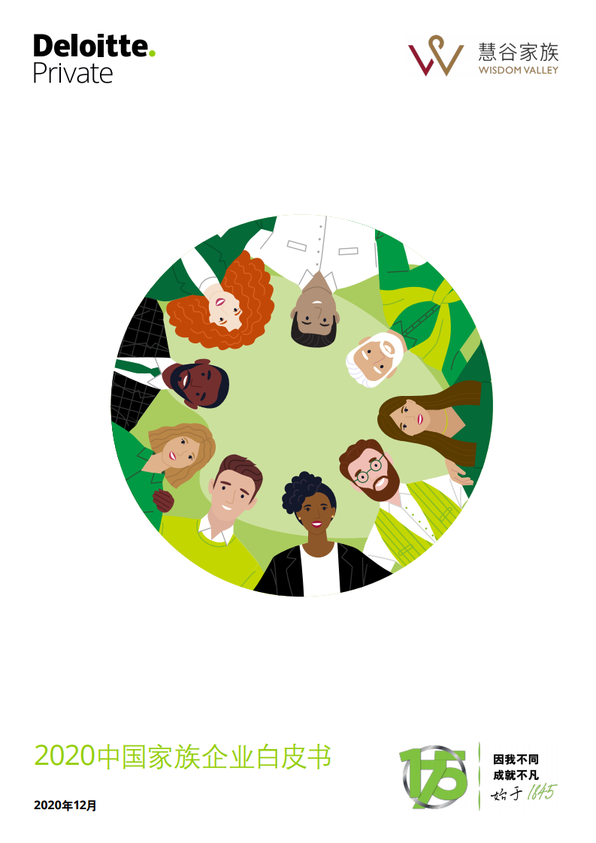 RecordTrend.com is a website that focuses on future technologies, markets and user trends. We are responsible for collecting the latest research data, authority data, industry research and analysis reports. We are committed to becoming a data and report sharing platform for professionals and decision makers. We look forward to working with you to record the development trends of today's economy, technology, industrial chain and business model.Welcome to follow, comment and bookmark us, and hope to share the future with you, and look forward to your success with our help.
The following is the White paper on Chinese family business in 2020 From Deloitte & Huigu recommended by recordtrend.com. And this article belongs to the classification: Chinese economy, research report.
Since 40 years of reform and opening up, China's economy has developed rapidly, and private enterprises have contributed a lot. At present, the contribution of private enterprises in the national economy is more than 50% in tax revenue, more than 60% in investment, and nearly 80% in jobs. We know that most of China's private enterprises are owned and operated by families, and many families are undergoing transformation and handover.
At the same time, 2020 is an extraordinary year. The world's geopolitics is complex, and coexistence with the epidemic situation has become a "new normal". While China's economy is facing transformation and upgrading, China's private entrepreneurs have also ushered in a historical turning point. The replacement of new and old private entrepreneurs is also related to the stable economic development, which puts forward higher requirements for inheritance. Family inheritance is a systematic project, which not only needs to find roots in Chinese traditional culture, but also needs to learn the secret of longevity of the world's century old and enduring wealth family; it also needs to inherit cultural values and effectively inherit wealth.
In the second half of 2020, Deloitte and Huigu family launched a survey and interview on Chinese family businesses, focusing on family inheritance considerations, family business management and future investment views after the epidemic. We hope that this white paper can provide valuable insights for Chinese entrepreneurs, help Chinese rich families embrace uncertainty, cope with challenges, seize the new growth curve and achieve stable inheritance.
This questionnaire survey received feedback from nearly 30 family business members: 60% of them are family managers, including the first generation entrepreneurs and the second and third generation managers; nearly half of them are from Beijing Tianjin Hebei region, followed by Guangdong, Hong Kong and Macao, northeast region, Yangtze River Delta and central region, which basically covers the major economic zones in China; most of the average investable assets of these families are diversified In the range of RMB 10 million to RMB 100 million, 70% of the family wealth management objectives are focused on wealth protection and inheritance, and some say that family business development and charity are also one of the objectives.
In terms of wealth management channels, 50% of them are managed by families independently. Some families have set up family offices, adopting the commercial operation mode that will eventually be adopted by rich families in Europe, America and Hong Kong. With the understanding of the concept of family office by mainland entrepreneurs, it is expected that this management mode will be adopted by more and more Chinese rich families.
In terms of family inheritance, more than half of the respondents focused on family cohesion rather than wealth and inheritance, such as family culture, vision and values, and family member communication. They attach importance to the positioning of family and enterprise, which is related to the future vision of family and enterprise, and also related to the social responsibility of outstanding private enterprises. 30% of the family members said they did not want to participate in the family business and wanted to start their own business, but they did face problems such as lack of contacts and business management experience.
In terms of family business management, the respondents said that wealth inheritance and family management power setting were the top issues for families, accounting for 45%; 65% of the respondents said they would spend time managing family business and family affairs at the same time, and 35% of the entrepreneurs would spend 20% of their time managing the business and other family affairs.
About the future investment view, 45% of the respondents are optimistic and open, indicating that the economic situation has changed after the epidemic, and they will strive to seize the opportunity to obtain high returns. 54% said that investment in mainland China remained unchanged or increased, followed by Hong Kong and the United States.
The report also included the voices of entrepreneurs we heard. In the aspect of training the next generation, some of the young generation think that they can provide their children with a relatively superior growth environment, but the next generation still rely on their own efforts to break out of their own world; in the aspect of charity, there are entrepreneurs who have been supporting public welfare for many years "It's better to teach people to fish than to teach them to fish". Charity is not a tool for entrepreneurs to pursue social fame and wealth, but a point-to-point practical help. We are deeply touched by spending money where it can really help others. In addition, it also talks about how to have a more tacit understanding between generations and the future development of regional economy.
The only constant is change. China's rich families should plan their successor plan ahead of time. The inheritance of the family business represents the continuation of the family spirit and reflects the family values, which is very important for the family business. We must treat the inheritance with systematic thinking and long-term perspective, actively embrace the uncertainty, and ensure that the family foundation is evergreen.
If you want to get the full report, you can contact us by leaving us the comment. If you think the information here might be helpful to others, please actively share it. If you want others to see your attitude towards this report, please actively comment and discuss it. Please stay tuned to us, we will keep updating as much as possible to record future development trends.