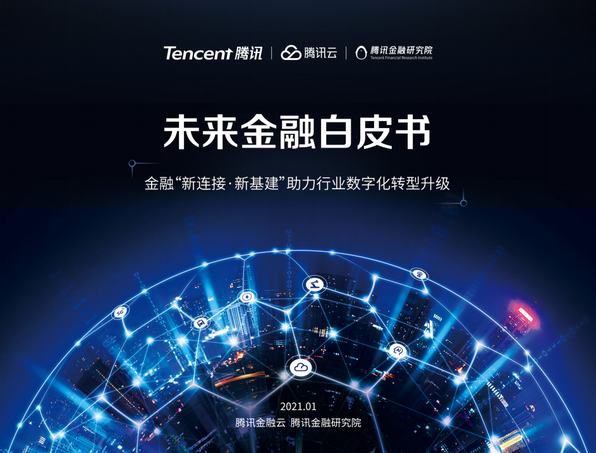 RecordTrend.com is a website that focuses on future technologies, markets and user trends. We are responsible for collecting the latest research data, authority data, industry research and analysis reports. We are committed to becoming a data and report sharing platform for professionals and decision makers. We look forward to working with you to record the development trends of today's economy, technology, industrial chain and business model.Welcome to follow, comment and bookmark us, and hope to share the future with you, and look forward to your success with our help.
The following is the White paper on future finance From Tencent cloud recommended by recordtrend.com. And this article belongs to the classification: research report, financial technology.
Tencent cloud and Tencent Financial Research Institute jointly released the industry's first "white paper on future finance". Starting from the actual pain points of the development of financial institutions in banking, insurance, securities and other industries, it presents a panoramic view of the future financial form construction and digital upgrading path. This is also the first time Tencent cloud has systematically expounded the digital methodology of the financial industry in the form of a white paper.
"Future financial white paper" pointed out that, affected by the macro environment, changes in customer behavior, and intensified competition in the industry, financial institutions generally face challenges in infrastructure, organizational structure, and business connection in the post epidemic era, and new infrastructure and new connection will become the key to resolve the development pain point, which can help financial institutions build the connection between the industrial end and the consumer end The new financial model in the future.
In recent years, the central bank, China Banking Regulatory Commission, China Securities Regulatory Commission and other financial regulatory departments are actively guiding financial institutions to accelerate digital transformation. Hu liming, vice president of Tencent cloud and general manager of Tencent Financial cloud, said at the press conference that the "white paper on future finance" (hereinafter referred to as the "white paper") is based on Tencent cloud's rich practice in the industry over the years. It aims to provide financial institutions with the thinking mode and the best model for digital transformation, and promote the deeper and broader development of the industry's digital transformation.
New infrastructure and new connections become the key to finance in the future
COVID-19 is becoming a macro variable for all industrial development. At the same time, the financial industry is also facing the challenges of younger customer groups, online, interactive and brand, new competition pattern brought by financial opening, industry service mode and function reconstruction.
Therefore, the development of the financial industry is generally under pressure. Take the banking industry as an example, the traditional development model driven by scale is difficult to continue, the growth rate of income is slowing down, the capital business continues to shrink, the overall cost of debt ratio is too high, the growth rate of net profit is obviously declining, and the non-performing rate is rising. The insurance industry and the securities industry also have the trend of slowing down the growth of core indicators and intensifying competition, and the industry head effect is obvious.
In order to solve these challenges, the white paper points out that relying on new infrastructure and new connections, we can relieve pain points at the levels of infrastructure, organizational structure and business connection, achieve quality improvement, cost reduction and efficiency improvement, and build a new financial format of sustainable development in the future.
Schematic diagram of future financial model architecture
On the one hand, with the help of the new financial infrastructure, financial institutions can build basic support capabilities with thin core, micro service, full intelligence and independent control, and provide better it system support and data processing capabilities for the huge market demand.
On the other hand, based on the new connection, financial institutions can form diversified channels with online as the main channel and online and offline as the combination. At the same time, combined with 5g, rich media, ubiquitous terminals, etc., expand the experience scene and mode of online interaction, build high-quality private domain traffic, and realize the active expansion of business.
According to the introduction, Tencent cloud has built a distributed basic cloud platform covering proprietary cloud, financial zone, database, micro service governance, operation and maintenance, mobile platform, business capability center, data platform, AI platform and other solutions, as well as micro financial channels based on wechat ecology, Cloud View open financial platform, Yunlin industrial financial platform and other channels, providing financial services for financial banks New infrastructure and new connections.
In the future, the overall framework of "1 + 4 + 5" digital transformation of finance will be divided into three paths to help the digital upgrading of the industry
The white paper points out that in the face of different scenarios, there are three ways to digitalize financial institutions. Some financial institutions can quickly establish new digital businesses or products to realize rapid digitization; some financial institutions can quickly iterate with Internet operation experience to realize partial digitization; some financial institutions can also formulate top-level digital strategic design to promote business transformation and organizational upgrading to realize comprehensive digitization.
Banking sector
Tencent cloud helped CCB build a super large-scale ecological cloud, supported the development of ecological business in nine fields, and achieved 300% business growth; Bank of Guizhou cooperated with Tencent cloud to build a high-level and reliable financial architecture, becoming the first bank in China to go to the cloud in an all-round way, creating a precedent for financial digital innovation and transformation; Bank of Beijing, based on the support of Tencent cloud mobile financial development platform, upgraded and relocated Financial services, business delivery efficiency increased 1.5 times.
Insurance
Anxin insurance, based on Tencent's financial cloud zone and other exclusive products that meet the regulatory requirements of CIRC, has opened rapidly in six months and achieved a 25 fold increase in premium income; Taikang Life Insurance, based on Tencent cloud AI technology, takes the lead in promoting intelligent cognitive underwriting nationwide, covering more than 36000 medical institutions, with an accuracy rate of more than 90%; Tencent cloud also supports China Life Insurance to build an air meeting room , so that the national business staff in the cloud "7 × 24 hours" contactless business; China Insurance relies on Tencent's "online claims service platform" to provide fast survey services for car owners, to achieve small cases second level compensation.
Securities sector
Industrial Securities builds an Internet marketing system based on Tencent cloud, with more than ten thousand fans added each month; BOC securities is the first full stack private cloud in the industry with the help of Tencent cloud, which can build basic resources in five minutes and save 60% of operation and maintenance management investment; Guotai Junan uses Tencent cloud AI to realize the intellectualization of account opening and risk identification, serving millions of users; Haitong Securities Co., Ltd With the help of Tencent cloud machine learning platform, the marketing risk control efficiency was improved, 13000 risk early warning coverage was realized, and the level 2 product recommendation conversion rate was increased by 100%; Tencent cloud also cooperated with Shenzhen Stock Exchange to build a financial industry cloud, providing full stack cloud services for securities companies.
At present, based on the development strategy of new financial infrastructure and new digital connection, Tencent cloud has served a large number of financial industry customers, including more than 150 banks, dozens of insurance and securities companies, and is in the leading position in the industry in serving the digital transformation of large financial institutions.
If you want to get the full report, you can contact us by leaving us the comment. If you think the information here might be helpful to others, please actively share it. If you want others to see your attitude towards this report, please actively comment and discuss it. Please stay tuned to us, we will keep updating as much as possible to record future development trends.