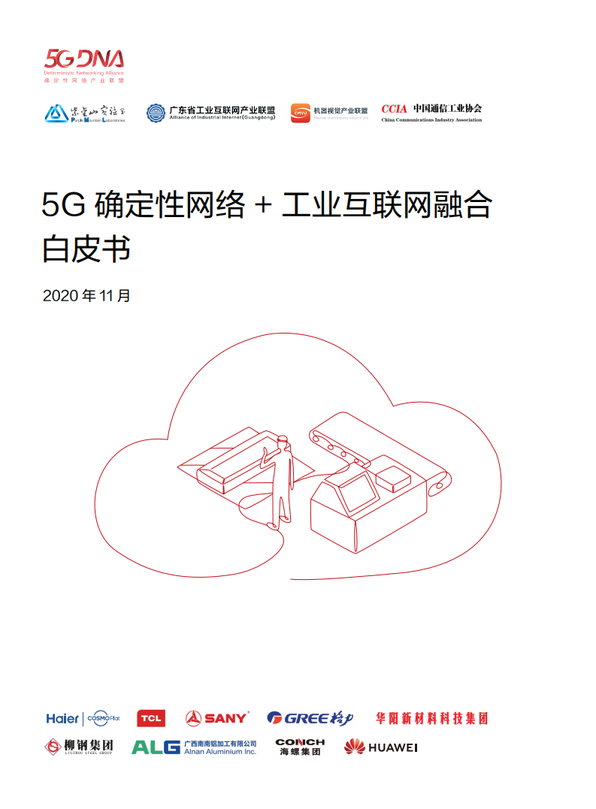 The following is the White paper on integration of 5g deterministic network and industrial Internet From Huawei recommended by recordtrend.com. And this article belongs to the classification: 5g industry, research report.
5g has become a sharp tool for the digital transformation of qianhang Baiye, providing the industry with differentiated + deterministic business experience. Since the new round of scientific and technological revolution, industrial enterprises have begun to explore and build intelligent factories spontaneously, which has a spontaneous driving force for the demand of deterministic networks.
The white paper on integration of 5g deterministic network and industrial Internet is led by 5g deterministic network industry alliance, Zijinshan laboratory, Guangdong Industrial Internet industry alliance, machine vision industry alliance, China Communications Industry Association, Internet of things think tank and other institutions, in cooperation with Huawei, Haier, TCL, Sany Heavy Industry, Gree, Huayang new materials technology group, Liugang group and Guangxi Nannan group Aluminum, conch group and other units jointly completed the project. For the first time, starting from the requirements of seven industrial scenarios for deterministic network, through the organic combination of theory and practice, we explored the prospect of deep integration of industrial Internet and 5g. Combined with a number of industry-leading practice cases, it has certain inspiration for the industry.
The application scenarios of 5g deterministic network in the industrial field are divided into seven categories: real-time monitoring, machine vision, remote control, material management, auxiliary operation, mass connection and product life cycle management. The white paper analyzes the above seven typical application scenarios of industrial Internet from the perspective of differentiated network, exclusive network and DIY network, and discusses the impact of these scenarios on 5g deterministic network The correlation and matching of network capabilities are qualitatively analyzed to form the wireless network capability matrix that needs the core attention in each scenario.
The white paper interprets many excellent cases of 5g deterministic network in discrete manufacturing and process manufacturing industries from three aspects: background and pain points, solutions and effect summary, elaborates the challenges and opportunities of integration of 5g deterministic network and industrial Internet, and puts forward suggestions for its future development.
The deep integration of 5g deterministic network and industrial Internet involves all links of the industrial chain. The white paper suggests that we should give full play to the role of industry alliance in ecological promotion, accelerate the first mover advantage of public network, provide deterministic network services to industrial Internet users on 5g public network through various technical means, accelerate the formation of more demonstration applications of 5g deterministic network + industrial Internet, and comprehensively consider the deployment mode, business scenario, and industry segmentation, so as to select the best choice Choose the right path to achieve gradual implementation.
Li Peigen, academician of Chinese Academy of engineering and President of China Society of mechanical engineering, said in the speech at the conference, "intelligent manufacturing is the main direction of manufacturing power strategy, and 5g deterministic network is the core technology to meet the future digital transformation of enterprises and the wireless communication demand of intelligent manufacturing. The release of the white paper on the integration of 5g deterministic network and industrial Internet has important guidance and reference for the research and implementation of 5g applications in more institutions and enterprise scenarios (especially in the manufacturing industry)
Liu Yunjie, academician of Chinese Academy of engineering and director of Zijinshan laboratory, also prefaced the white paper and called for the co construction of 5g Industrial Ecology: "5g and industrial Internet have become the focus of China's new infrastructure strategy, and 5g deterministic network is an important element in the future communication network architecture to support the deterministic and controllable demand of business. We hope that with the release of this white paper as a starting point, more enterprises will widely participate in the implementation of 5g deterministic network + industrial Internet applications, and jointly promote industrial ecological prosperity. "
If you want to get the full report, you can contact us by leaving us the comment. If you think the information here might be helpful to others, please actively share it. If you want others to see your attitude towards this report, please actively comment and discuss it. Please stay tuned to us, we will keep updating as much as possible to record future development trends.
RecordTrend.com is a website that focuses on future technologies, markets and user trends. We are responsible for collecting the latest research data, authority data, industry research and analysis reports. We are committed to becoming a data and report sharing platform for professionals and decision makers. We look forward to working with you to record the development trends of today's economy, technology, industrial chain and business model.Welcome to follow, comment and bookmark us, and hope to share the future with you, and look forward to your success with our help.