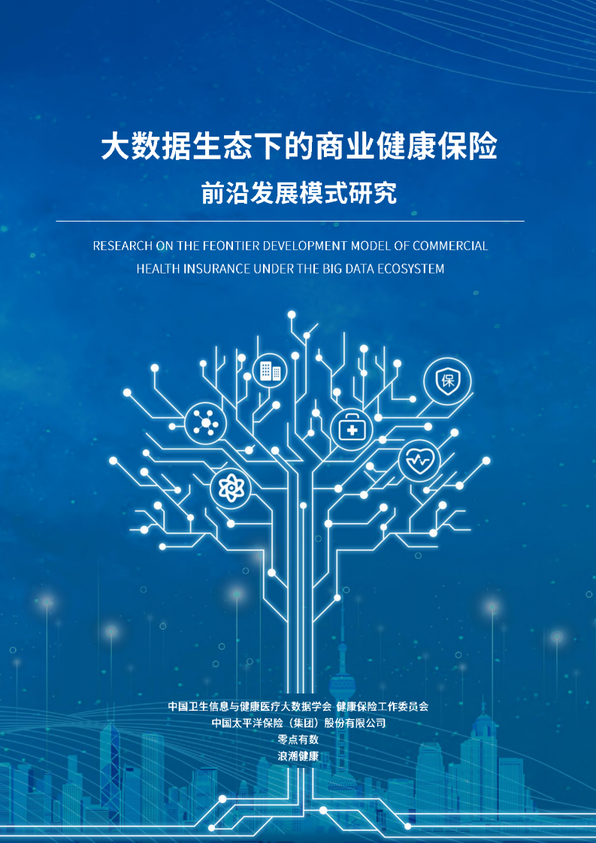 The following is the White paper on the frontier development model of commercial health insurance in the big data ecology recommended by recordtrend.com. And this article belongs to the classification: Beijing Finance and insurance data, research report.
Under the guidance of the health insurance working committee, the white paper is led by China Taibao and its Taibao Allianz health insurance company, and jointly researched and compiled by Inspur Group, horizon, Boston Consulting and other institutions. Based on the current situation of commercial health insurance market and the survey results of supply and demand side, the white paper analyzes the current situation, pain points and future opportunities of the integration of big data and commercial health insurance, analyzes the latest domestic and foreign development and practice cases, explores the business model of health insurance development adapting to China's national conditions, and provides reference for the transformation and future development trend of commercial health insurance market It also provides prediction and guidance.
Big data Ecology: an important support for business transformation and innovative development of commercial health insurance
In recent years, the state has made a lot of deployment arrangements in the field of big data, especially in the layout of health care big data. In terms of policy guidance, the National Health Commission has continuously strengthened the top-level design of standards and regulations, and many industrial forces, academic forces and talent forces have participated in promoting the development of health care big data industry.
As one of the important related parties of health care big data, insurance institutions have also invested a lot of human and material resources in the research and exploration of big data in recent years. Including investment in the capital market and industrial layout; including strategic cooperation with medical institutions and big data companies; and leading the establishment of research projects. On the one hand, the application of health care big data in commercial health insurance accelerates the innovation of insurance product diversification, intelligent operation service and accurate health management; on the other hand, the entry of commercial health insurance further promotes the accelerated governance of digital industry.
According to the white paper, big data is considered to be the most likely technology to change the business model of the insurance industry. Firstly, big data is conducive to solving insight problems, insurance and data fit naturally, and the internal logic of health insurance is based on health care data. Secondly, big data is conducive to solving efficiency problems. Traditional health insurance has high operating cost and low efficiency. After information exchange and data connection, the resulting model and process remodeling will make our management and service efficiency improve Thirdly, big data is conducive to solving the experience problem and enhancing the sense of commercial insurance acquisition of citizens by means of smart services and digital risk control. Finally, it will help commercial health insurance to form a new era business model of digital decision-making and digital operation.
Demand side: diversified consumers and growing demand for multi-level health care
In recent years, China's per capita GDP has been growing steadily and rapidly year by year, and the per capita GDP will exceed US $10000 in 2019. The improvement of income level promotes the continuous upgrading of people's consumption demand, among which the demand for healthy financial security has been significantly improved. The novel coronavirus pneumonia outbreak in 2020 has made more and more consumers pay more attention to the risk protection of insurance products, especially the demand for health insurance. Through the investigation of thousands of consumers, the white paper summarizes the four major trends of health insurance demand: from "ask me to protect" to "I want to protect", from "simplification" to "diversification", from "singleness" to "interactivity", and from "protect foundation" to "pay attention to health". According to the survey data, only 16.9% of consumers think that they are healthy, 47.8% of consumers say that it is necessary to allocate commercial health insurance, and there are differences in insurance protection needs, interaction modes and service types among people with different income levels, age groups and life circles, which truly reflects the growing demand for diversified multi-level health insurance It puts forward higher requirements for the innovation ability of commercial health insurance to provide specific products and customized services for specific groups.
Supply side: the value of commercial health insurance is insufficient, and the bottleneck of development needs to be broken
After more than 30 years of development, China's commercial health insurance has achieved remarkable results. In 2019, the original premium income of health insurance has increased to 706.6 billion yuan, with a compound annual growth rate of more than 28% in the past decade. But at the same time, China's commercial health insurance has also encountered a series of challenges in the development process. Health insurance, especially medical insurance, is a very test of the enterprise's refined operation. Risk pricing requires a lot of underwriting costs and data support. Due to the lack of medical data docking and sharing mechanism, the actuarial database can not be expanded. Therefore, on the one hand, it inhibits the development of the insurance industry The product innovation of health insurance, on the other hand, also makes the product homogenization phenomenon serious. Take the products of the people's insurance for example. The products of the people's insurance should be priced according to the health status of residents in different areas. Driven by the fierce competition in the market, in order to seize the market as soon as possible, they not only have very high similarity in terms, but also lack the support of medical insurance data.
At the same time, while the basic medical insurance has formed a wide coverage and basic supply, the development of commercial health insurance is relatively backward, and its market flexibility has not been fully exerted. Its position in the industrial chain is relatively weak, and it has not been able to use its payer's advantages to connect the medical and health industry chain. In terms of operation and management, many insurance companies are also difficult to break away from the inertia of "Pan life insurance" operation. The problems of single product structure, high cost of channel development, low level of specialization, lagging risk control means, and high difficulty in making profits have not been well solved.
The way to break the situation: repositioning the role advantage of industrial chain payment and exploring new business development mode
From a long-term point of view, commercial health insurance needs to re position its advantage of payment role in the medical and health industry chain, build an ecological value chain of medical and health by connecting users, doctors, drugs, health management and other stakeholders, and form a closed-loop health service of pre prevention, in-process diagnosis and treatment, and post management; at the same time, it can fully rely on big data through differential positioning with basic medical insurance Technology optimization industry operation, looking for new profit space, change the passive payment, rely on the traditional three poor single profit model, explore new business development model. In terms of breadth, we should build a health insurance product supply system covering all channels, all people and all life cycle; in terms of depth, we should rely on the social security catalog to establish a dynamic commercial insurance catalog with supply and demand linkage and controllable risk; in terms of ecology, we should change basic procurement into integration and symbiosis, balance and reconstruct the risk cost brought by the security boundary; in terms of risk control, we should connect medical resources and commercial insurance supply to create a new environment New payment mode, the establishment of risk sharing mechanism.
To realize the above transformation and development, an important support is health care big data. In the past, when the degree of informatization and digitization had not reached a great richness and interconnection, the information was mainly transported by manual means; with the deepening of health care reform and the continuous improvement of medical insurance informatization level, social business data connectivity became possible, which gave commercial health insurance the opportunity to go out of the existing experience logic, and really set up a business model for different users from the perspective of customer security needs Based on the data, it breaks through the existing business bottleneck of health insurance, moves from "health care" to "health insurance", and constructs a new ecological supply system of health management and medical payment.
From the perspective of implementation, the white paper also puts forward many solutions and suggestions. For example, in terms of product innovation, it is based on the development of age breakthrough products, urban customized products, single disease vertical field products, special occupation customized products and other specialized and refined small group health insurance product customization mode. In terms of service innovation, we should establish digital portraits of users, pre risk management and precise pricing; reshape the two core business processes, carry out data engineering and build intelligent operation; connect the medical and health system, integrate product innovation and promote online services; apply medical technology, lay out core capabilities and build a health management closed loop. In terms of marketing innovation, according to the current trend of online, digital and social groups, with the help of private domain traffic to cut into a specific circle, based on data and technology to analyze the characteristics of its population health risk, provide them with customized products, and deeply embed the supporting health management services into the user's circle scene, so as to improve the user's sense of gain and satisfaction and complete the customer group expansion And transformation, to achieve a win-win situation for both sides.
Digital transformation: Leadership transformation, talent training, customer value orientation, data governance
With the continuous change of the industry environment and customer demand, the commercial health insurance industry is experiencing an extensive development mode from emphasizing marketing to neglecting experience, and has become a refined and specialized development mode with customer experience as the guide and data and technology as the drive.
Under this development mode, the white paper proposes that the governance and application of big data should be promoted to the strategic development height of operating commercial health insurance enterprises, which requires the high-level macro framework of the enterprise, from the bottom of data governance to business value transformation, from the construction of big data platform to the cultivation of data intelligence and medical management talent team, and gradually establish a truly customer-centered So as to realize the transformation of commercial health insurance mode. The cognitive management transformation and "digital business" level of the enterprise leadership, the cultivation of "medical management" and "data operation" talents, the customer-centered value orientation driven by big data and the long-term sustainable data ecological governance will be the four bottom supports for the transformation of insurance enterprises in the future.
Expectations and suggestions: standardize and guide data application, and share industrial information and data
The co construction, sharing and sharing of health care big data will greatly help the transformation, innovation and high-quality development of commercial health insurance, but it needs the joint cooperation and efforts of relevant parties. The white paper puts forward its own expectations and suggestions based on the practical problems and challenges of current commercial health insurance in health care big data sharing.
First of all, health care big data applications are facing challenges such as the lack of standards for use compliance, data security and privacy definition, and the lack of clear definition of user data ownership and use specifications. The industry expects the relevant departments of the state and the government to promote the standardization or guidance documents for the use of data compliance, guide the health industry to better carry out data sharing and cooperation, and further stimulate the value of data To promote the high-quality development of the industry.
Secondly, there are many subjects, scattered resources and different quality of health care data. Facing the problems of high cost of data docking and processing, and difficult business application, the industry expects to take the lead in building a data information sharing platform between upstream data sources and data users, play a joint role, jointly formulate application standards, and establish an efficient channel for data sharing applications, Improve the efficiency of industrial cooperation.
China Taibao said that it is a long-term proposition for health insurance to realize long-term healthy development and give full play to the social value of insurance. The release of the white paper also hopes to attract more people's attention and explore a development path of health insurance with Chinese characteristics, so that China's commercial health insurance can start from the perspective of the overall layout of national medical insurance We should make good use of our own professional expertise and market competitive advantages, work together with medical, health, science and technology and other industries to protect people's lives and health, and help healthy China and digital China speed up their practice.
If you want to get the full report, you can contact us by leaving us the comment. If you think the information here might be helpful to others, please actively share it. If you want others to see your attitude towards this report, please actively comment and discuss it. Please stay tuned to us, we will keep updating as much as possible to record future development trends.
RecordTrend.com is a website that focuses on future technologies, markets and user trends. We are responsible for collecting the latest research data, authority data, industry research and analysis reports. We are committed to becoming a data and report sharing platform for professionals and decision makers. We look forward to working with you to record the development trends of today's economy, technology, industrial chain and business model.Welcome to follow, comment and bookmark us, and hope to share the future with you, and look forward to your success with our help.