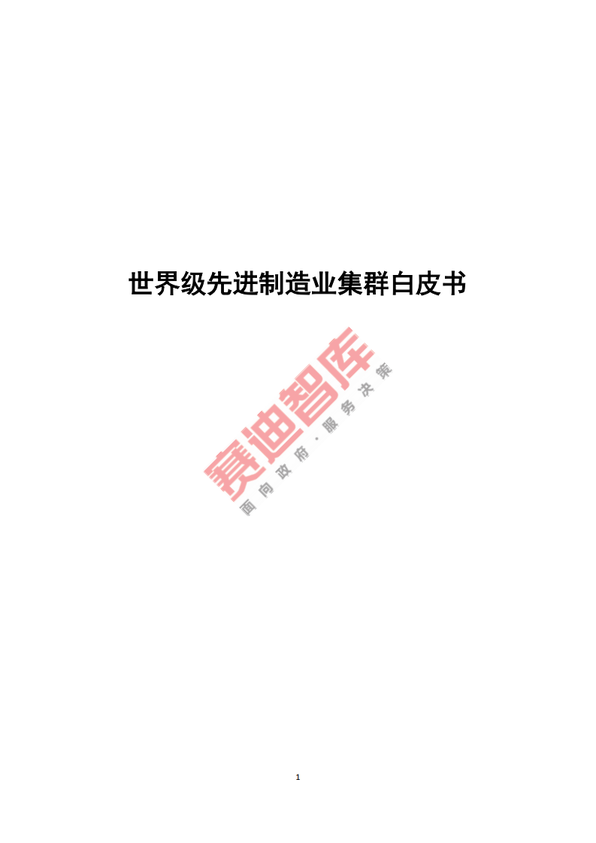 The following is the White paper on world class advanced manufacturing clusters From Sadie recommended by recordtrend.com. And this article belongs to the classification: research report, Industry information.
Recently, saidI think tank released the white paper on world class advanced manufacturing clusters, which focuses on the analysis of the development status and experience of major economies with outstanding industrial clusters, and provides reference for the development of advanced manufacturing clusters in China.
Emerging industries become the new focus of the development layout of advanced manufacturing clusters
At present, from the perspective of the development of world-class advanced manufacturing clusters, developed countries in Europe and the United States have obvious first mover advantages, while emerging countries are catching up; world-class advanced manufacturing clusters have not yet formed a unified standard, and the development priorities of various countries are different; emerging strategic industries have risen, becoming the new focus of the development layout of advanced manufacturing clusters; innovation ability is the core competitiveness of advanced manufacturing clusters, leading to the development of advanced manufacturing clusters Leading the new direction of scientific and technological development.
From the development trend of global advanced manufacturing cluster, networking, digitization and intelligent upgrading are the only way for cluster development. Advanced manufacturing cluster is an intelligent platform integrating the new generation of information and communication technology, manufacturing technology, supply chain technology, advanced management methods and operation experience. Networking, digitization and intelligent upgrading are the only way for the sustainable development of the cluster in the future. It is the future development goal of cluster to build industry city integration based on people-oriented. Taking the cluster construction as the carrier, the industrial development, ecological protection, human settlement environment optimization, urban construction and other contents are perfectly integrated into the cluster planning and construction. Relying on the industrial assets, the urban renewal and development are driven, and the supporting services of the city are improved, so as to realize the integration and harmonious development of the circular upward development among industry, city and people in the cluster. The brand management of clusters will become a powerful means of competition among clusters. Advanced manufacturing industry cluster needs connotation as support. Creating brand cluster and enhancing soft power will become the core competitiveness of cluster development.
The development of clusters in the United States is market-oriented and relies on the interaction between industry and market to improve the competitiveness and internal force of clusters. Industrial layout is coupled with location and resource advantages. Enterprise network plays a leading role in cluster governance. Industry university research institute cooperates in innovation. The government provides active and effective policy support and public services to create a loose and active financial environment.
In the development of advanced manufacturing clusters, Germany has established an information sharing platform, attached great importance to the evaluation and monitoring of clusters, played a guiding role of the government, improved the national cluster strategy, established a neutral and efficient "third-party" organization, and built a network service system.
When Japan develops advanced manufacturing clusters, it pays attention to accurate and effective government promotion measures, clear phased goals and plans, long-term mechanism construction of advanced manufacturing cluster development, innovation mechanism of government industry university research cooperation of industrial clusters, development of science and technology intermediary organizations, and cultivation and introduction of talents and innovation institutions.
China's advanced manufacturing cluster presents the characteristics of one belt, three cores and two supports
From the perspective of spatial distribution, China's advanced manufacturing clusters show the characteristics of strong in the East and weak in the west, one belt, three cores and two supports. The three cores are the core of Bohai rim, Yangtze River Delta and Pearl River Delta. The core of Bohai rim, including Beijing, Tianjin, Hebei, Liaoning and Shandong, is an important R & D, design and manufacturing base of advanced manufacturing industry in China. Among them, Beijing is dominated by advanced manufacturing and high-tech R & D, Tianjin is dominated by aerospace industry, Shandong is dominated by intelligent manufacturing equipment and marine engineering equipment, and Liaoning is dominated by intelligent manufacturing and rail transit. With Shanghai as the center and Jiangsu and Zhejiang as the two wings, the core of Yangtze River Delta is prominent in aviation manufacturing, ocean engineering and intelligent manufacturing equipment, forming a relatively complete R & D, design and manufacturing industrial chain. The core of the Pearl River Delta includes Guangzhou, Shenzhen, Zhuhai and Jiangmen, mainly focusing on special ships, rail transit, aviation manufacturing, CNC system technology and robot manufacturing.
The two supports are western support and central support. Western support refers to Shaanxi, Sichuan and Chongqing, with rail transit and aerospace industry cluster as the main support. The central support refers to Hunan, Shanxi, Jiangxi and Hubei, and the aviation equipment and rail transit equipment industry cluster is prominent.
In recent years, the construction of China's advanced manufacturing cluster has developed rapidly, but there are still some problems as follows.
It has been in a state of low development for a long time. The upgrading process of industrial cluster from low level to high level is relatively slow, and the number of enterprises in the cluster with high-end links of value chain and high-tech industries is small.
The degree of industrial relevance is small, but the cluster is not cluster. There are many imitators, low-level duplication and disorderly competition, low-level division of labor and specialization of clusters, lack of attention to the relationship between industries in industrial positioning, industrial layout and investment promotion, and imperfect supporting relationship between upstream and downstream of industrial chain.
Industrial structure has strong isomorphism. Local governments generally use the idea of "large and comprehensive" to guide local economic development.
The ability of technological innovation is insufficient. Most of the advanced manufacturing clusters are mainly based on the application of simple technology. Many industrial clusters are still in the stage of imitation and low price competition. The overall level of industrial structure is still low, and the innovation ability and competitiveness are not strong.
Perfect industrial cluster mechanism has not been formed. The role of the government needs to be brought into full play, excessive reliance on land management and preferential measures, widespread waste of land, lack of industry characteristics and other problems; the operating environment of China's intermediary organizations needs to be improved, many clusters lack intermediary service support in economic technology, law, information, management, product promotion and other aspects; the evaluation index of cluster development is one-sided, and attention is paid to the number of investment We pay less attention to the internal competitiveness, development sustainability, innovation ability and other quality indicators.
The Enlightenment of global advanced manufacturing cluster to China
Government promotion is crucial. The visible hand of the government is an important planner, participant and main driving force of the world-class advanced manufacturing cluster. The government's planning, investment, taxation, innovation and other policies are indispensable to promote the development of advanced manufacturing clusters. The government can promote the construction of advanced manufacturing clusters by making plans, regulations and policies, making differentiated dynamic development policies, providing sound infrastructure and public services.
Innovation system construction is the key. Cluster innovation system is based on industrial cluster to form innovation network. Through formal and informal contacts, enterprises, scientific research institutions, intermediary service institutions and governments can promote the birth, storage, transfer and application of new knowledge, new technology and new products. A good innovation system can not only bring faster and better knowledge innovation, product innovation and market innovation, but also provide the enterprises in the cluster with formatted scientific knowledge, solutions to common problems and stable innovation cooperation, and bring sustainable development power and competitive advantage for the advanced manufacturing cluster.
The coordinated development of large and medium-sized enterprises is the foundation. The collaborative development among large and medium-sized enterprises is conducive to strengthening the ties among enterprises in the advanced manufacturing cluster, facilitating the development of enterprises in the direction of specialization, strengthening the level of specialization and cooperation among enterprises, improving the efficiency and level of cluster development, and strengthening the local roots of large enterprises, especially large multinational enterprises.
Coordinated development among industries. Excellent industrial clusters not only have strong competitiveness in key industries, but also have strong competitiveness in related supporting industries. There is a virtuous circle of mutual promotion and common upgrading between leading industries and supporting industries. The cooperation and upgrading among industries promote each other and develop together, which brings the multiplier effect of industrial cluster competitiveness.
Reasonable evaluation system can effectively spur the development of advanced manufacturing clusters. From the development experience of world-class advanced manufacturing clusters, it can effectively guarantee the stable development of advanced manufacturing clusters by formulating scientific cluster development evaluation system, tracking the development status of advanced manufacturing clusters, regularly evaluating the effect of policy implementation, clarifying the problems and needs of cluster development, and timely adjusting the development policies and strategies in the next stage.
If you want to get the full report, you can contact us by leaving us the comment. If you think the information here might be helpful to others, please actively share it. If you want others to see your attitude towards this report, please actively comment and discuss it. Please stay tuned to us, we will keep updating as much as possible to record future development trends.
RecordTrend.com is a website that focuses on future technologies, markets and user trends. We are responsible for collecting the latest research data, authority data, industry research and analysis reports. We are committed to becoming a data and report sharing platform for professionals and decision makers. We look forward to working with you to record the development trends of today's economy, technology, industrial chain and business model.Welcome to follow, comment and bookmark us, and hope to share the future with you, and look forward to your success with our help.