research report
Zhang Jian, CEO of Chuang Liang, was invited to give a speech at the 2021marketing API actual combat sharing meeting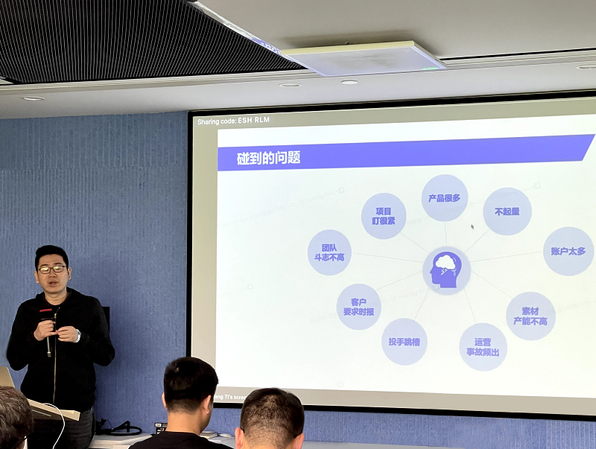 The following is the Zhang Jian, CEO of Chuang Liang, was invited to give a speech at the 2021marketing API actual combat sharing meeting recommended by recordtrend.com. And this article belongs to the classification: research report.
On April 22, 2021, the marketing ecology group of huge engine channel sales management center held a marketing API technical ability sharing meeting in Beijing, focusing on agent scenarios, hoping to solve the management and operation problems of agents in "human effect", "material" and "team". In this activity, huge engine specially invited technical service providers: mass advertising, mass marketing, mass marketing, mass marketing, mass marketing, mass marketing, and mass marketing Hot cloud data, agents: Youju and letui share how they successfully use media open interface and data to help agents improve team management and operational efficiency.
Release manpower and make delivery more intelligent
In the sharing session of mass engine Mapi technology service provider, Zhang Jian, CEO of Chuang Liang, with the theme of "release human resources, make delivery more intelligent", summed up the delivery problems encountered by agents into five aspects: building efficiency, planning capacity, account management, material management, team management, and gave answers and system demonstration with practical cases running on Chuang Liang advertising delivery tool.
Improve the construction and operation efficiency of advertising plan
Agents often have a lot of plans to go on because they have multiple customers, multiple projects and multiple products operating at the same time. Therefore, improving the building efficiency is the first step to improve the human efficiency. Zhang Jian, CEO of Chuang Liang, emphasizes that "under the background of meeting the test logic, repetitive work should be completed as automatically as possible", for example, Chuang Liang structured the account variables, The test method can be used to make the main test variable as grouping logic, and there are automatic logic for several tedious steps of new creation, such as automatic creation and replacement of landing page, joint debugging and matching of transformation and tracking, etc.
In addition, after the test enters the stable period, it is often necessary to repeatedly enter the solidified 70% variables. For this purpose, Chuang Liang provides a strategy function, which structurizes and packages the variables in the test process. Through these functions, 1000 plans can be built in one minute at the fastest.
In the operational efficiency section, Chuang quantity through highly aggregated panel, custom view and batch editing, 7 × As far as possible, the automatic hosting and other functions of 24 enable the optimizer to respond to the temporary needs from customers immediately and easily. Therefore, on average, each optimizer can manage 50-80 huge engine accounts.
Improve the capacity of advertising plan
However, with a large number of plans and fast construction, can we start to measure? After the new efficiency, the second problem faced by the agents is quantity. Zhang Jian, CEO of Chuang Liang, suggested that "all variables should be optimized, and reasonable allocation test should be carried out, so as to refine the advertising test as much as possible".
The first hurdle of refinement is that data such as material, directional package and title copy are scattered in each account. For this reason, Chuang Liang collects the data of each variable in one place, so that the optimizer can make decisions based on the data when building plans. For example, Chuang Liang can prioritize the material according to the old and new degree of material, consumption performance and transformation performance, It can also automatically filter materials with too many times of rejection to avoid repeated referral. In addition, there are the distribution of historical bids, the performance of orientation in the learning period, the data of Title package, and so on.
Then there is the variable of "time", because at different times, the competitive environment of traffic will be different. Sometimes we will find that only 5% of the plans that have been put forward have produced effects, and many of them may fail in the review stage. Therefore, chuangquan has designed the function of timing and batch submission, so as to achieve peak staggering bidding.
Team management and collaboration
After improving the efficiency and effect, the problem to be solved is the management and cooperation of the team, because in the use scenario of agents, many teams cooperate in different places, and Party A needs to participate in the process, and there are many projects in progress at the same time.
In particular, for material management, Chuang Liang has independent material management authority, which can meet the situation that Party A's customers want to pre audit. It can also connect and integrate the material data and add role labels, such as design and editing, to ensure the integrity and credibility of the data in the evaluation and incentive. Therefore, many agent customers use Chuang Liang as an evaluation tool.
In addition, there are two logics for team permissions. The first is to move the organizational structure to the system and create the corresponding roles. The second is to provide a virtual project architecture. For example, group A and group B invest in the same product and race horses, but their counterparts need complete data to report. At this time, should the data between group A and group B be isolated or shared? And this can be adjusted flexibly in terms of volume.
Finally, there is risk control, which is particularly rigorous in the agent industry. A customer of Chuang Liang once lost 150000 yuan in just two hours in the morning, just because an optimizer changed "paid bid" into "activated bid". Chuang Liang checks the transformation target twice, and limits the precondition with the target cost, so that the system can share the risk and pressure.
About us
Chuang Liang is a brand of Shenzhen 0.1 Zhihe Technology Co., Ltd., a highly efficient advertising delivery tool, which aims to help advertisers maintain the first-class level in the industry; Since it was officially put into the market in February 2020, it has served 700 + customers in many industries, such as agents, games, online service tools, e-commerce, education, novels, finance, etc., with a monthly investment consumption of more than 3 billion. It is a leading investment tool in the field of trading desk. More reading: big engine: 2019 jitter, text, travel industry, big data report, huge engine: 2020 entertainment calculation white paper (download) huge engine & Beijing Normal University: automobile brand Transfer Research Report (download) huge engine & Accenture: digital marketing and business growth in 2020 white paper (download) big tiktok short video advertising value white paper (download) )Massive engine: 2020 user travel cycle behavior motivation research report (attached with download) massive engine: education marketing effectiveness guidance manual (attached with download) 2020 massive engine war epidemic special report (attached with download) massive engine: 2020 marketing general case (attached with download) massive engine: 2019q4 maternal and infant group analysis report massive engine: digital reading new changes in food and beverage industry report: massive engine Engine education industry marketing road massive engine: new energy vehicle market insight in 2019 (with download) 2019 massive engine mobile phone industry white paper 2020 massive engine maternal and infant industry white paper
If you want to get the full report, you can contact us by leaving us the comment. If you think the information here might be helpful to others, please actively share it. If you want others to see your attitude towards this report, please actively comment and discuss it. Please stay tuned to us, we will keep updating as much as possible to record future development trends.
RecordTrend.com is a website that focuses on future technologies, markets and user trends. We are responsible for collecting the latest research data, authority data, industry research and analysis reports. We are committed to becoming a data and report sharing platform for professionals and decision makers. We look forward to working with you to record the development trends of today's economy, technology, industrial chain and business model.Welcome to follow, comment and bookmark us, and hope to share the future with you, and look forward to your success with our help.