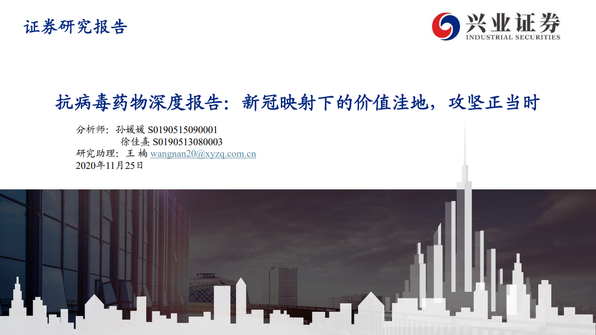 RecordTrend.com is a website that focuses on future technologies, markets and user trends. We are responsible for collecting the latest research data, authority data, industry research and analysis reports. We are committed to becoming a data and report sharing platform for professionals and decision makers. We look forward to working with you to record the development trends of today's economy, technology, industrial chain and business model.Welcome to follow, comment and bookmark us, and hope to share the future with you, and look forward to your success with our help.
The following is the It's the right time to tackle the value depression under the new crown From In depth report on antiviral drugs recommended by recordtrend.com. And this article belongs to the classification: Securities report, Medical health.
What is the overall R & D trend in the antiviral field?
From the current point of view of the whole antiviral field, hepatitis B (HBV), HIV, respiratory viruses (influenza virus, respiratory pocket virus) and other fields are the main battlefield of future research and development.
In the global anti-virus R & D pipeline, anti HBV drugs account for 34%, and the mechanism of action is rich and diverse, including direct and indirect anti-virus drugs, which has great development potential and is also the key anti-virus subdivision field of domestic companies;
Anti HIV drugs are the most approved drugs in the past 30 years (49%), but AIDS is still incurable. The proportion of anti HIV drugs in the global R & D pipeline is still 28%, which is still the key direction in the future;
Acute respiratory tract infection has great harm, wide influence and high demand for clinical treatment. However, due to the variety and frequent variation of respiratory viruses, few new drugs with ideal curative effect have been put on the market in the past 20 years. At present, about 8% of the world's antiviral R & D pipelines are anti influenza drugs.
What is the current clinical situation and R & D trend?
At present, hepatitis C drugs can basically meet the existing clinical needs, and the effective rate for all genotypes can basically reach more than 95%. Protease inhibitor combination therapy (backbone + core) is the standard scheme, and the backbone basically uses sofbuvir. Core drugs are the key to competition, and whether a complete set of combination scheme can be provided is the key point. In the future, there is still room for exploration in patient compliance and shortening the treatment cycle; there are still some clinical gaps in refractory indications (such as decompensated cirrhosis), which need to be overcome.
At present, cocktail therapy is the global standard, and the clinical drugs currently used in China are relatively single (single drug, NRTIs, PIs based), which has a significant gap with western countries. With the accelerated introduction of new drugs, medical insurance, and the expansion of the scope of government free medication, the development of compound preparations, instis, and new mechanism drugs is inevitable Show trends. At present, anti HIV drugs need to take medicine on time for life to prevent the onset of HIV, and the compliance problem is large. Fusion inhibitors (FIS), antibodies and other new mechanisms of action drugs are expected to further improve the long-term benefits and reduce the frequency of medication.
Chronic hepatitis B is still unable to be completely cured due to its natural properties such as not easy to be eliminated and long half-life. There is a big gap in clinical practice. The existing long-acting interferon and nucleoside drugs (NAS) can not be completely cured, and the long-term efficacy and risk control need to be improved. There is a huge space to explore the pathogenesis of chronic hepatitis B and drug research and development of new mechanisms. Capsid inhibitors, HBsAg inhibitors, siRNAs, immune targeted drugs (including PD – (L) 1, OX40, TLR) and other drugs in the research are worthy of attention.
Ceramidase inhibitors and M2 protein blockers against influenza virus are insufficient in efficacy and drug resistance. Inhibitors against viral polymerase (including PB1, PB2, PA protein) or nucleoprotein (NP) are the future research direction.
If you want to get the full report, you can contact us by leaving us the comment. If you think the information here might be helpful to others, please actively share it. If you want others to see your attitude towards this report, please actively comment and discuss it. Please stay tuned to us, we will keep updating as much as possible to record future development trends.