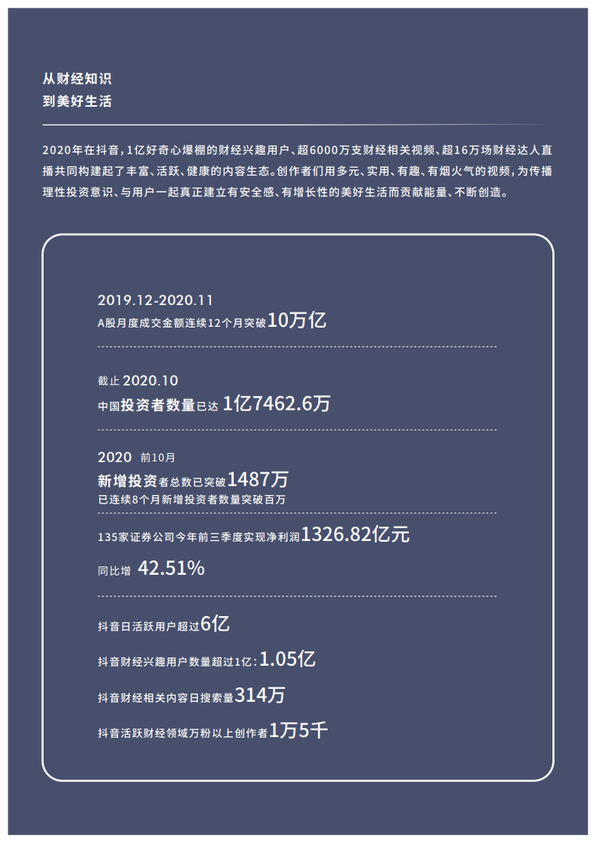 RecordTrend.com is a website that focuses on future technologies, markets and user trends. We are responsible for collecting the latest research data, authority data, industry research and analysis reports. We are committed to becoming a data and report sharing platform for professionals and decision makers. We look forward to working with you to record the development trends of today's economy, technology, industrial chain and business model.Welcome to follow, comment and bookmark us, and hope to share the future with you, and look forward to your success with our help.
The following is the 2020 tiktok financial content ecology Report From Massive engine recommended by recordtrend.com. And this article belongs to the classification: Vertical financial website, Short video, research report.
This year, the voice is constantly enriched tiktok content, from entertainment preferences to financial knowledge value preferences, to users to show a better way of life. Financial master tiktok explains financial knowledge in trembling voice, spreads rational investment consciousness, and creates a sense of security and growth platform with users. Tiktok released the tiktok financial content ecological report 2020 in January 18th. It is a tiktok report from four perspectives: users, content, creators and institutions.
The report shows that in November 2020, the number of interest groups in tiktok was 105 million, and the search volume of financial content increased to 94 million 140 thousand. From the "financial related search volume trends" can be seen, in January 2020 -4 months, the search volume increased significantly, and then fluctuate rise, in the tiktok learning finance knowledge has gradually become the daily habits of users.
Financial enthusiasts are younger and have a strong sense of gender balance
Tiktok, city and city, the distribution of financial interests is relatively balanced, gender ratio is 57:43, male users are slightly ahead of growth, women's growth space is worth looking forward to; users under 30 years old have obvious financial preferences, and new generation of young people start to care about asset safety and wealth accumulation earlier; from geographical distribution, users of cities are growing more evenly, and 123 line cities have higher participation in investment and financial management. Brand marketing should give full consideration to user portraits, put them accurately and reach the target group.
What do financial users see in tiktok?
Financial news is the most concerned information of users, followed by financial knowledge, stocks, funds, insurance knowledge. It is worth mentioning that more than 70% of financial users have a rational investment attitude, can bear certain income fluctuations, and are more inclined to invest in insurance, funds and financial products to obtain long-term income.
From opening an account to opening a new one, the user behavior of running admission is highly consistent with the market trend
The report shows that user search behavior is consistent with social events and capital market changes. In September 19th, the new regulations on vehicle insurance issued, and the search for information related tiktok platform insurance suddenly increased, and policy changes affected user search behavior. The users of the voice and interest tiktok are mapping the financial market context. The brand owners can follow the important events of the industry to exploit the brand and expose the brand.
New trend of content creation
In 2020, financial content can be said to be the "new outlet" of short video track, with creators swarming into the field of short video and live broadcasting. Tiktok tiktok, all flowers bloom together. The number of master creators in the financial sector was 29 million +, and the number of creators was 15000+. The master of Finance and finance was flourishing, covering all sub categories of finance, from the story of entrepreneurship to exchange rate adjustment, from property policy to insurance knowledge, from exchange rate adjustment to digital money, and all industries and experts and experts in the were using video and live science knowledge.
Tiktok, what's the difference between financial and economic creators?
In the tiktok, the ecology of the master is becoming richer and richer. There are talk show style talks about finance and economics, there are "national wife" talks about the capital market, and there are also industry bigwigs who interpret in-depth topics. There are all kinds of styles. Professional knowledge with humorous expression, make financial knowledge interesting, quickly gain user support. Han Xiuyun, a professor at the school of economics and management of Tsinghua University, praised more than 570000 people in the video explaining the issue of German bonds, and Mr. he praised more than 1400000 people in the video explaining the economic principles behind the "milk box and coke bottle".
Tiktok live, help create
Compared with entertainment and funny videos, financial and commercial content is closer to the business itself and has a higher matching degree with the brand. Relying on the massive star map to open the "task order receiving platform" to content creators, some creators have made profits. In addition, tiktok live help to master close interaction between users and users. Compared to 2019, the broadcasting rate of financial vertical producers in 2020 has increased significantly.
Tiktok tiktok, tiktok, launched the 2020 annual investment story annual challenge competition on January 18th -2 10, and invited 2020 friends and other financial celebrities, including brother Yang Delong, Hu Run, Ye Tan, Han Xiuyun, etc., to the financial and trade celebrities, straight men, finance, egg breaking entrepreneurs, dry landlord, one brother and Jane big household. Get involved. They choose different parts of the ecological white paper to express their personal views and collide with sparks of ideas.
Tiktok is more than life.
Tiktok's content ecology has gone from chaos to order in the past year, from grass roots to professional diversity, and tiktok has been continuously deepening the vertical field, digging up the content value of platform, gradually forming a mature content ecology. In terms of brands, they will also have more opportunities for content marketing. As a business partner accompanying the growth of the brand, giant engine has a large number of users, constantly improves marketing services, improves content ecology, solves the marketing pain points of financial brands, carries out in-depth cooperation with brands, and stimulates more new business possibilities.
If you want to get the full report, you can contact us by leaving us the comment. If you think the information here might be helpful to others, please actively share it. If you want others to see your attitude towards this report, please actively comment and discuss it. Please stay tuned to us, we will keep updating as much as possible to record future development trends.