Short video
February 2021 city tiktok From Huge amount of calculation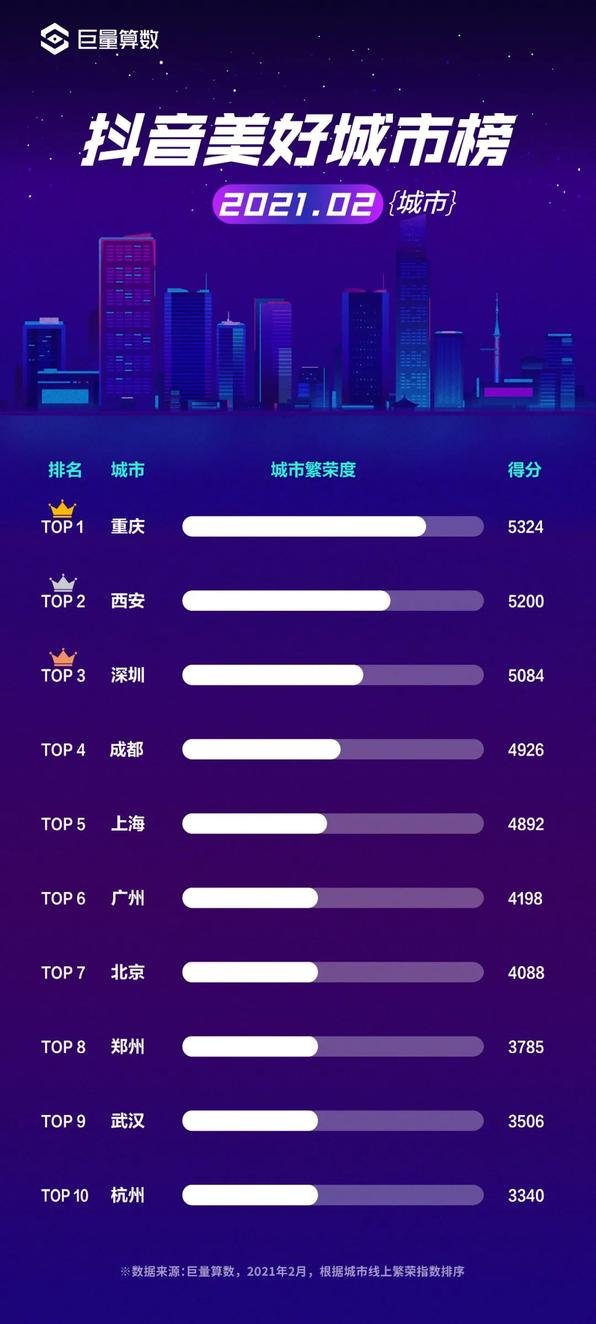 The following is the February 2021 city tiktok From Huge amount of calculation recommended by recordtrend.com. And this article belongs to the classification: Short video.
Online prosperity is an important part of urban comprehensive prosperity. Through a series of quantifiable data indicators, we make a comprehensive evaluation of the city and its various modules. According to the communication status of the city and its various modules, we divide the data indicators into communication degree, influence degree, recommendation degree, favor degree and attraction degree, so as to judge the online prosperity of the City and comprehensively evaluate the urban development .
The monthly "beautiful city list" launched by juliangsuan focuses on the prosperity of online cities, comprehensively evaluates the prosperity of each city, and provides insight into the reasons behind the prosperity of urban development and provides insight solutions for urban marketing.
In February, the prosperity index of Chongqing, Xi'an, Chengdu and other cities with distinctive regional attributes was higher, while that of Beijing and Shanghai was slightly lower.
Chongqing has become a "magic city" with its special geography and urban style. The ups and downs of urban roads, Bangbang, hot pot and so on have become the characteristics of the city. After 2018, driven by social media such as we media, the previously closed Chongqing will be displayed, and the Hongyadong and Liziba light rail will be brought to the public. In the past February, Chongqing had the highest online prosperity index. Professional vertical creators also speed up the city's characteristic marketing. On New Year's day, in the hot topic Chongqing video, the creator also brought you a new year's blessing full of Chongqing elements.
In terms of districts and counties, Jinjiang night tour started on the first day of the lunar new year. Official accounts and celebrities successively released videos about Jinjiang night tour. Jinjiang night tour topics broadcast a total of 1 million +, which promoted the online prosperity of Jinjiang District in Chengdu in February. Holiday featured activities have also become a way to help districts and counties move towards the public.
After thinking about the popularity of Chongqing, Xi'an, districts and counties by virtue of their geographical genes, we find that, first, the city's natural sense of video has won the audience's love and esteem, and then the government departments and other departments rely on marketing. Joel Kotkin, author of global urban history, once said: "where it is more livable, intellectuals will choose to live. Where intellectuals choose to live, human wisdom will gather, where human wisdom will gather, and where human wealth will eventually gather." Similarly, the core of the rise and fall of a city or county is to attract and retain people, and to obtain wisdom from the human level. The development and progress of urban economy and culture depends on people.
Today, with the continuous innovation of media forms, urban development is more people-oriented, and more energy is put on people's needs. With the development of short video social media, this idea is promoted. The city's corners and capillaries are displayed through personal perspective, and the city is also shaped to be more dynamic.
More tiktok: tiktok: 2019 11.11 tiktok discovery section, panoramic data insight report (download) huge amount: 2020, the vibrant travel creators' ecological white paper (download) huge amount: the 80, 90, 00 generation generation of the chattering on the trill (download) byte beating: 1Q20 revenue is about $5 billion 600 million. A year-on-year growth of over 130% Qu estMobile:2020 Report on the new consumption trend of women: female users become the main force of e-commerce. Which move is more effective in live broadcast, social networking and grass planting? Kwai tiktok tiktok, QuestMobile:2020 tiktok, China Mobile vs, "QuestMobile:2020", "vs", "QuestMobile:2020", "the war epidemic" special report on China Mobile, the "war epidemic" special report on the live broadcast industry, the deep reply and the prospect of short message video, the short video analysis framework (download), The China Academy of Art & vibrato: the report on the current situation of art education in the young people of China (download): how to do business well Tiktok tiktok: tiktok: tiktok: Beijing Normal University & vibrato: tiktok: short video art popularization and National Aesthetic Education Research Report (download) Communication University of China & jitter: short video and Social Innovation Research Report: "tryoupet & Communication University of China": short video social and Youth Education Research Report (download) short video and algorithm: shaking, fast hand The ecological causes of ecological pollution
If you want to get the full report, you can contact us by leaving us the comment. If you think the information here might be helpful to others, please actively share it. If you want others to see your attitude towards this report, please actively comment and discuss it. Please stay tuned to us, we will keep updating as much as possible to record future development trends.
RecordTrend.com is a website that focuses on future technologies, markets and user trends. We are responsible for collecting the latest research data, authority data, industry research and analysis reports. We are committed to becoming a data and report sharing platform for professionals and decision makers. We look forward to working with you to record the development trends of today's economy, technology, industrial chain and business model.Welcome to follow, comment and bookmark us, and hope to share the future with you, and look forward to your success with our help.