Short video
Webcast
How can the short video + live broadcast of content MCN empower the brand From May beauty Luo Jun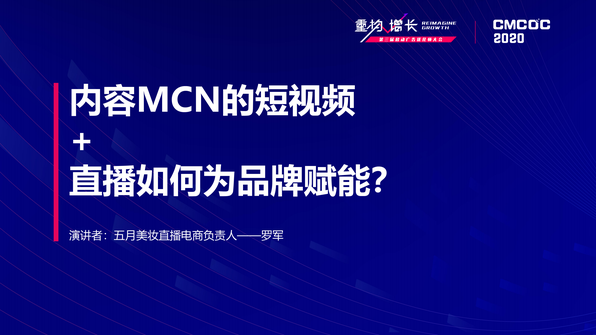 The following is the How can the short video + live broadcast of content MCN empower the brand From May beauty Luo Jun recommended by recordtrend.com. And this article belongs to the classification: Short video, Webcast.
hello everyone! I'm Luo Jun, the head of beauty live e-commerce in May. We are from a MCN organization called may beauty. Today, from a MCN perspective, we share with you some of the phenomena we have seen, and some of our views and future prospects.
First of all, let's introduce may beauty's team. May beauty is a MCN organization that has entered the short video track since 2018. The company's obvious feature is "arts company". The founder may is a very typical liberal arts student, so his whole team has a very strong liberal arts gene. Everyone has literary temperament and romantic ideas.
We focus on the vertical field of beauty. Before, we were vertical to beauty on wechat track, but still vertical to short video track, providing digital marketing services for beauty brands. According to the latest data, we have 180 million fans, 70% of whom are female fans. Another feature is that we are self incubating bloggers, so we have a strong control over the bloggers. In the process of serving the brand, we can provide a more comfortable, controllable and smooth service experience.
Since the first half of this year, beauty has served 342 brands in May and more than 1000 brands in 2019. From 2019 to the first half of 2020, the number of beauty fans in May ranges from 30 million to 180 million. Tiktok Kwai is our main position. Besides shaking platform, we also cover fast track and little red book. Next we plan to deploy B tiktok and become a global content company. Tiktok Kwai is the introduction of some bloggers. Over 20 million people are in the jitter, and the 16 fastest bloggers. Tiktok Kwai has 13 million fans in the shaking voice, and over 10 million fans in the fast track.
So, what is the trend of short video service brand?
At present, the main trend is that a small number of head brands are launched in a saturated way, rapidly occupying the mind of fans. In the post epidemic era, we found that more and more new niche brands began to turn to lean delivery to reach the precise target users.
First, the popularity of small red book KOL is increasing. This year, many brands have turned to xiaohongshu, because there are still some dividends in xiaohongshu. Among the young people who pursue exquisite life, xiaohongshu has a growing influence on users' decision-making. If the brand launches the xiaohongshu platform, it will be able to produce clear links with keywords. The keyword search heat of taonei and taowai can be clearly improved. Xiaohongshu is the platform that many brand owners need to pay more attention to.
Second, vertical subdivision KOL is becoming more and more popular. This is a link in the three-dimensional playing method. Just now, president Huang mentioned that brand marketing should have a combination of fists, and a relatively large exposure should be generated through stars bringing goods. At the same time, the vertical subdivision KOL also needs to be covered. If the brand needs scientific endorsement, choosing scientific KOL or component KOL to launch can have a key impact on users who like niche brands or search brands.
Third, Kwai Kong short video becomes a value depression. Kwai Kwai, tiktok platform's dividend is slowly disappearing. The fast hand is probably the value depression that nobody has noticed. The short play volume of the short hand is relatively stable, while the price is not too high. So, combined with the price, the price of the short hand is not worth finding.
Fourth, more businesses build their own tiktok positions. Tiktok is a closed loop business. Recently, some companies found us. The point of cooperation is to build a voice account for the big international brand, and then complete the tiktok.
They encountered difficulties tiktok platform is completely unaware, even a video how to burst, do not know how to burst behind the commitment to do not know. In particular, these companies may have a demand for nearly a thousand videos, and there is no way to quickly meet the demand in a short time, so there is a great demand in this respect. In addition, the understanding of the entire operation and delivery is not very thorough, so the demand is very strong after the tiktok is closed.
The value of short video cannot be ignored. Short video is still a part of the whole marketing link that can not be ignored. For example, we have many short videos, which can bring 100000 + sales to businesses. The marginal cost of short video is very low, and the marginal effect is very big. We need to do combination boxing, not only live broadcasting, but also short video marketing. The best way is to do combination boxing with short video and three-dimensional Live Broadcasting Coverage How to play.
What are the new pits behind the hot broadcast?
First, it's hard to find a real anchor. A few of the major players who have tiktok are very limited in a month. They are very limited in a month, and they can do almost 4-6 games a month. When you talk about big anchors, it's very cost-effective. We also talked about a lot of brands, and their products are not bad, but they just can't get into the live broadcast of some big anchors. Even if they have money, they don't necessarily get a pit.
Second, the overall cost of platform traffic is higher. This is a very big problem now. This industry may not be short of money, but if you don't have enough confidence, don't see the effect as soon as possible, or bear the pressure of loss for a long time, I don't think everyone can afford it. It is a big problem that the overall cost of investment goes up.
Third, the problem of precipitation in live broadcasting room has become increasingly prominent. One million Gmv will be invested in this live broadcast, maybe 10 million Gmv, but the next live broadcast will not be invested, and the result will be very different.
Fourth, product category dividends gradually disappear. In the early days, some beauty brands smashed up very hard and made live broadcast, which quickly increased the amount. After a period of time, the users were tired, and the brand bonus disappeared. After that, there were dividends from several international brands, and many anchors followed up quickly. After a period of time, the brand dividends were gone. Further down the jewelry brand, the brand dividends disappeared and the next category would be explored. We can only follow the trend, and the update is very fast, so the dividend is going to disappear tiktok.
Fifth, wechat video number is open to live broadcast, and the ecology needs to be improved. We tried the wechat video number, which will make you feel safe as a whole, and its precipitation will be relatively stable. If you have a relatively strong private domain, it will have a relatively ideal effect to improve the online quality of the live broadcast room through private domain fission. But no platform is perfect, we are all facing different problems.
Now, where are the opportunities and challenges?
First, the Kwai Kai opens the public domain traffic and there is a bonus. Recently, a new product called Xiaodian Tong, Kwai Tong is in its early stage, and there are not many people using it. Plus, fast hand is a platform combining public domain with private domain. It is somewhat precipitated. Recently we saw a big anchor in Hangzhou, and the volume was promoted very fast.
Second, high quality short video content reduces the cost of live broadcast. A few months ago, some anchors entered the market with funds. In the early days, people could invest 200000 yuan to sell 10 million yuan, but now they can't achieve such an effect at all. After a large number of people came in, they sent a lot of very poor quality marketing videos, which I believe will have a negative impact on the platform. Jitter or content ecology, content companies, if tiktok is good at content, can be reduced by putting quality content into the market. For example, Mao Guangguang, who has done a good job, has high-quality videos and relatively clear personal equipment. One game can sell millions. This effect is relatively good. It is a case that we can learn from. We have not done a good job in this area, and we are also in the stage of continuous learning.
Third, the demand for Kwai live broadcast is increasing. From the closed loop of other platforms, many brands still need to flow Taobao to Kwai Tung.
How does short video launch empower the brand?
Our suggestions for brands are: brand positioning, clear target users. We have also come into contact with some hot brands. They give the products first and then let KOL dig out the selling points and understand the target customers. This is putting the cart before the horse. The brand side should first make clear its target users, and after the positioning is clear, first find the head KOL endorsement, and then cover the middle waist KOL, and expand the sound volume through grass planting short video multi platform distribution. You can also find the tail Koc shop volume associated with search keywords, and realize recycling through synchronous spreading of short video + live broadcast.
How can short video + live broadcast empower a brand?
First, the cooperation of short video and live broadcast helps the brand realize the integration of product and effect.
Second, stabilize the price system, live broadcast does not break the price, to avoid damaging the brand value. If the brand value is at a premium, breaking the price will hurt the brand. We need to stabilize the price system, and live broadcast will not break the price.
Third, live transmission of brand value + planting grass + selling.
Fourth, accurate fans, occupy the target user's mind. The tiktok is very good. The tag of the shaking platform is very precise, it can identify or find its target users clearly, and achieve the desired result by precise delivery.
If you want to get the full report, you can contact us by leaving us the comment. If you think the information here might be helpful to others, please actively share it. If you want others to see your attitude towards this report, please actively comment and discuss it. Please stay tuned to us, we will keep updating as much as possible to record future development trends.
RecordTrend.com is a website that focuses on future technologies, markets and user trends. We are responsible for collecting the latest research data, authority data, industry research and analysis reports. We are committed to becoming a data and report sharing platform for professionals and decision makers. We look forward to working with you to record the development trends of today's economy, technology, industrial chain and business model.Welcome to follow, comment and bookmark us, and hope to share the future with you, and look forward to your success with our help.