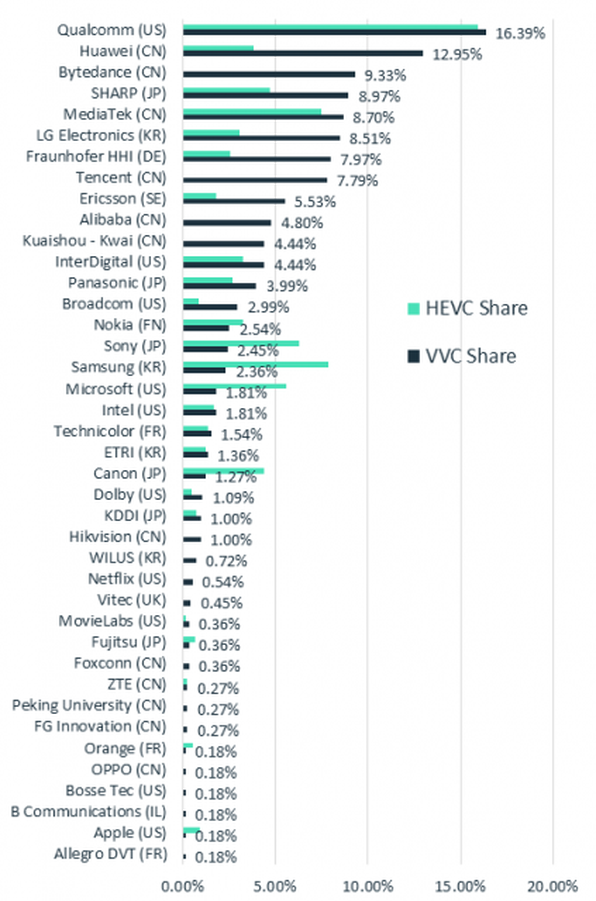 The following is the In 2021, the contribution of global VVC technology ranked in the top three From IAM recommended by recordtrend.com. And this article belongs to the classification: Short video, Hardware equipment industry, Network video.
Iam, a well-known intellectual property media, recently published the report "who is leading the VVC technology competition", pointing out that in the patent division of the new generation video codec standard h.266/vvc, technology contribution will become a measure of the share and influence of each company, and the number of approved technology proposals in the process of finalizing the VVC standard ranked among the top three.
H. Compared with h.265/hevc, h.264/avc and other competitors (such as AV1 and VP9), 266 / VVC has significant technical advantages. Compared with hevc, VVC can achieve the same subjective quality with 50% improvement in video coding efficiency, and effectively support 4K and 8K ultra high definition and high dynamic video coding. In addition, the designers of this standard have considered many emerging video application scenarios from the beginning, so the word "versatile" is included in its name.
However, up to now, how many "standard essential patents" of VVC are still unknown. The data of VVC patent application published by ITU-T and jvet are not complete. Iam believes that one way to identify VVC technology leaders is to analyze the participation of Companies in the development of VVC standards. If a company participates in standard formulation regularly, it will gain reputation in jvet, so it has the opportunity to recommend its own technology to be included in the standard. Therefore, the number and analysis of proposals approved by a company can be used as a measure of its share and influence in standard development.
As of February 2021, the database of iplytics platform has collected more than 8000 VVC contributions, of which only about 1100 have been confirmed to be included in the final VVC standard. Qualcomm ranked first in the list of VVC standard contributors, accounting for 16.39%, followed by Huawei (12.95%), byte beat (9.33%), sharp (8.97%) and Lianfa Technology (8.70%). Among the top five companies, byte beat is the only one that has not participated in the development of hevc, the last generation standard of VVC.
Figure: contribution share of companies approved and included in VVC standard (iplytics, February 2021)
Iam pointed out that this is not a clear list of all the necessary patent holders of VVC. In fact, several of the organizations that have submitted the necessary patent applications for VVC to ITU-T are not listed as contributors in the figure above. This may reflect that the development of standards has the characteristics of collaboration and repetition, that is, the technology of one participant may eventually appear in the proposal contributed by another participant, because the latter independently develops similar innovation, or because the two parties have informal collaboration sometimes without signature. In either case, the statistics in the figure provide a good starting point for the outside world to understand which companies may have the necessary patents and the relative depth of their patent pool.
Read more from techweb: IAM&ktMINE: as of January 2018, US patent holding company Top10Sensor Tower: jitter and TikTok global total download volume exceeded 2 billion Qustodio: European and American children spend almost the same time in TikTok with YouTube. CAMIA:2018 year Q1 Southeast Asian Games application download list of Philippines station: tiktok User growth is still the top priority this year questmobile: 2020 China Internet advertising report (Part 2) media value change "channel x content marketing purchase" closed loop formed traditional play has entered ICU Tencent: 1q20 financial report conference summary China tiktok: 2020 China information short video market insight white paper (download) vibrato & Communication University of China: short video social and Youth Education Report (download): 1Q20: B tiktok, voice lift industry ceiling 3-5 years contract has been used to lock the top 100 anchor Communication University of China: tiktok: short video and Social Innovation Research Report Qu estMobile:2020 Report on the new consumption trend of women: female users become the main force of e-commerce. Which move is more effective in live broadcast, social networking and grass planting? Questmobile: 1q20 mobile Internet black horse list giants struggle in enterprise services, education and learning and other fields
If you want to get the full report, you can contact us by leaving us the comment. If you think the information here might be helpful to others, please actively share it. If you want others to see your attitude towards this report, please actively comment and discuss it. Please stay tuned to us, we will keep updating as much as possible to record future development trends.
RecordTrend.com is a website that focuses on future technologies, markets and user trends. We are responsible for collecting the latest research data, authority data, industry research and analysis reports. We are committed to becoming a data and report sharing platform for professionals and decision makers. We look forward to working with you to record the development trends of today's economy, technology, industrial chain and business model.Welcome to follow, comment and bookmark us, and hope to share the future with you, and look forward to your success with our help.