Short video
Research on ecology and products of 2021 short video platform From Research on digital platform ecology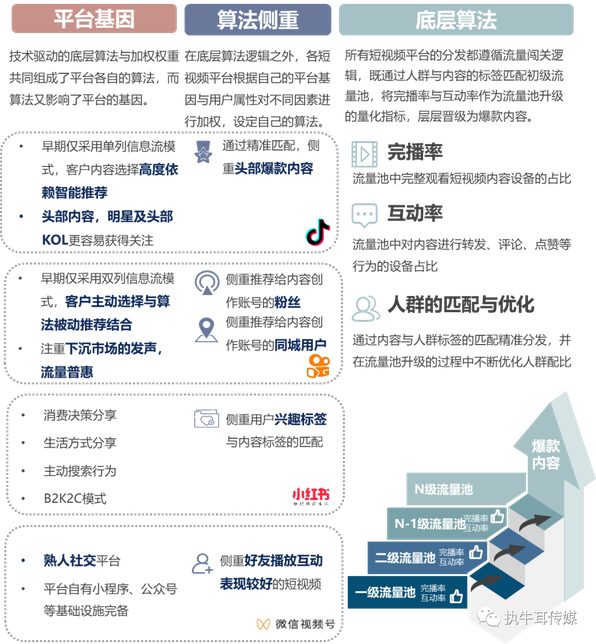 The following is the Research on ecology and products of 2021 short video platform From Research on digital platform ecology recommended by recordtrend.com. And this article belongs to the classification: Short video.
As the Internet ecology becomes more mature and media products become more diverse, brands need to understand the ecology and products of the platform more objectively and comprehensively. This year, GroupM think tank released its quarterly report "Research on digital platform ecology", covering the research on information and theme platforms of Internet giants.
The first tiktok is short video content ecology and product research: focus on the content recommendation algorithm, platform link and platform media products of four platforms: jitter, Kwai, little red book and video number.
[content recommendation algorithm]
At the algorithm level, the four platforms have their own characteristics due to their different emphasis on algorithms.
[platform ecological link]
1. tiktok can borrow more data and create diversified content, and it can expand business liquidity.
2.. The Kwai TSE highlights the power of grassroots under the principle of fairness, and the sense of trust promotes the viscosity of live broadcast transformation.
3. Grass planting and note precipitation are important links in the platform audience's decision-making
4. The video number is the traffic carrying and distribution center in the wechat ecosystem, helping the brand to better operate the private domain
Comparative analysis of each link of platform ecological link:
In terms of traffic, the short video platform generally adopts the mode of public domain traffic entrance + algorithm recommendation + directional crowd exposure + middle station data enabling. On the entrance, wechat video Number establishes multiple private scene traffic entrances based on the original ecology of wechat on the basis of public domain entrance, as the traffic carrying and distribution center. Tiktok, Kwai Fu and Xiao Hong books are more likely to get traffic through public domain.
Tiktok, Kwai Fu and Xiao Hong are expanding the PGC short video content form of short micro drama, from the perspective of content and beyond UGC and PUGC. Tiktok and Kwai Fu emphasize user participation through challenge and task. Xiao Hong shares his experience through notes. In addition, based on the platform gene of video number, the linkage effect of "graphic" and "short video" is also being explored.
From Kwai fan's operation, for the tiktok and fast hands, brand is easier to get fans' attention and retention when creative activities; video frequency can directly import traffic into WeChat's existing private domain.
From the perspective of commercial ability, xiaohongshu e-commerce started with an obvious "mall" entrance. Tiktok has independent electricity supplier, online payment function, no longer the external chain of e-commerce platform, has begun to deploy the local O2O liquidity. The fast user relies on the trust of the user and develops the live broadcast business by Kwai anchor. With the help of "wechat – small program", the video number has found a new way in the transformation process, combining "transformation channel" with "private scene", effectively making up for the weakness of the platform in the transformation.
[platform media products]
In terms of platform media products, GroupM think tank can be divided into resource-based and tool based products according to product functions. In resource-based products, combined with the use scenarios of consumers, it can be divided into four scenarios: open screen, brush, search and creation; in tool based products, it can be divided into three functions: crowd orientation, creative component and diversion according to the characteristics of products.
1. tiktok platform media products
Tiktok full link marketing product portfolio case
2. Kwai Tai platform media products
Kwai link full link marketing product portfolio case
3. Media products of little red book platform
Case study of xiaohongshu full link marketing product mix
4. Business play of wechat video Number
Ø wechat video number has a preliminary commercial way of playing. At present, investment projects have video Number activities and live broadcast of video number.
In addition to the above products, in the report, GroupM think tank sorted out the key products of the four platforms this year: interactive immersive open screen products, content marketing products and commercial diversion products, with dimensions including purchase methods, platform features, application scope, etc., and gave corresponding interpretation combined with cases. Kwai Kwai Kwai: China's short video business strategy: 2019, China's short video business strategy, white paper (download) short video industry depth: fast technology, private domain building, public domain marching (download) flying melon data: 2020 short video and live trend report of the business live (download) short video quick report: old iron economy, quick old fellow (download) Ipsos: 2020 short video white paper (download attached) CSM: 2020 short video user value research report (download attached) CTR: 2020 short video full link marketing white paper (download attached) quest Mobile: 2020 China Mobile Internet spring report 24.61 million sinking users 6.06 million teenagers Tiktok Kwai, 9 million 650 thousand, how can the new net in the middle and old age trigger structural change? How can we deliver the goods through short video live (download) KASH data: 2020 short video content marketing trend report (download) shake vs fast hand deep disk and forward looking: short video 130 page analysis framework (download) micro broadcasting Yi: January 2020 short video industry dynamic report, China Merchants Securities: "yesterday's short video industry" yesterday Today, tomorrow "Fastdata poles: China's short video industry development trend report in 2019 beautiful city index 2020: the relationship between short video and urban prosperity white paper (with download)
If you want to get the full report, you can contact us by leaving us the comment. If you think the information here might be helpful to others, please actively share it. If you want others to see your attitude towards this report, please actively comment and discuss it. Please stay tuned to us, we will keep updating as much as possible to record future development trends.
RecordTrend.com is a website that focuses on future technologies, markets and user trends. We are responsible for collecting the latest research data, authority data, industry research and analysis reports. We are committed to becoming a data and report sharing platform for professionals and decision makers. We look forward to working with you to record the development trends of today's economy, technology, industrial chain and business model.Welcome to follow, comment and bookmark us, and hope to share the future with you, and look forward to your success with our help.