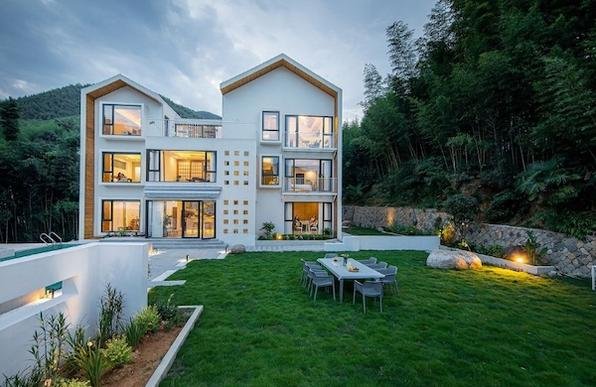 The following is the Report on Tujia village lodging in 2020 recommended by recordtrend.com. And this article belongs to the classification: sharing economy, Travel booking.
At 16:00 on February 25, at No.1 Taiyanggong North Street, Chaoyang District, Beijing, the sign of "leading group for poverty alleviation and development of the State Council" was permanently removed, and the sign of "National Bureau for Rural Revitalization" was officially put up. The official appearance of the National Rural Revitalization Bureau has brought a new dawn for the development of rural tourism. The "fourteenth five year plan" also clearly proposes to promote the integration of culture and tourism, and expand the characteristic industries such as leisure agriculture, rural tourism and B & B economy. Undoubtedly, rural tourism and B & B will become a hot word in the cultural and tourism industry in 2021.
Nowadays, the development of rural B & B is an important way to broaden the channel from green water and green mountains to Jinshan and Yinshan. According to Tujia's latest "2020 rural B & B data report" (hereinafter referred to as the "report"), decentralized rural B & B shows stronger resilience under the epidemic situation. By the end of 2020, the number of rural B & B houses on Tujia platform has exceeded 540000, an increase of about 2.4 times compared with that in 2019; in 2020, the price of rural B & B houses will rise, and the total number of rural B & B houses on Tujia platform will receive more than 5.7 million tenants, generating more than 1.7 billion yuan for rural landlords, which is more than three times of that in 2019.
The price of high-end B & B is on the rise instead of falling
Affected by the continuous impact of COVID-19 in 2020, the entire tourism industry has been hit. Even in such a difficult industry environment, rural B & B still made a growth against the trend.
According to the report, health, safety, privacy and characteristics are the key points of tourists' travel under the epidemic situation, and these four words are highly consistent with rural B & B. Statistics show that in 2020, the number of domestic rural B & B houses in Tujia will reach 540000, which is nearly 2.4 times higher than that in 2019 (160000); the income of rural B & B houses will exceed 1.7 billion, which is more than 3 times of that in 2019 (550 million yuan); those high-quality B & B houses which focus on the experience of amorous feelings, leisure and oxygen absorption, and unique design are ushering in greater space for development, and catering, accommodation and entertainment will be carried out around the B & B destinations Closed loop consumption has become a new trend for people to travel after the epidemic.
According to the statistics of the report, many B & B rooms, such as old western style houses, wooden houses, stilts and villas, which are suitable for family travel, have diversified scenes, and can provide special items such as healing and leisure, garden outings, country walks, and fruit and vegetable picking, are hard to find in holidays.
Despite the impact of the epidemic on B & B, many high-quality and flexible B & B have also withstood the test. During the epidemic period, more and more rural B & B landlords began to realize the importance of online channel promotion and professional operation. They expanded and launched online sales channels such as Tujia, and actively participated in the training and activities of the platform to provide drainage for their own B & B. rural B & B owners began to work hard towards the core elements of B & B service, quality and characteristics, so as to increase the core competitiveness of B & B competitive power.
Top 10 of income generation: rural economy with surrounding tourism and fire
Statistics show that Deqing County, Huidong County, Changli County, Anji County, Yangshuo County, Chun'an County, Longmen County, Shengsi County, Jiashan County and Fenghuang County are the top ten destinations for rural B & B in 2020. Among them, Deqing County of Huzhou, Huidong County of Huizhou and Anji County of Huzhou have strong and stable performance, ranking at the top of the list for two consecutive years.
Under the epidemic prevention and control, the public's tourism consumption habits are also changing: outbound travel to domestic travel, inter provincial travel to peripheral travel. With the reduction of travel radius, local travel and suburban travel have greatly promoted the development of rural B & B around the city.
According to the report, the number of rural B & B hotels in the first tier cities and new popular cities represented by Beijing, Shanghai, Sanya, Xiamen, Hangzhou and Guangzhou is growing rapidly. Take the golden week of November 2020 as an example, the number of tourists and transaction volume of rural B & B in Beijing and Shanghai soared by more than 100%; rural B & B in Deqing County of Huzhou, Chun'an County of Hangzhou and Jiajiang County of Leshan were also full during May Day last year, and it was difficult to find a room for farmyard B & B, and many orders even reached the weekend of two weeks after May Day. Personalized, high-quality, single family and private rural B & B are more and more welcomed and affirmed by the market.
In addition, the epidemic has also prompted tourists to turn from "sightseeing type" to "holiday type". Can not go abroad, the use of long vacation self driving, to the domestic minority destination has become another new trend. The report shows that the growth rate of rural B & B transaction volume in NuJiangZhou, Xigaze, Xiantao, Tongchuan, Shizuishan, Jixi, Liaoyang, Changdu, Baicheng, Aksu and other places has reached more than four times. Among them, NuJiangZhou and Shigatse, located in the Sichuan Tibet region, are the most eye-catching, with a growth rate of more than 20 times compared with that in 2019. Compared with the "minority" in the past, the Great West, the north, the south-west and the southwest have now become the deep self driving destinations favored by domestic players.
Strengthening the cooperation between government and enterprises to promote rural practice
In recent years, Tujia has made great efforts in marketing, and constantly strengthened cooperation with local government agencies to support rural revitalization and help more villagers increase their income and become rich.
Since 2019, Tujia has continued to help Henan B & B "Yugong Zhi" and help Henan Province to establish the head Benchmarking Project of B & B. In the development of the integration of planning, design, construction and operation of rural B & B, we provided consulting services and online and offline marketing support, and successfully transformed the local "xiaoyoudongtian B & B" from the old Wangwushan village house into a representative case of wanghong rural B & B, which effectively promoted the occupancy rate and praise rate.
The picture shows Tujia Wangwu mountain small cave house
In the same year, Tujia B & B also jointly launched the "tourism poverty alleviation and public welfare" project with Fengning County, signed more than 3500 B & B contracts with more than 200 local businesses, helped the online transaction volume of local B & B increase nearly 50 times, and launched the "Tujia B & B lecture hall" project in many places, providing training and employment opportunities for local villagers and businesses.
In addition, Tujia has created the matrix of "Tujia meisujia" by gathering millions of fans, such as travel experts and online Red bloggers. It actively expands cooperation with the government, scenic spots and platforms, builds hot topics such as rural online Red B & B and rural tourism destinations, and continues to build brand communication cases.
Kwai, a tiktok delicacy in Henan, was launched across Henan's daily attendance in 2020. Through the invitation of 10 beautiful family members to wear Han clothes to experience the crossing of Henan, the Henan's gastronomic beauty, historical heritage and so on were promoted on the whole platform, and the excellent village home and lodging in Kaifeng, Jiyuan, Gongyi and Songxian were obtained, and the official recommendation support of the platform was obtained. In just one month, the popularity of microblog topics reached 120 million, more than 600 high-quality pictures and videos were produced, more than 200 million times of reading, and the overall exposure of the activity was nearly 500 million.
High quality Tujia meisujia has also been invited to act as "ambassador for Rural Revitalization", using its own influence and channel resources to help local governments live with goods, and set up training colleges to help villagers in the area improve their online operation ability and marketing skills, dig out and build a rural network, effectively driving the local rural agricultural products and local specialties out of stock.
More reading from the tourist circle: Home: 2019 rural residential home report Beijing International Studies University: 2019 China homestay big data report wooden birds and lodges: April 2020 peripheral travel orders rose 200%, the number of country hostel doubled, 2018 home quality report The rise of B & B consumption in Western China top ten development trends of short rent industry in 2020 iResearch: Interpretation of UGC industry of China's online tourism in 2014 Haina International: it is estimated that the global B & B market share will reach 106 billion US dollars in 2018. How is the channel composition of car rental industry changing? Meituan comments: 1q20's total revenue is 16.754 billion yuan, a year-on-year decrease of 12.6% foreign media: airbnb Aibi meets the challenge of China's local competitors emarketer: it is estimated that the market share of short rent of airbnb will decline to 73% in 2019 airbnb: nearly 1.6 million outbound Chinese tourists will use airbnb in 2016 Year on year growth of 142% didi: report on safety transparency of q1-q3 drunken passengers in 2019
If you want to get the full report, you can contact us by leaving us the comment. If you think the information here might be helpful to others, please actively share it. If you want others to see your attitude towards this report, please actively comment and discuss it. Please stay tuned to us, we will keep updating as much as possible to record future development trends.
RecordTrend.com is a website that focuses on future technologies, markets and user trends. We are responsible for collecting the latest research data, authority data, industry research and analysis reports. We are committed to becoming a data and report sharing platform for professionals and decision makers. We look forward to working with you to record the development trends of today's economy, technology, industrial chain and business model.Welcome to follow, comment and bookmark us, and hope to share the future with you, and look forward to your success with our help.