TrendForce
It is estimated that SMIC's global market share will still reach 4.2% in 2021 From TrendForce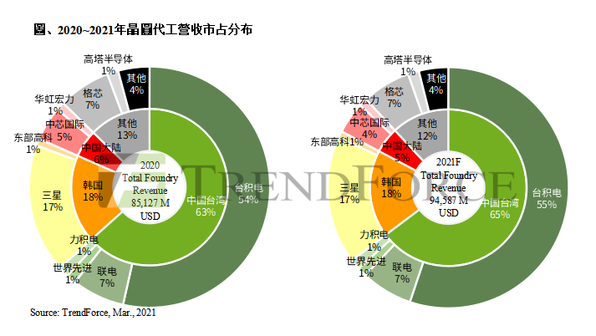 The following is the It is estimated that SMIC's global market share will still reach 4.2% in 2021 From TrendForce recommended by recordtrend.com. And this article belongs to the classification: TrendForce.
Recently, major WFE (wafer fab equipment) suppliers in the United States, such as applied materials, Lam research, KLA Tencor, and Axcelis, are expected to obtain permission for customer service, spare parts, machines, and other related export applications in SMIC 14nm and above processes.
Trendforce believes that this will help SMIC to optimize its mature process modules and improve its production capacity bottlenecks, so that raw materials and spare parts will not be broken in the second half of the year. It is estimated that the global market share of SMIC will still reach 4.2% in 2021.
However, although the shortage of OEM capacity can be alleviated slightly, it is still difficult to solve the global shortage of OEM capacity, and the United States will continue to restrict the purchase of machines below 10nm (inclusive) by SMIC, so there are still hidden worries about its long-term development.
China Semiconductor's long-term development policy is clear, SMIC continues to expand domestic demand and localization
Currently, as the fifth largest IC Foundry supplier in the world, SMIC has more than 70% of its main revenue from Chinese mainland and Asia Pacific region, while the proportion of processing revenue is 0.18 um, 55nm and 40nm, which is more than 80%. It mainly provides customers with logic, BCD, eflash, sensor, RF, HV and other service platforms, and continuously strengthens the import of WFE domestic equipment and raw materials in line with China's policies such as integrated circuit projects in the 13th five year plan and 14th five year plan national development policies.
In terms of SMIC's development, under the influence of the US Department of Commerce's ban, the medium and long-term capacity planning and development strategy is expected to reduce the capital expenditure by 25% annually in 2021. The main investment will be in the capacity expansion of mature process nodes and the construction of new joint venture plants in Beijing, and the investment related to advanced processes such as FinFET will be treated conservatively.
On the whole, many uncertain factors will force SMIC to slow down its capital expenditure and take 55 / 40nm and 0.18um mature process as its main development axis.
In terms of the proportion of revenue, more than half of SMIC's revenue comes from China. However, in the case that the competition between China and the United States is not easy to ease in the short term, whether international major customers are willing to place orders in SMIC will be the focus of observation in the future under the consideration of the selection and long-term cooperation of OEM.
In terms of the return on investment of technology scaling and material node, SMIC's current advanced process development plan is no longer the top priority demand under the limited customer conditions and the restrictions of cooperative manufacturers; on the other hand, the layout is more conducive to the company's operation of chip or specialty IC will focus its resources on the existing mature processes of 14nm and above, and increase the customer process design and development platform (PDK), which is expected to create a long-term profitable business model and maintain the future growth momentum of R & D team members and enterprises.
Trend force: revenue ranking of Q3's top ten Fab manufacturers in 2020: SMIC's 5th semi: List SMIC in entity list and lose at least US $5 billion a year SMIC: actual record of 2q20 conference annual revenue target still increases by 15-20% Gross profit rate is higher than that of SMIC last year, and the decline is expanded to 8%. The company says that the increase of depreciation will bring pressure on net profit. SMIC: 2q20 revenue is 938.5 million US dollars, net profit is 138 million US dollars. SMIC: SMIC ecosystem, reconstruction of "core" array (attached with download). How big is the gap between SMIC and TSMC? Tuolong Industry Research Institute: in 2020, Q2 ranked the fifth among SMIC international in terms of global round agent manufacturer revenue. SMIC International: 3q20's revenue was 1.08 billion US dollars, net profit was 256 million US dollars. SMIC international financial report: in 2018, Q2's revenue was 890.7 million US dollars, a year-on-year increase of 18.6%. SMIC international financial report: in 2019, Q3's net profit was 115 million US dollars Year on year growth of 333.5% trendforce: in the first quarter of 2021, the overall average DRAM price will stop falling and stabilize
If you want to get the full report, you can contact us by leaving us the comment. If you think the information here might be helpful to others, please actively share it. If you want others to see your attitude towards this report, please actively comment and discuss it. Please stay tuned to us, we will keep updating as much as possible to record future development trends.
RecordTrend.com is a website that focuses on future technologies, markets and user trends. We are responsible for collecting the latest research data, authority data, industry research and analysis reports. We are committed to becoming a data and report sharing platform for professionals and decision makers. We look forward to working with you to record the development trends of today's economy, technology, industrial chain and business model.Welcome to follow, comment and bookmark us, and hope to share the future with you, and look forward to your success with our help.